Gold Rush Johnny Cash Slot Game Review
Desert cacti are known for storing water, sheltering insects, and stabilizing desert soil. Until Johnny Cash came along, no one realized that some cacti were also moonlighting as prickly-minded cowboys of the Wild West. Whatever image you had in mind of a lone cactus in the sand will need to face a sharp revision!
In Cafe Casino Gold Rush Johnny Cash slot, you can saddle up alongside the cactus cowboy. Together, you'll uncover the desert's hidden gold through a round of re-spins, free spins, and the ultimate treasure of 5,624x your stake.
Now we know what you're thinking – Cash the Cactus ain't the real thing! – but your ears might catch a song or two strumming out of this Gold Rush Johnny Cash slot review… but you didn't hear it from us.
Gold Rush Johnny Cash Slots FAQ
Is this game the same as the Johnny Cash slot?
The original Johnny Cash slot isn't the same game, but it features the same cactus cowboy named Johnny Cash.
Does this game have a jackpot?
Oh lordy, it sure do! A fixed jackpot of 5,000x your bet is waiting to be won from within the coin re-spin round, but you could score the maximum win of 5,624x your bet.
If you want even more jackpots when you're done with Johnny Cash, Hot Drop Jackpots are dropping at least every 60 minutes. When you see the timer ticking closer to zero, that's your cue to place your bet and spin your betting pistols for the fastest draw in the West.
Is this slot somehow associated with the real musician Johnny Cash?
No… but that won't stop us from making some Johnny Cash music references. Don't worry, we'll try to walk the line.
Gold Rush Johnny Cash Game Theme
The Gold Rush Johnny Cash slot at Cafe Casino features a rugged cactus cowboy donning a wide-brimmed Stetson. His eyes are steely like the metal of his pickaxe.
The top symbols consist of a barrel of gold, a satchel full of the same shiny stuff, a lantern to navigate the dark, and a trusty pickaxe for easier diggin'. If you haven't seen the sunshine since you don't know when, well, you'll see plenty of it now since the desert weather calls for nothing but heat.
Gold Rush Johnny Cash Game Format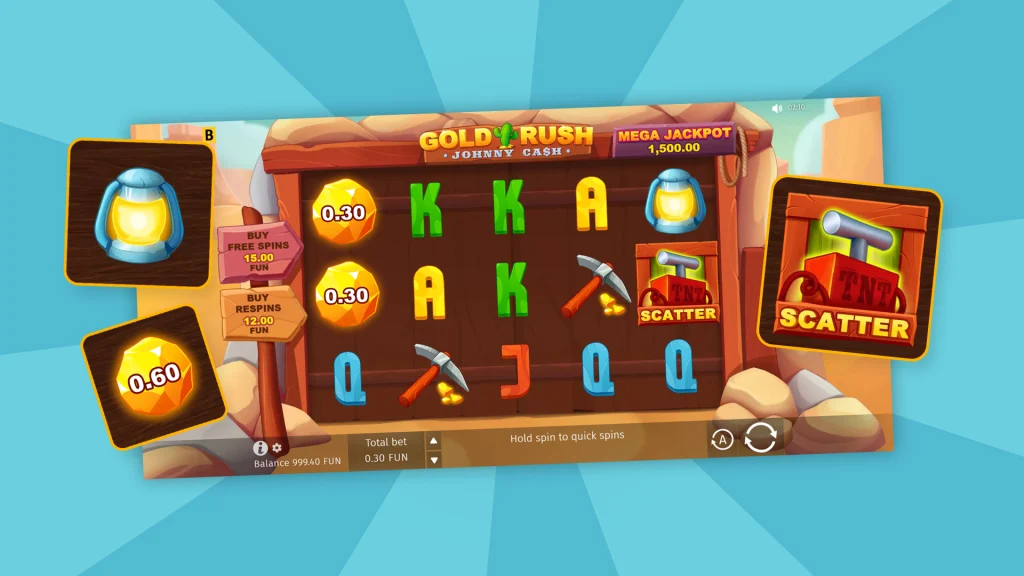 First and foremost, if you've got a Johnny Cash album handy, then you're already in great shape with one of the best songs to match your slot! Aside from the musical accompaniment, there are 5 reels and 3 rows with 25 fixed paylines.
A minimum bet of $0.10 makes this game accessible for everyone, and a maximum bet of $180.00 means there's a focus on huge potential for those rolling in with a bigger bankroll.
The RTP overall is 96.14%. If you activate the Buy Bonus feature, it changes to 96.01% and dips slightly to 95.91% with the Gold Respin feature. There's a fixed jackpot to dig up from the Gold Re-spins round which consists of 5,000x your bet, but the maximum win in the entire game is quite a bit higher at 5,624x your bet.
To get in on the fun with these games you would need to make a deposit. Luckily, the most convenient way to fund your account is with any supported cryptocurrency. Being a Bitcoin casino, Cafe Casino gives you exclusive access to the lowest fees and fastest deposits at an online casino. The quicker the transaction the faster you get to play.
Gold Rush Johnny Cash Game Features
This Gold Rush Johnny Cash online slot review gives you the lowdown on how to strike gold as a big winner, and it all starts with these features.
Wild
When you play Gold Rush Johnny Cash slot, the cactus cowboy leads the way as your Wild, and substitutes regular symbols for others to help you win.
Free Spins
Love is a burnin' thing, and it might burn so bright that it sets off a TNT bomb as your scatter. Three of them on reels 1, 3, and 5 trigger a ring of fire with 10 free spins, which can blow up your screen all over again with more TNT scatters.
Gold Re-Spins
The Johnny Cash slot revolves around gold, and it's a dime a dozen 'round these parts.
With 6 or more jagged golden coins, a bonus game ignites. Coins begin raining down your screen and some catch on and stick with multipliers ranging from 1x to 20x your bet. The more that stick, the more you win.
Collect Symbol
Throughout the piles of gold, a green gem may appear which sums up the values of each coin symbol stuck on the reels.
"Plus Spin" Symbol
More bundles of dynamite can reach more gold. Each time the dynamite symbol lands, one more re-spin is added to the round.
Fixed Jackpot
If you manage to wrangle up a pellet of gold for each of the 15 spaces within Gold Re-spins, you're rewarded with a jackpot of 5,000x your stake.
Buy Bonus
If you hear the train a-comin' with free spins, and Gold Re-spins are rollin' round the bend, time may keep draggin' on. You don't want to wait in line for the correct symbols to get in; so the Buy Bonus feature is your ticket to hop on. Once you buy your way in and get a little farther down the line, the following spin after your purchase will result in a trigger for the bonus round you selected.
Is Gold Rush Johnny Cash Slot Game worth a spin?
We play slots for a good time, right? Right! We'll tell you this much: time doesn't drag on in this game like it does in Folsom Prison. You'll get lost in the story with Johnny Cash, digging up free spins, re-spins, and fixed jackpots under the hot desert sun.
There's not a single reason to skip this game, and with a solid RTP of over 96%, it's definitely worth a spin!
If the desert is a long way from home, and you miss someone so, don't hang your head and cry. Just invite a friend or two to join you, and we'll even give you a referral bonus to top off your satchel of gold.
Play Gold Rush Johnny Cash Slot Game at Cafe Casino Now
The gold in the western desert is back, ready as ever for another rush of players, and an unlikely character is leading the excursion. Can you dig it? Follow his lead and see what kind of jackpots you can dig up from the desert sands of the Cafe Casino Johnny Cash slot; then let that cactus cowboy blow your blues away.