Play Blackjack with Cafe Casino Games Online
BLACKJACK IS THE FIRST TABLE GAME SLOTS PLAYERS SHOULD TRY
Sure, everyone loves playing the slots and winning at Cafe Casino, but if you're looking for gameplay that's a little more complex than pushing the SPIN button, blackjack is the best place to start. First, it's fun, easy to play and you can apply strategies to master the game and win big with the best online gaming odds anywhere. And talk about versatility!
You've got no opponents crowding the table. It's just you and the dealer. You can call him or her any name you like – just watch your language around the prudes. You can stretch out and play several hands at the same time in our six-deck blackjack variant. Play one to three hands and boost your chances. The dealer is limited to one hand per round. Beef up your hand by hitting, play it cool by holding, double down when things are going your way, or surrender if a loss seems inevitable. It's the same old rules, but with way more action and amazing payouts!
The multi-hand capabilities of our exciting new version of blackjack allow you to customize your decks and table felt. You can play in landscape mode on your mobile device and ramp up the excitement with lightning-fast dealing speeds. Added to all that, you can choose from 9 fun and dynamic variations that will keep you on the edge of your seat and on the way to big jackpots.
Ready to play? Pour yourself a drink and belly up to the virtual table.
ONLINE BLACKJACK IS FUN, CHALLENGING AND REWARDING
Blackjack was originally known as Vingt-Un (French for twenty-one) and may have been played in French casinos in the 1700s, derived from the popular card game, Chemin de fer.
When the game of 21 was introduced in the United States, gambling establishments offered bonus payouts to promote it. A 10-to-1 bonus was paid if a player's hand held an ace of spades with a jack of spades or clubs. This particular combination became the name for the most popular casino card game in the world, blackjack.
Online blackjack is pretty much the same as regular blackjack. Closest to twenty-one without going over. It's you against the casino. Human against machine. Sense the excitement of getting the next card, master the game with cool confidence, be that quiet, calculating nerd with mad math skills. Then win like a boss!
At Cafe Casino, we deal the cards using random number generator software. You sit at the table and, to initiate the deal, you place a chip. Then you make your playing decisions by clicking the appropriate buttons. Hit for another card, hold if you like what you have, surrender to cut your losses and live to play again. Sounds simple but you can make it interesting with a few powerful strategies.
STANDARD ONLINE BLACKJACK RULES AND SOLID CHANCES TO BEAT THE DEALER
The rules are simple and the game can get complicated. That's what makes our Cafe Casino online blackjack so fascinating. When neither you nor the dealer has a blackjack on your first two cards, it's time to make a gambling decision. You get the first turn and you have the following play options:
Hold: Keep the cards you have and face off against the dealer
Hit: Draw another card
Double (aka double down): Double your original bet, and draw a third and final card to end your turn
Split: After being dealt a pair, you can split those cards into two separate hands and double your original bet
Surrender: Give up your hand and forfeit half of your bet
Anytime the dealer's face-up card is an ace, you have the option to buy insurance. The insurance side bet is half of your original wager and pays 2 to 1 if the dealer has a blackjack. Most casual gambling players are familiar with hitting and holding, while other options are a bit more advanced. At Cafe Casino, we can show you basic blackjack gambling strategy to help you get to the big payouts!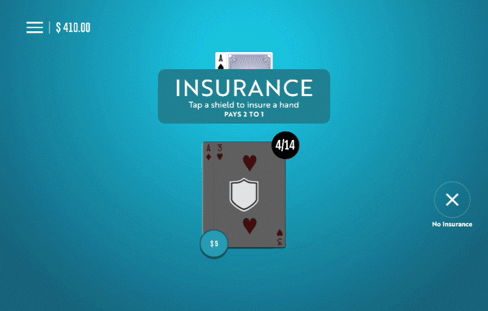 Right now, let's take a closer look at hitting. This is how you get your running score closer to 21. You can keep hitting until you reach 21 or go bust. If you're dealt a pair, you can split those cards and you'll be dealt a second card for each. Now you are playing with two hands and you can hit, hold, double or even re-split from there – although many blackjack variants won't let you re-split a pair of aces.
Once your turn is over and you haven't busted out already, the dealer gets a turn – with limited options. In general, dealers will keep drawing cards until reaching 17, when they usually have to hold.
So, what about winning strategies?
OPTIMAL ONLINE BLACKJACK STRATEGY IS THE ROAD TO WINNING
In love, war and chess, you need a strategy. In online blackjack, you need Cafe Casino. We have all you need to learn how to play blackjack well, including a wide variety of the top blackjack games online, solid payouts, and helpful tips for winning. There's never been a better time to hop on the blackjack bandwagon than now.
Deciding whether to hit or hold is the first step to becoming a good online blackjack player at Cafe Casino. You compare your cards to the dealer's face-up card. You may want to hit to reach a competitive score or hold to see if the dealer goes bust. You're seeking a score of 17 or higher, but sometimes you should hold before reaching 17, and there are times where you should hit on 17.
Categorizing the dealer's face-up card as high or low will help you determine the house's odds of busting. A high card is 7 to ace, and a low card is 2 to 6. The dealer is more likely to bust showing a low card than a high card, so when the dealer shows a 2 to 6, focus on holding – you can do this with a score as low as 13, and if the dealer's face-up card is a 4 to 6, which can predict the greatest odds of busting, you can stand with a score of 12.
Blackjack players ask what is our best blackjack game. It depends on more than just the odds. We have 9 games to choose from, including versions that deviate from the standard rules. When you're just starting, it's best to stick with the more traditional blackjack games. They provide a good opportunity to learn the game the way it's meant to be played.
When you're ready for blackjack, we're ready for you at Cafe Casino. Try all the different blackjack games at our online site to see which ones you like the most. You'll discover what makes blackjack the most popular real money online table game in the world at http://www.cafecasino.lv