These Players Struck Gold Last Month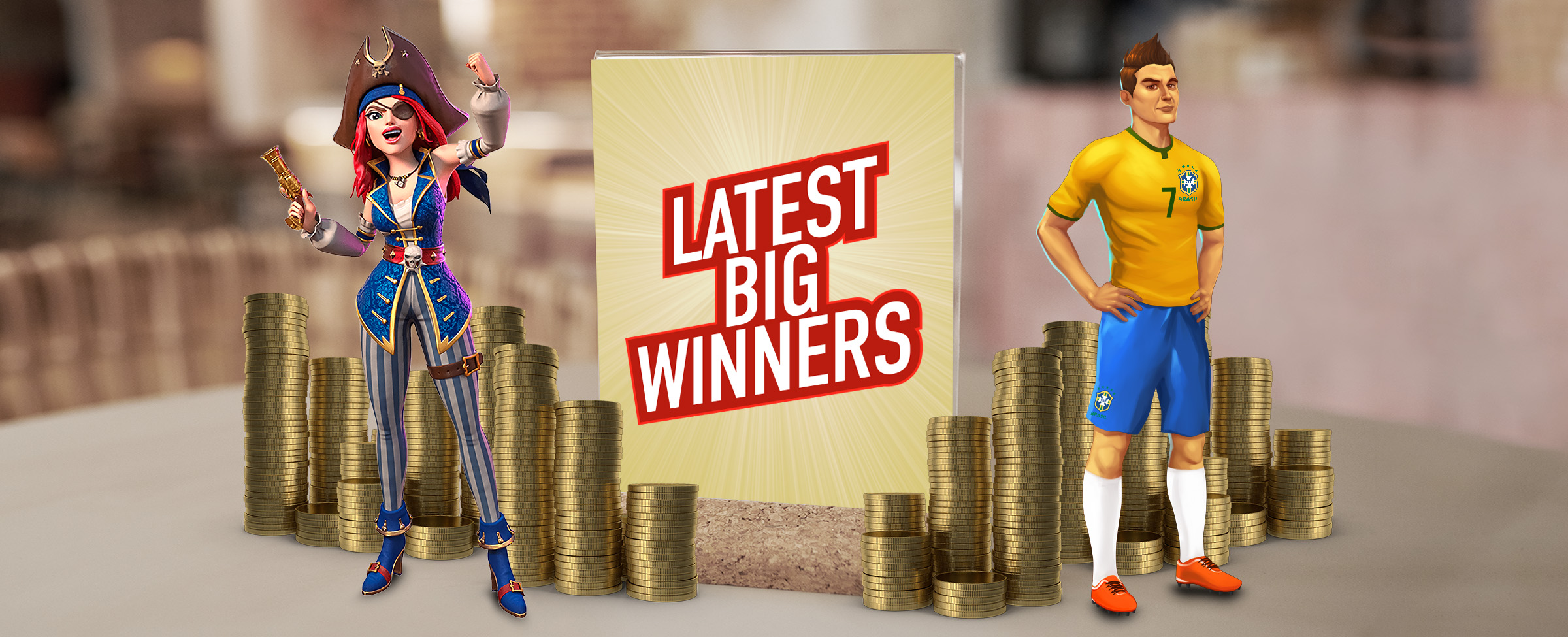 The big win is the moment every slots player dreams of, and it's what keeps us coming back again and again to play. That, and the warm welcome. And the service. And the… oh, you know.
Last month was a huge month for several Cafe Casino big winners. Although we had wins sprouting up every single day, a few lucky players really stood out as the biggest winners of all. Two players rejoiced extra loudly as they broke $200K; one player surpassed $100K, and two more teetered right on the edge of $100,000 big ones!
They played games ranging from the classic to the futuristic, as well as Hot Drop Jackpots with the timer counting down to 00:win! The same exact online slots are available for you to play today as well.
All you need to do is settle into a comfortable seat, make a quick deposit, and spin away on games of all shapes and themes.
Join us as we make the rounds of congratulations to our big winners, then review the slots for exactly how you can be the one we are celebrating at Cafe Casino next month.
https://www.youtube.com/watch?v=Fa-84conbbI
Keylene E. from AK won $290,575 on 777 Deluxe
Way to go Keylene! You did it!
777 Deluxe is a classic game that captures the true spirit of what it means to spin a slot. Lemons, cherries, oranges, grapes, horseshoes, bells, bars, and sevens zip through five reels and three rows with nothing but transparent reel lines keeping them apart.
What Keylene soon discovered, however, is that the Deluxe life is not as simple as it appears. A thrilling bonus game awaits via the mystery symbols where you really have the chance to win big. All you have to do is land three golden sevens over one payline for the big progressive, or any matching sevens for another impressive prize.
With Keylene's big win inside this slots game, it looks like it's time to throw a casino-themed party in her honor! Just don't forget to refer a friend or two to join in the festivities at Cafe Casino, and we'll toss in a bonus for the party fund.
Phil D. from FL won $244,967 on A Night With Cleo Hot Drop Jackpots
What would you do with nearly $245,000 extra in your bank? Would you go on a shopping spree? Take a vacation? Set it aside for a rainy day? The possibilities are endless, and Phil D. from Florida got the opportunity to ask that question and live out his answer as one of the biggest Cafe Casino jackpot winners from last month.
A Night With Cleo Hot Drop Jackpots is not your average game, as Phil can certainly tell you. The star of the reels is the one and only powerful pharaoh herself: Cleopatra. On the five reels, she invites you into her Egyptian palace to spin through her belongings of gold.
A gamble feature allows you to play a private game to double your winnings and witness a side of Cleo previously only known by her lovers, but that's only the beginning.
Since this game is one of our best Cafe Casino Hot Drop Jackpots, Cleo dangles more than just her beauty before your eyes. You also have the chance to win three progressive jackpots that are configured to drop every hour, day, and dollar amount, making new Cafe Casino winners all the time!
If you want to know more, you can learn all about Hot Drop Jackpots with one of our handy guides, then choose a game and spin 'till you drop.
Andrew S. from TX won $118,691 on Cyberpunk City
Cyberpunk City takes a popular theme of a dystopian future where machines are taking over the world, and everyone must fend for themselves. Characters on these reels dart over gutters to pillage rundown buildings for expanding Wilds and free spins, and Andrew S. from Texas had the guts to jump inside and join them.
His bravery was rewarded, and this lucky player was able to extract $118,691 from the dirty gutters and put it to good use. Mad respect for you, Andrew!
The dilapidated city always has room for a few more brave explorers. If you also want to navigate the streets for a real money slots win of your own, you can spin through five reels and three rows with cyborgs sidekicks and a few weapons.
Random symbols can turn Wild at any minute, but the biggest prize is the one that will surprise you the most. There's a random progressive jackpot that can trigger at any moment in the game, so don't let your guard down for even a second!
Kelley P. from CT won $98,372 on 10 Times Vegas
Vegas is one of the best casino cities in the world, and not a day goes by that isn't alive with money and fun. As it turns out, that's even true for the Vegas you can visit right here at Cafe Casino!
Kelley P. from Connecticut knows their way around the Strip inside 10 Times Vegas, and they got to discover what a true Vegas-style win really means when they hit it big last month.
If you also want to experience the big wins of Sin City, this slot online is always open to saunter in and take a spin.
10 Times Vegas is a truly classic game with the old-school symbols you know and love. There are also three multipliers here which are Wild 2x, Wild 5x, and Wild 10x which can multiply your payline.
If a Wild lands on reel 3, a re-spin ignites. If this re-spin results in another win, a special jackpot symbol may come into play. Landing one or two will award a hefty prize. Landing three of the jackpot symbol will have you celebrating a big progressive just like Kelley, and your own name lifted up on the Vegas-style billboard at Cafe!
Adam G. from TX won $96,000 on 10 Times Vegas
Vegas wasn't done with just one winner! Yet another of our latest Cafe Casino big winners found their fortune in Vegas as well.
Adam G. took a break from Texas and put himself up in a room in Vegas. Instead of settling for a regular evening of fun, Adam didn't stop until he got 10x the fun by winning big inside 10 Times Vegas. Well done, Adam, the city salutes you!
The rules are the same if you want to get a big Vegas win, too. Just use a Wild re-spin to form a win, and if the special jackpot symbol appears, you could be well on your way to that grand, dazzling jackpot sound that lets you know you're one of the biggest Cafe Casino jackpot winners around.
To learn more about how to make it big in Vegas by playing online slots, check out our 10 Times Vegas slot review, then follow in Adam's legendary footsteps and have a few Vegas-style wins for yourself.
Cafe Casino online slots are always ready to play, and there's always room for more big slots winners to fill up the leaderboard. Whether you're navigating a dystopian city or taking a deep dive into some classic spins, Cafe is overflowing with jackpots ready to burst at any minute, so don't be afraid to pick your game and take it for what it's got!
---
Did you know getting your winnings in your hands faster is one of the many benefits of playing at a crypto casino?
LEARN MORE