Pokers of the Caribbean: Caribbean Stud Poker and Caribbean Hold'em
Poker can be a demanding game, especially when you're battling it out with tough competition. But there are a few Cafe Casino table games that allow you to play a game that's LIKE poker without having to deal with all those other players. When you play Caribbean Stud Poker and Caribbean Hold'Em, it's just you and the dealer, and the choices are way simpler than in a normal game of poker. Here's how these games work.
WHAT IS CARIBBEAN STUD POKER?
In Caribbean Stud Poker, you'll be dealt 5 cards, and you're looking for the best poker hand you can make with them. Then you have the choice to fold your cards or raise.
If you raised and stayed in the hand, you will then have a showdown with the dealer. If the dealer qualifies (has ace-king or better) and your hand is a higher rank, you win 1:1 payouts on your initial ante bet and your raise.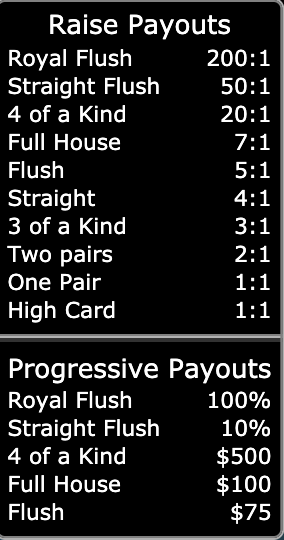 This payout improves if your hand is two pairs or better. Here's the payout chart from Caribbean Stud Poker:
As you can see, if you are lucky enough to land a royal flush, you're getting paid 200x your bet! You might also see that this game gives you a chance to win some serious real money through Cafe Casino jackpots. These are available through the progressive bet option, which you will see on many jackpot table games.
In the game screen image above, there's a spot that says "Click here for progressive." When you place a bet in that spot, you become eligible to win the progressive jackpot. The amount of the jackpot as of the time of this writing was at $21,646.30, as shown at the top of the game screen.
This amount is climbing all the time. As players make progressive jackpot bets, a portion goes into the pot for the ultimate winners who land royal or straight flushes. The key here is to make sure you have a bet down on the progressive jackpot button if you want a chance to take down a big real money prize.
WHAT IS CARIBBEAN HOLD'EM?

Caribbean Hold'Em is another example of Cafe Casino table games that are based on the game of poker. Both the dealer and the player are dealt two cards, and three community cards are then dealt. The goal is to make the best five-card poker hand possible, and the player at this point can choose to raise or fold.
If the player chooses to stay in the hand and raise, two more community cards are dealt and then there's a showdown with the dealer. If the dealer qualifies (i.e. has a pair of 4s or better) and the player wins, the player is paid 1:1 on the original ante bet and the raise. Much like Caribbean Stud Poker above, Caribbean Hold'Em also offers increased payouts for better hands.
Caribbean Hold'Em is also one of our jackpot table games. Lay your bet down on that progressive button and your big hands (flushes or better) could have a nice bonus payout from the Cafe Casino jackpots prize pool.
SIMILARITIES BETWEEN CARIBBEAN STUD POKER AND CARIBBEAN HOLD'EM
Both of these Cafe Casino table games are based on poker. That is, you're still looking for pairs, trips, straights, flushes, and the like.
They also both offer the chance to win Cafe Casino jackpots. If you're keeping a wager down on the progressive button, you could hit a huge real money payday.
In both Caribbean Stud Poker and Caribbean Hold'Em, it's you against the dealer. These are table games, not competitive poker. You don't have to outsmart anyone, strategize, or bluff. There's no high stakes or high pressure decisions to make. Instead, you can kick back and let the hands flow.
And of course, they both have Caribbean names. For Caribbean Stud Poker, the game was popularized on cruise ships and vacation destinations around the Caribbean. For Caribbean Hold'Em, the game was invented as a teaching tool, but the name was possibly used due to its similarity to Caribbean Stud Poker.
DIFFERENCES BETWEEN CARIBBEAN STUD POKER AND CARIBBEAN HOLD'EM
There are some differences between these Cafe Casino table games. The first is the number of cards dealt. While Caribbean Stud Poker gives you everything right off the bat in the first deal, Caribbean Hold'Em has two additional cards that are dealt after the player chooses to raise or fold.
The payout tables in these jackpot table games are also different. Let's take a look: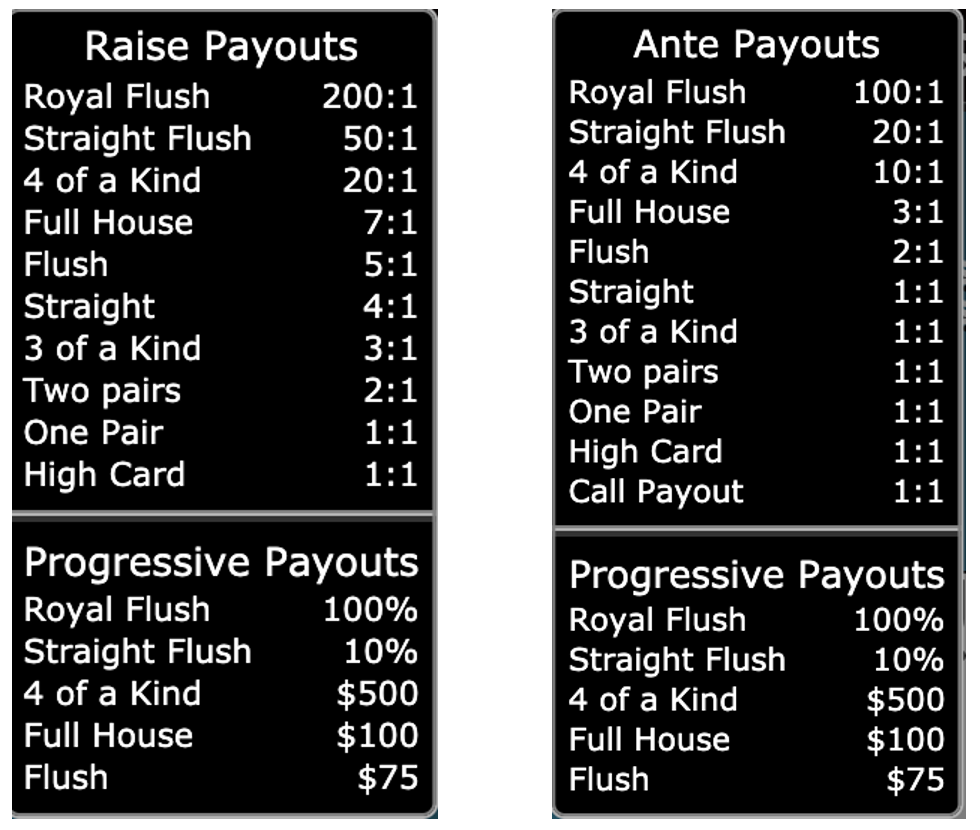 Caribbean Stud Poker Caribbean Hold'Em
Caribbean Stud Poker only gives the player 5 cards to use, and so it's harder to hit bigger hands. In contrast, Caribbean Hold'Em gives the player 2 hole cards and five community cards, making it easier to hit a bigger hand and win real money from the Cafe Casino jackpots prize pool. For this reason, the payouts are adjusted, and a big hand is more rewarding in Caribbean Stud Poker where it is more difficult to land one.
READY TO PLAY? DON'T FORGET THE BEST CAFE CASINO PROMOTIONS!
These Cafe Casino table games get even better when you make use of Cafe Casino promotions and Cafe Casino bonuses.
The most obvious is our Welcome Bonus, which pays you a 350% match on your first deposit when you use Bitcoin. This is good for up to $2,500 of bonus cash!
As you play these jackpot table games, you can also make use of the Perks program. For every dollar you wager, these Cafe Casino promotions earn you one Perks point. Perks points can be redeemed for Cafe Casino bonuses in the form of real money. Also, the more Perks points you have, the higher your rewards level is, which gives you a better redemption rate.
The more you play, the more you get paid. Head over to our table games section and have some fun!