Unique Cafe Casino Online Tables Games
You're at home on a rainy weekend, locked in isolation, and trying to find something fun to do. You could get up and dance around, learn yoga, even make cardboard race cars and race your roommates across the tiles. OR… you could try to win some money playing online casino table games.
Not only are online table games a lot of fun, they also have some great benefits. Firstly, they give you better odds of winning than a live casino. You can play for free for play games for real money. And who knows! You may end like Scrooge, swimming in your own pool of money! These games aren't just exciting – they're filled with strategies that get your mind and adrenaline racing. Table games are often interactive as well. Oh, and you can play them anywhere and anytime – on your computer, on your mobile phone or your tablet.
Although you'll find a huge range of online casinos operating these days, you can still see an edge of difference when it comes to the games we offer. With Cafe Casino, you'll see the standard table games like blackjack and baccarat. You'll also find a number of unique online casino table games that are exclusive to us. And these games guarantee you plenty of fun, not to mention the chance to win real money.
Below are some of our best online casino table games:
LUCKY WHEEL
Lucky Wheel is a fun, easy to play table game. Players have to predict which number the wheel will stop on – offering seven betting options, including 1, 3, 6, 12, 25, Red50 and Black50. These numbers are scattered on a wheel that has 54 sections. Here's how to bet:
Step 1: Select the chip value you want to use for betting. You'll find this at the bottom of your screen.
Step 2: Select the betting option – the chip automatically appears here. You can increase the stake if you want by tapping the same chip value a number of times.
Step 3: Check the bet amount to make sure it's accurate.
Step 4: Know the betting rules. This includes things like doubling up on any unconfirmed bets. You can also place the same bet as the previous round, remove all unconfirmed bets, confirm all bets on the table. All bets must be placed before the 20-second Betting Timer expires.
Step 5: Have fun playing! Yo DJ! Spin that wheel!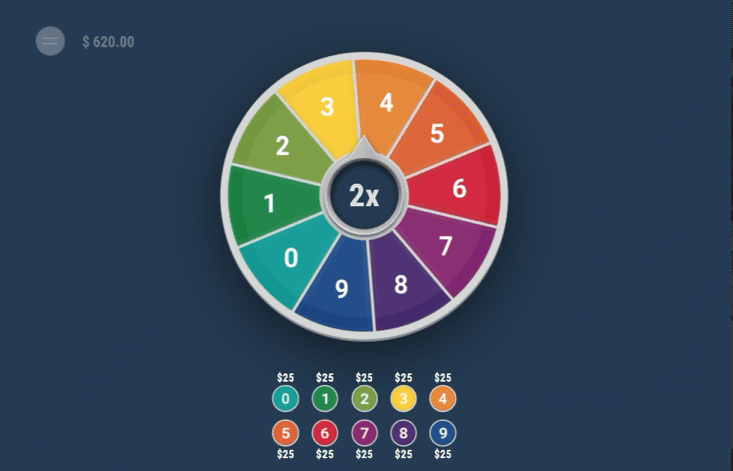 TEEN PATTI
Teen Patti is also known as tri-card, or three-card and is an old Indian card game that's making its mark online. It's similar to the game, three-card brag, and has a number of traits similar to poker, however, it's played with three cards, rather than five or seven. Teen Patti can be played with up to 10 players at one time. There's a dealer who deals the cards clockwise to the players. If you want to win, you need to have the strongest hand. This is one teen the Mrs won't mind you checking out online!
Here's how it works:
Every player makes a minimum bet
The dealer hands out one card at a time so all players have three cards (facing down)
The player to the left of the dealer plays their hand. Each player can play blind or seen. In other words, they either look at their cards, or they don't.
Player chooses to bet or fold.
The bet added to the pot should be equal to, or x2, x4, x6, to the previous player's bet.
Betting continues until all players fold but one (the winner). Or if two players remain, and one asks to see the other's cards. Blind players are not able to ask for a show.
ANDAR BAHAR
Andar Bahar is a simple game that is played with one deck, and an easy basic bet. When the game starts, there are three slots on the table – the middle, the andar (left) and the bahar (right). The player can either bet on the left or right. Once bets are made, the game starts. The dealer takes one card and places it in the middle slot, then places a card on the left, and the right, left, right, until a card is placed that matches the one in the middle. If you have placed a bet on the side that has the matching card, you win.
For example:
You decide to bet on bahar (the right).
The dealer deals the middle card, and it's a 5 of diamonds.
The first card on andar is a 2 of spades.
The first card on bahar is a 3 of clubs.
Then 9 of hearts on andar.
And 5 of clubs on bahar. You win.
TEEN PATTI RAPID
We've already mentioned Teen Patti earlier in this article, but Teen Patti Rapid is a reinvention of this card game. It's more ideal for online playing. The game is also known as Flush or Flash. The original game is similar to poker but is played with three cards. Teen Patti Rapid is an easy game to play – once you have made a wager, you're dealt three cards. To win, you need to have a pair, at the very least. Other combinations include a flush, straight, three of a kind and straight flush. The big difference between Teen Patti and Teen Patti Rapid is that the latter is single-player. This means you can play a lot faster as you're not waiting for other players to have their turn. Hence, the "rapid".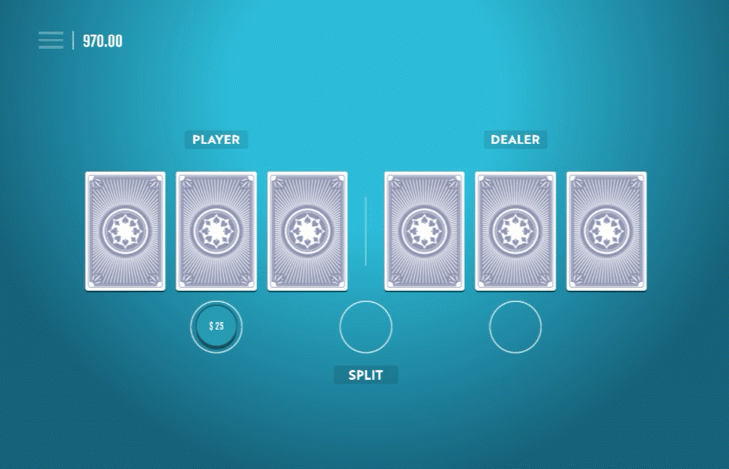 ROLL THE DICE
Roll the Dice is traditionally a Chinese table game that has players rolling a number of dice, in the hopes of pulling up matching symbols or numbers. The game is also known as Hoo Hey and Fish-Prawn-Crab, and offers various betting options, with a number of payouts. Generally, the game has three dice and one on each side, you'll find one of seven characters – this could be a coin, fish, crab, prawn, rooster, triple or calabash. Place your bet on the character you like, then roll the dice. If that character shows up on the three dice, you win the game. Simple, right? If you want to play this at Cafe Casino, you'll find it both in practice mode and play mode.
Other online casino table games available at Cafe Casino include Tri Card Poker, Craps, Baccarat, Let 'Em Ride, Caribbean Hold'Em and Stud Poker. You'll find variants of each of these table games online as well.
BEFORE YOU PLAY
Before you get started, there are a few things to consider. First, plan your budget – work out how much you want to spend. And while playing, make sure you don't go over that amount. Learn more about the strategies involved in the game you choose, whether that's blackjack or baccarat. Check the terms and conditions of the site you're using to ensure you're not breaking any rules with your betting. And finally, take a look at the range available, check out the descriptions and instructions on each of them to see which ones you like, and select to play table games now. Most importantly, get ready to have fun!