Cafe Casino Games with the Best Payouts
Cafe Casino players usually have two things in mind: fun and winning! When it comes to the fun part, player preference matters most. Whichever game matches your vibe and entertains you best, that's the one you'll want to play. But when it comes to winning, when selecting a game it helps to know about each game's payout percentage, also known as return to player or slots "RTP", or house edge in table games.
Using Cafe Casino Refer a Friend isn't necessary to play these games, but you won't want to miss out. Seriously, you'll get a bonus for every friend you refer! That definitely can pad your bankroll on your way to those big-time payouts.
And if you aren't keeping an eye on those best payout games, we'll show you more on why you should be.
WHAT ARE PAYOUTS?
When you're playing Cafe Casino real money games, the payout percentage is a calculation of what your returns will be over the long run. If a game has a payout or RTP of 97%, for example, this means that your average return on a dollar wagered will be about 97 cents.
Now, as any player knows, this is an average return. You might have great sessions sometimes, and have a slower run during other times. You may even win a progressive jackpot or Hot Drop Jackpot and wind up with a return well over 1,000%. A simple spin on the reels could land a huge payday. The payout percentage is simply an average long-term calculation. It doesn't dictate what your personal rate of return will be on a particular game or session.
WHERE CAN I FIND PAYOUT INFO FOR AN ONLINE CASINO GAME?
Okay, so the first step to understanding payout percentages is knowing where to find them. Let's check out an example from one of the Cafe Casino best slots to play: Amigos Fiesta.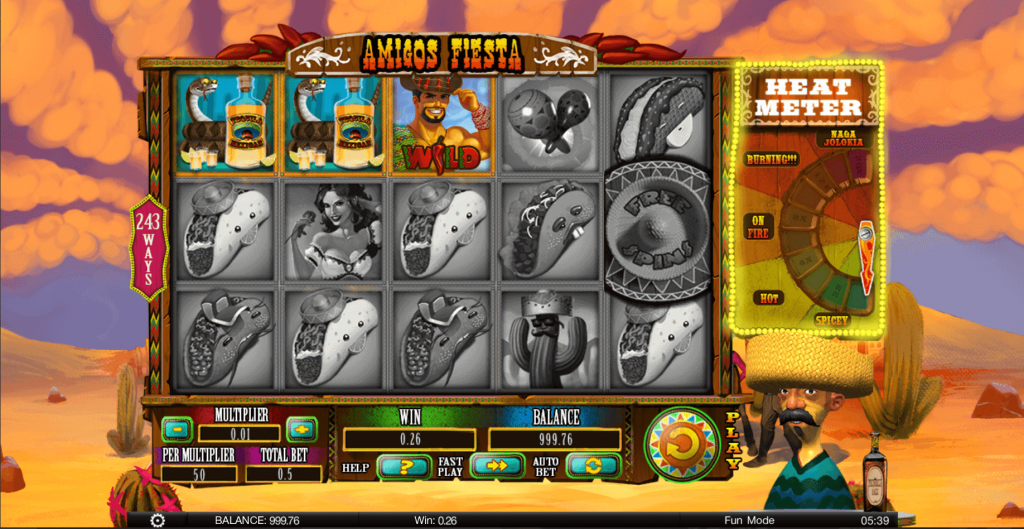 To find a payout percentage, you'll need to go into a game's menu or rules list. This could be an icon with a bulleted list, a document icon, or a question mark. For Amigos Fiesta, it's the latter, and you can find it at the bottom of the game screen.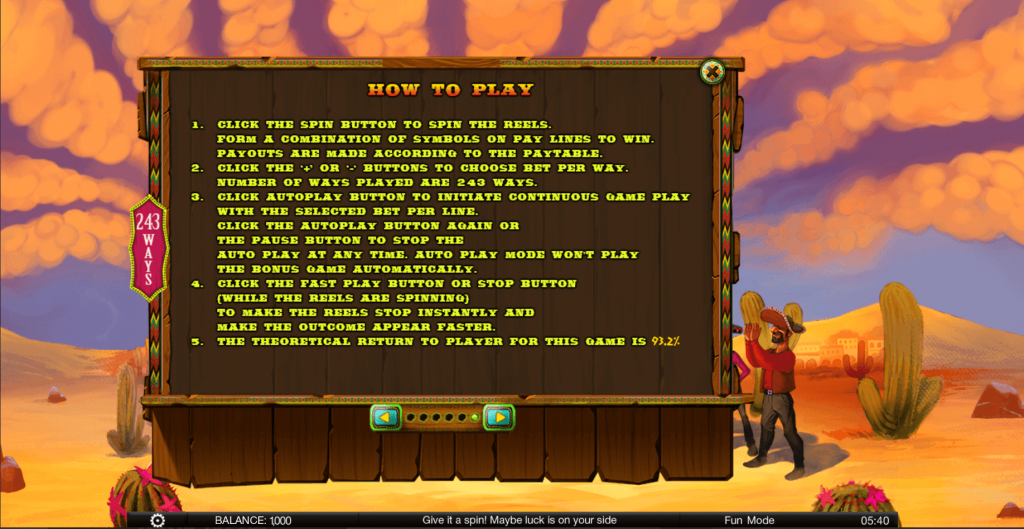 Click the question mark next to the word Help in this slot game and you'll be taken to a screen with a variety of information about how to play the game. Click through to the final Help menu screen and you'll see this:
There at the bottom on the final line you can see that the theoretical return to player is 93.2%. Some games are higher than that, some are lower. And while this percentage varies from slot to slot, table games are different because player decisions, skill, and knowledge influence the RTP for the most part.
TABLE GAMES WITH THE BEST PAYOUTS
When it comes to table games, payouts are best understood by knowing the "house edge." Much like RTP, this percentage will tell you how much money you can expect to make on average over the long run when playing a particular game and is often found in the game description.
For the lowest house edge, Single Deck Blackjack is king. You can push it below 1% with optimal play. This means that you will win more than 99 cents for each dollar you wager. But of course, this assumes you're playing correctly in all situations, which means you need to know the best blackjack strategy. Once you have that down and you're hitting, standing, doubling down, and splitting optimally in all hands, you'll ensure that you're maximizing your payout.
Craps is another game with a great payout percentage, with a house edge right around 1.4% on certain bets. While it might seem a bit intimidating to learn, you can play for free in practice mode and check out our beginner craps guide if you want to get a feel for this dynamic and exciting table game.
Baccarat is a simple game with a low house edge of about 1.5%. You may have seen it in sophisticated movie scenes, but you're essentially betting on whether the dealer or player will have a higher total when their hands are added up. It's not as complicated as it looks, we promise!
A final table game with a great payout is European Roulette. The house edge here is about 2.5% (a lot lower than its American counterpart!). Betting is straightforward, and with the right strategies in place, you can even have a disciplined way to make your wagers.
Keep an eye on those odds calculations and best strategies so you can maximize your returns and payouts at Cafe Casino!
SLOT GAMES WITH THE BEST PAYOUTS
The best slots, when it comes to payout percentages, generally have an RTP of above 93%. Because game versions are occasionally updated, you can usually check the RTP on most games to see specific percentages listed.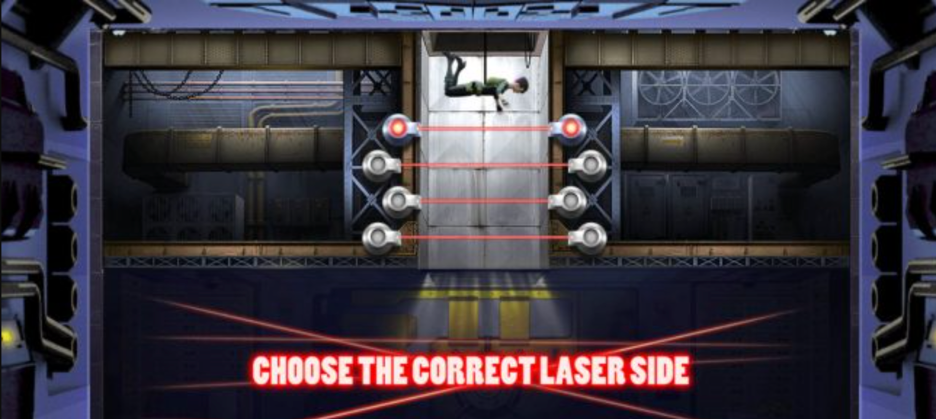 Players who want big payouts should first try Codename: Jackpot. This thrilling game with an RTP of around 93.2% puts you into a high-tech spy adventure, complete with a bonus game that has you finding your way through a laser grid to get to the ultimate prize.
Similarly, Caesar's Empire has an even higher RTP of around 95%. (There are a few Caesar-themed games in our slot section, so be sure to click the right one!) In this epic adventure game, you can score big wins that rival ancient treasure hoards. When you launch the game, you're greeted by fanfare as you spin the reels and take in the majesty of the Colosseum in the background. You'll feel positively regal while playing!
Lastly, the lord of Atlantis may be willing to part with some of his wealth in Atlantic Treasures, which has about a 93% RTP. Travel deep beneath the waves to score some treasures of your own, if you're lucky. Playing games with high payouts means that your chance of a win is just a bit higher than it would otherwise be. Now that's smart gaming!
---
You know what else is smart gaming? Playing at a best bitcoin casino like Cafe!
---
If you love a good jackpot slot, you'll want to learn more about Hot Drop Jackpots now.