The Ultimate Thanksgiving Cocktail: A Cran-Bourbon Twist
November 7, 2023.
By John Rondi
"Johnny Drinks" is a father and son duo who went viral by sharing their unique bond over cocktails. Over the years, John and Johnny have surpassed 4 million followers across their channels on TikTok, Instagram, and YouTube. But this duo goes beyond just drinks, they share their incredible family dynamic by teaching valuable life lessons and fatherly advice with the world.
For us, Thanksgiving is about family and tradition. Thanksgiving is by far one of our favorite holidays because it's all about being home, having the family together and of course, food and drinks. What's better than that?
Thanksgiving 2023 (or any year!) is one of those Holidays that can always become chaotic. After all, what do you expect from getting the entire family together with empty stomachs? Everyone has their favorite dish on Thanksgiving that they look forward to year after year. But, while everyone has a favorite, there's always some dishes that spark a bit of controversy.
One of the most controversial: cranberry sauce.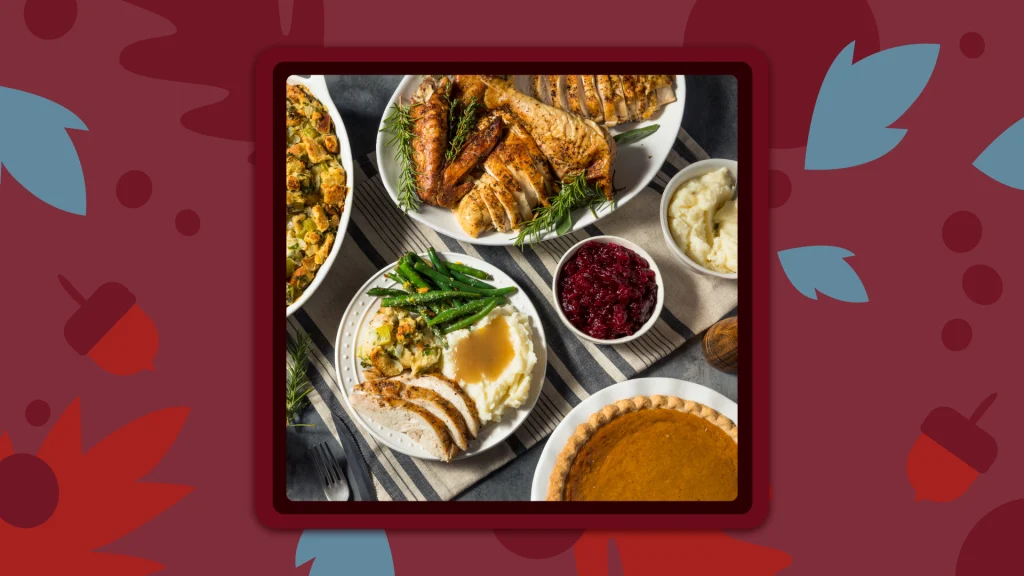 Like tradition, our family always has this debate: Homemade or canned? Jellied or whole berry? Our Aunt insists that the canned stuff is superior, while my sister can't even get herself to look at it come out of the can. No one ever agrees. We always end up with several variations of cranberry sauce that mostly get pushed to the side with the leftovers that no one wants to take home with them.
Except for last year.
Apparently, there is one family member who enjoys quite literally every dish you can imagine.
Our dog Tino.
Thanksgiving dinner was in full swing at our house, we were just waiting for the Turkey and potatoes to be finished. The table was fully ready, so Johnny and I decided to head downstairs to make the family some easy Thanksgiving cocktails. Friends and family had gathered around us to help us film a TikTok, but then we suddenly became aware of an unusual sense of peace and quiet.
"Where's Tino?"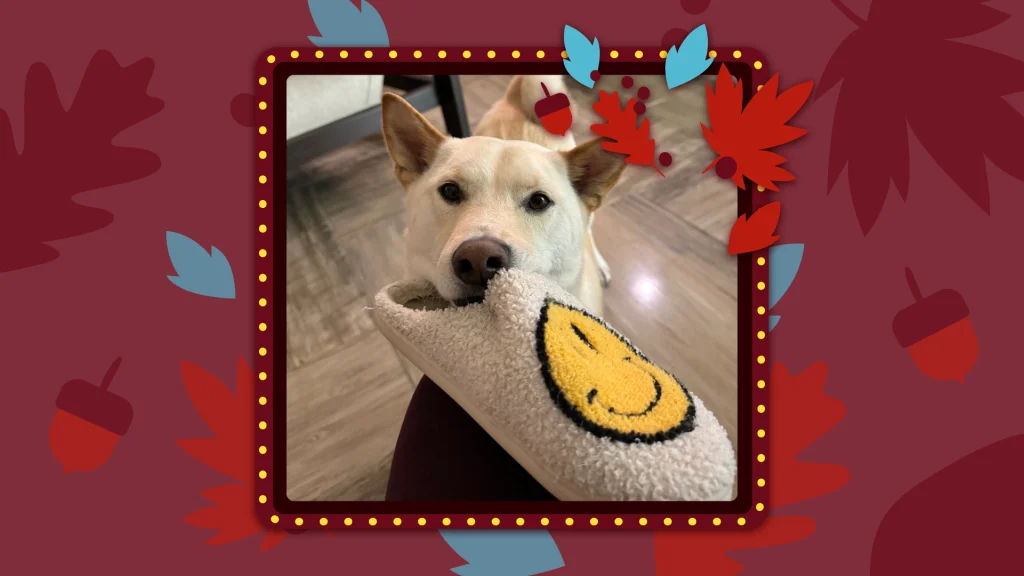 Not a day goes by where those words don't send chills down our spine. If we can't hear him sniffing at our toes or crying for attention – something is wrong.
We all rushed upstairs, and to no surprise, there was Tino – sitting at the Thanksgiving table, like a seat was reserved just for him, his white snout stained red with cranberry sauce. It was a moment frozen in time as we collectively stopped to watch, not wanting to make matters worse.
"TINO, get down!" I shouted, but as usual, he had no intention of listening. Instead, he made a bold move, sticking his nose deep into the second tray of cranberries.
I ran towards him, and chaos ensued. He leaped across the table and sprinted past all of us, sending cranberry sauce flying. But, despite Tinos guilt, his mischief added a dose of spontaneity and laughter to our Thanksgiving celebration.
"At least it was just the Cranberries." We all laughed and agreed. There couldn't have been a better way to avoid those leftovers.
Beyond the Sauce: Celebrating Thanksgiving with a Cranberry-Bourbon Blend
While we're not going to be the ones to tell you how you should enjoy (or hate) your cranberry sauce… it is undeniable that the tart, yet sweet cranberry flavor is the perfect contrast to a savory Thanksgiving dinner that we missed out on last year.
Now, whether you love it or hate it, Johnny and I have created the ultimate twist on this classic staple. One that Tino won't get to enjoy this year.
We can guarantee our Cran-Bourbon cocktail will be the perfect Thanksgiving cocktail recipe to pair with your dinner this Thanksgiving. Who knows? Maybe it can even become a new tradition for you too.
And, one thing we can all agree on is that if you're looking for some fun this holiday season, then you should check out Cafe Casino. There's tons of online slots and casino games that could that could add a little cranberry-inspired sweetness and zing to your day too.
Now, let us show you how we make one of the best Thanksgiving drink ideas.
 Cran-Bourbon Cocktail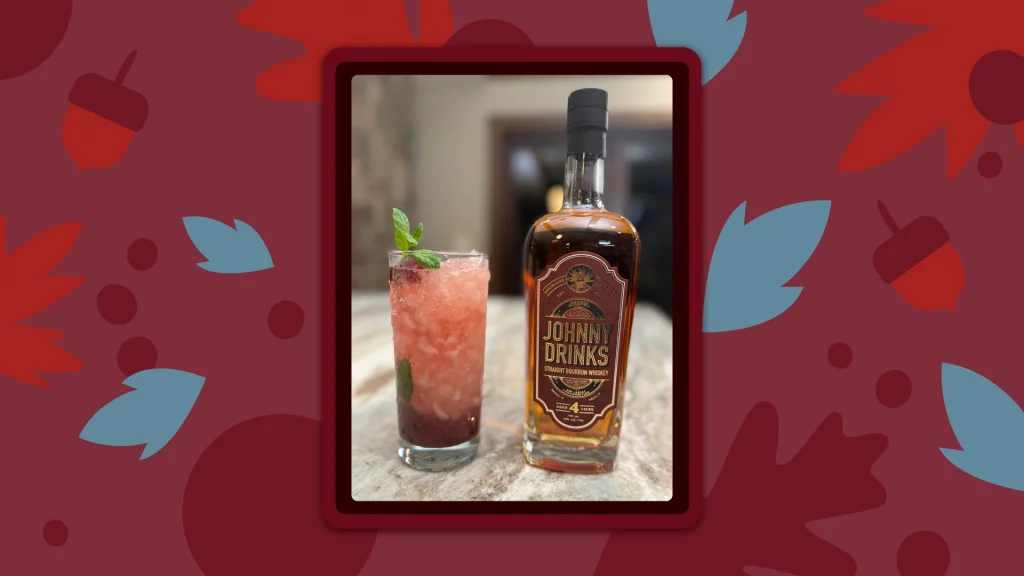 Ingredients:
1/4 cup Muddled cranberries 
2-3 Mint leaves 
2oz Honey Syrup 
Peppercorn Syrup 
2oz Johnny Drinks Bourbon 
Soda Water or Gingerbeer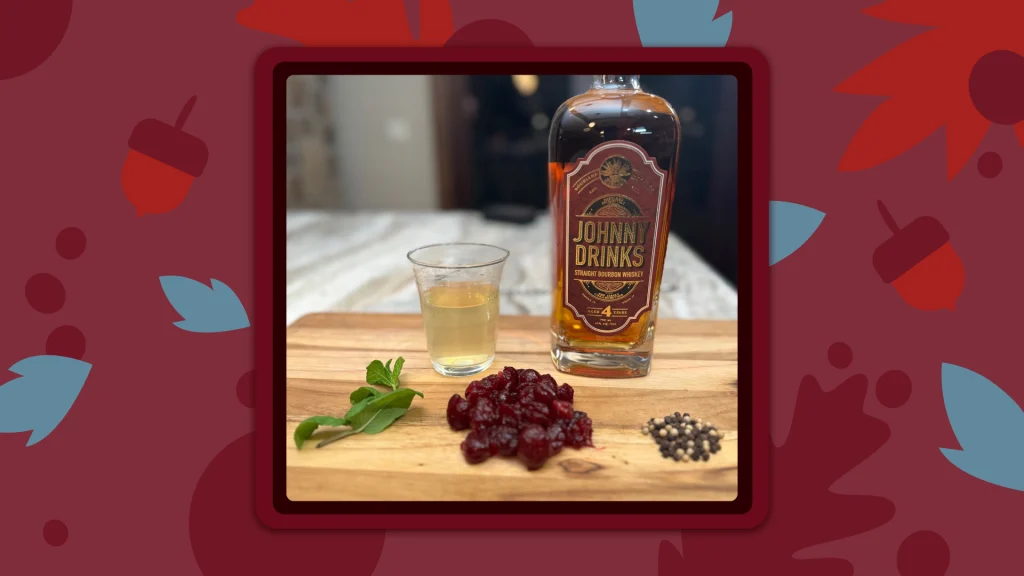 Directions:
• Muddle* mint leaves, cranberries, and honey syrup. 
• Add ice, peppercorn syrup and bourbon. 
• Shake and strain over ice in Tom Collins glass.
• Top with soda water or ginger beer. 
• Garnish with Cranberry and mint leaf 
• and enjoy!
* Muddling can be performed in the bottom of a glass or shaker. Simply mash the solid ingredients together or with some sort of liquid component (simple syrup, bitters, honey, etc.)
This recipe is intended for 21+; please enjoy responsibly!
HAVE MORE FUN WITH CAFE CASINO
Indulge in some more fun this Thanksgiving 2023 and all holiday season long by visiting us at Cafe Casino! Our online casino serves up over 300 real money casino games, including online slots, table games, progressive jackpots, and Hot Drop Jackpots! You can play using your mobile or desktop at CafeCasino.lv – no downloads or apps required.
Getting started is easy! Cafe is the best crypto casino, accepting popular methods like Bitcoin, Ethereum and more. Playing has never felt so rewarding!