HERBY BLT CHICKEN SALAD BOWL WITH LEMON HONEY VINAIGRETTE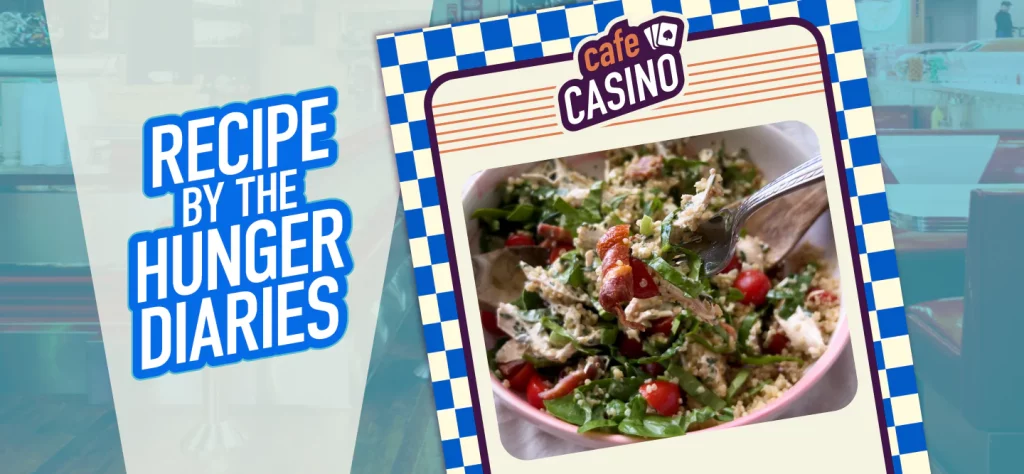 May 31, 2023.
By Lindsay Moser
Lindsay Moser, also known as The Hunger Diaries, is a viral digital content creator bringing joy to eating and cooking with her delicious, easy-to-follow recipes and enthusiastic appetite. Check out all her recipe videos on TikTok, Instagram, and YouTube, and even more appetizing posts (especially if you love pasta like Lindsay does!) on her website TheHungerDiaries.com.
I absolutely love this time of year, and if you're into hearty grain and salad bowls, you probably do too. So, for this month's edition of CCC (Cafe Casino Cooking) Foodie Dice Game, I knew when the ingredients landed that it was time for a bowl concoction! These babies never fail to get my creative juices flowing in the kitchen and I'm so excited to share with you the results today—an Herby BLT Chicken Salad Bowl with Lemon Honey Vinaigrette. A mouthful of a title, but a delicious mouthful indeed.
If you didn't check out my Eggs en Cocotte from last month, or you're new around here, this foodie dice game helps create a unique meal idea simply by rolling the dice and having fun.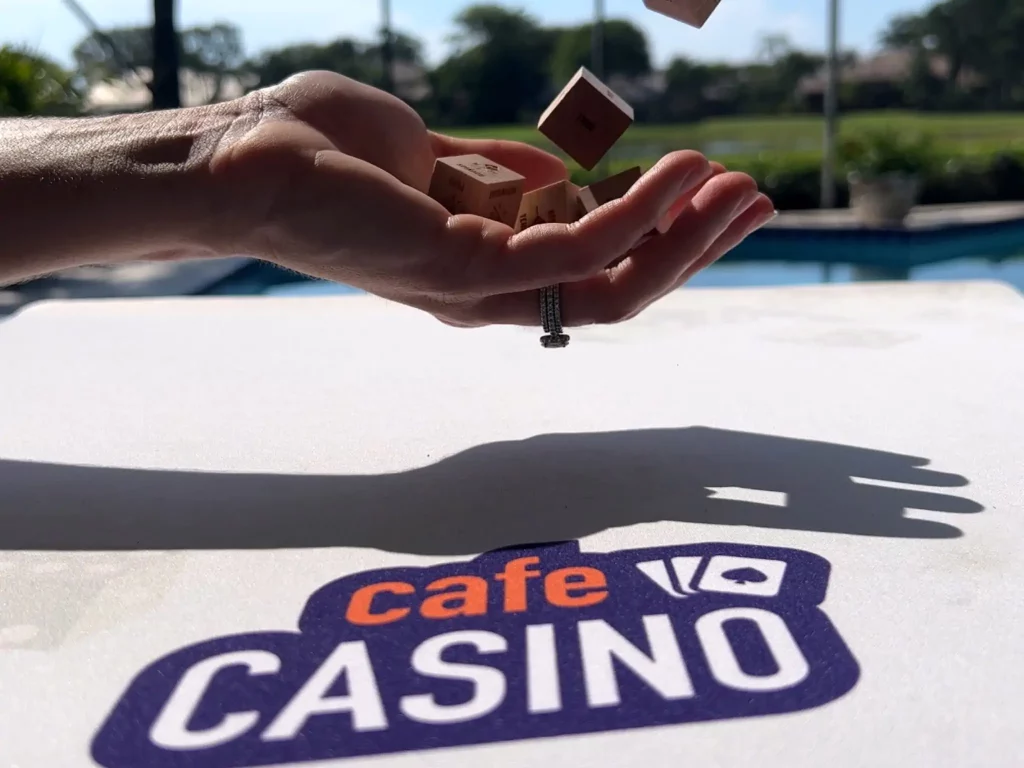 Right now, there's an array of fresh, vibrant, and locally sourced produce. Farmers' markets and grocery stores are stocked with a wide variety of crisp greens, tender vegetables, and flavorful herbs, making it easy to create colorful and nutritious salad bowls. You can understand my excitement when I rolled the dice and saw two of them land on spinach and basil. Serendipity, I tell you!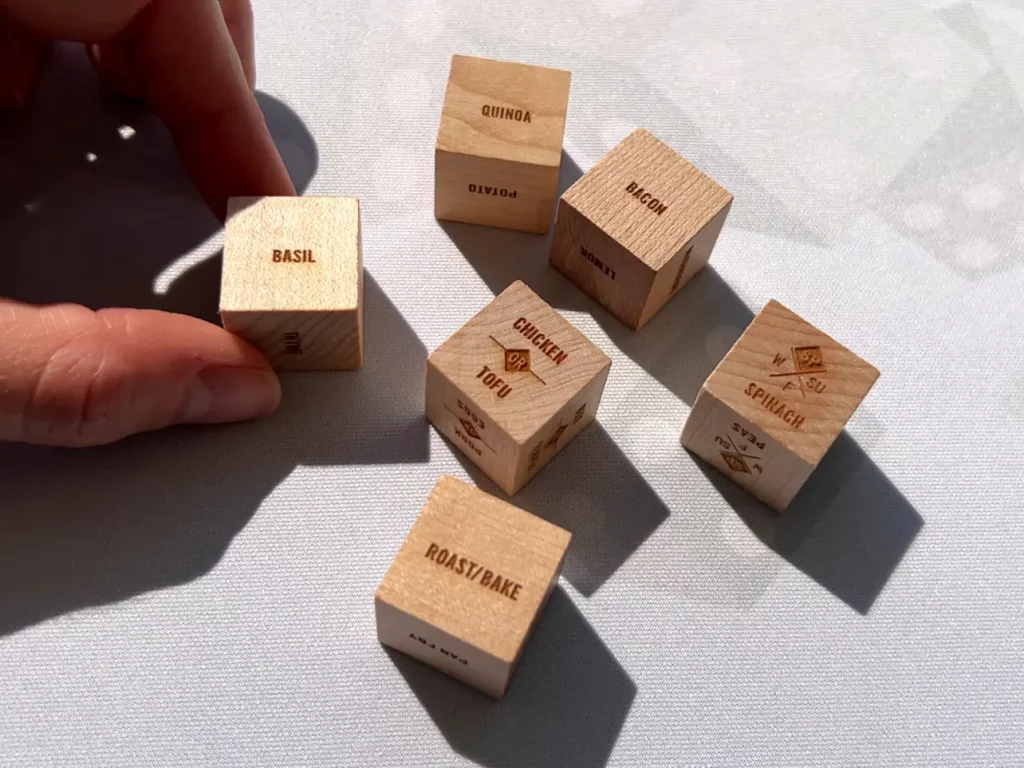 This salad bowl is so light and refreshing. It's the perfect option for those wanting a hearty, protein-packed, nutritious meal that's satisfying yet surprisingly light. The combination of crisp spinach, fresh herbs, and tangy vinaigrette absolutely hits the spot and is something you can really feel good about putting into your body. With the milder temperatures and longer daylight hours this time of year, this is an ideal dish to eat al fresco. It's also portable! Which makes this an excellent choice for picnics, outdoor gatherings, or a light meal on a patio or balcony.
The all-knowing Foodie Dice really have my number though, because seeing "Roast" and "Chicken" come up lights up the excitement I have for a good Rotisserie chicken. Seriously, it's the best cooking hack! You can roast your own if that's what you're feeling, but I love being able to go to the grocery store and get a whole ready-to-eat chicken without having to fire up my oven. I can't recommend them enough.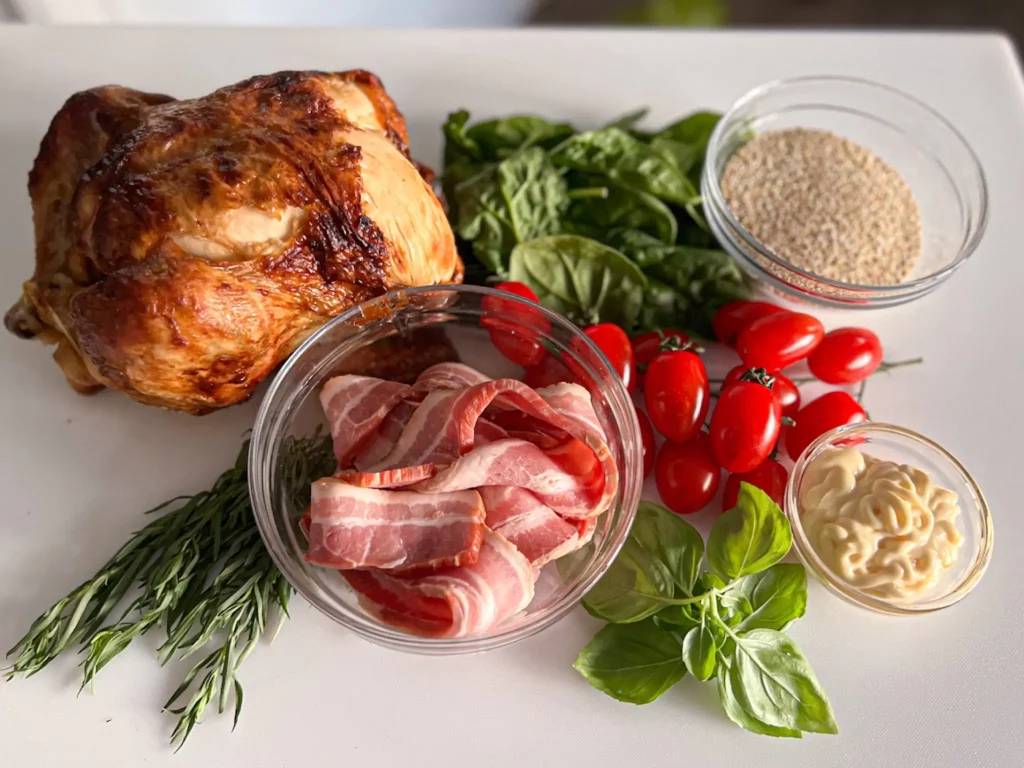 Now, let's get into the recipe! There are a few different parts to this, but they all come together really easily. To make the chicken salad, just mix all the ingredients together in a bowl, adding a little more or less mayo depending on how large your rotisserie chicken is and how creamy you like it. The vinaigrette comes together just as quickly. Add all the ingredients for it into a Mason jar and shake, shake, shake.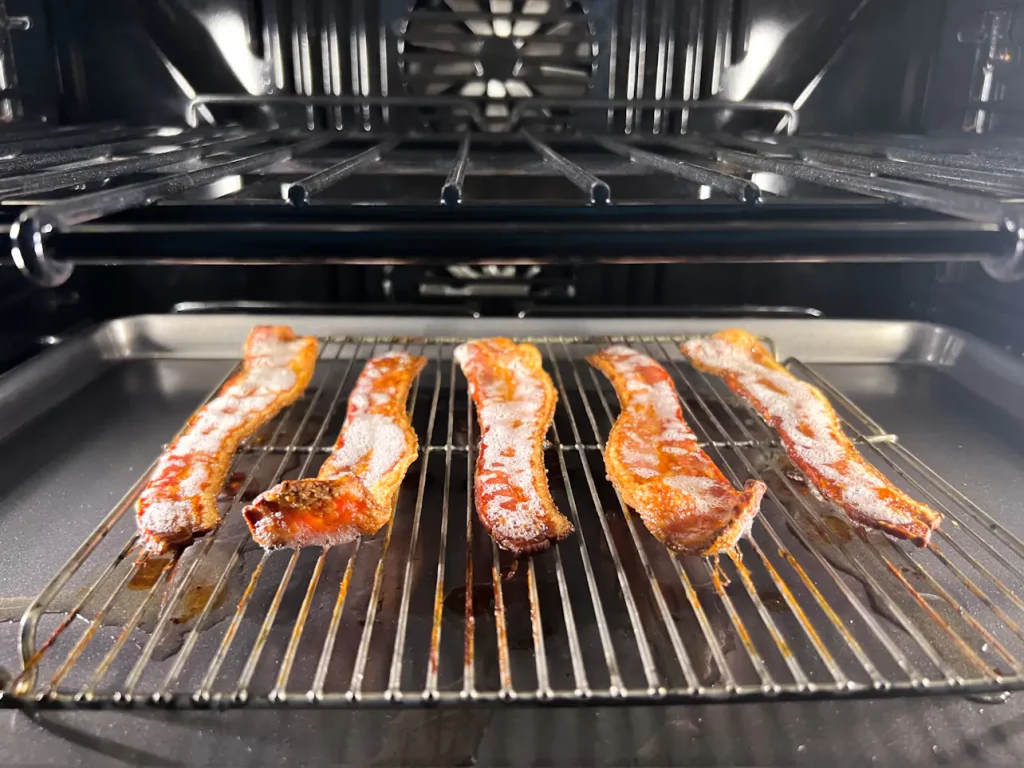 I recommend cooking your quinoa and getting your bacon crisping up while you make the chicken salad and vinaigrette. There are multiple components here, but they can all be done pretty much simultaneously, which is really the beauty of a recipe like this. While you wait for the bacon and the quinoa, you can also prep your spinach and tomatoes. I felt fancy and decided to chiffonade the spinach (a fancy way of saying 'cut into strips'), which makes it easier to eat with all the other ingredients. You do this by making little piles of spinach leaves, rolling them up, and then slicing them to create ribbons. Feel free to skip that and use whole baby spinach leaves if you prefer!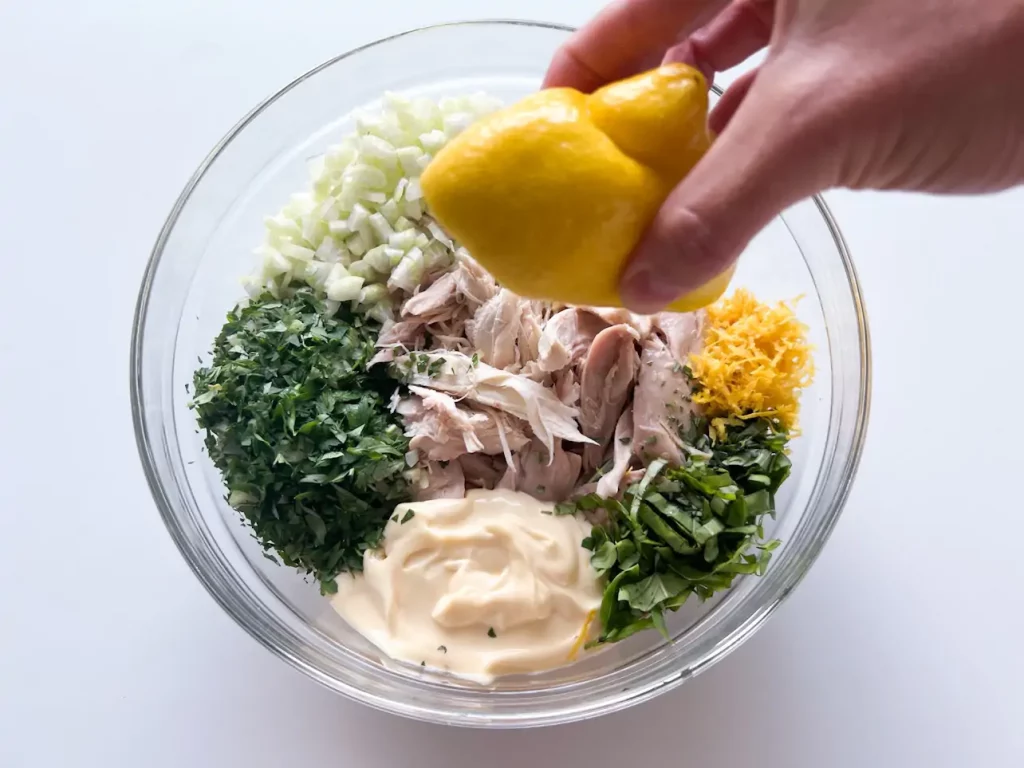 Once everything is ready to go, it's time to assemble! I like to put each thing in its own little section of the bowl so I can admire the beauty of the ingredients. I mean, look at those red cherry tomatoes next to the deep green spinach and that bright chicken salad with all the herby goodness. It's really a sight to behold. After you take a moment to appreciate the vibrance, just pour on as much vinaigrette as you'd like, mix it all together, and dig in!
The abundance of fresh produce, seasonal variety, lightness, versatility, health benefits, and the opportunity to enjoy outdoor dining make now an exceptional time of year to enjoy this Herby BLT Chicken Salad Bowl with Lemon Honey Vinaigrette. It's a great way to celebrate the season and savor the flavors of the ingredients. Now it's your turn to play! I hope you have fun, and of course, that you enjoy all this deliciousness!
HERBY BLT CHICKEN SALAD BOWL WITH LEMON HONEY VINAIGRETTE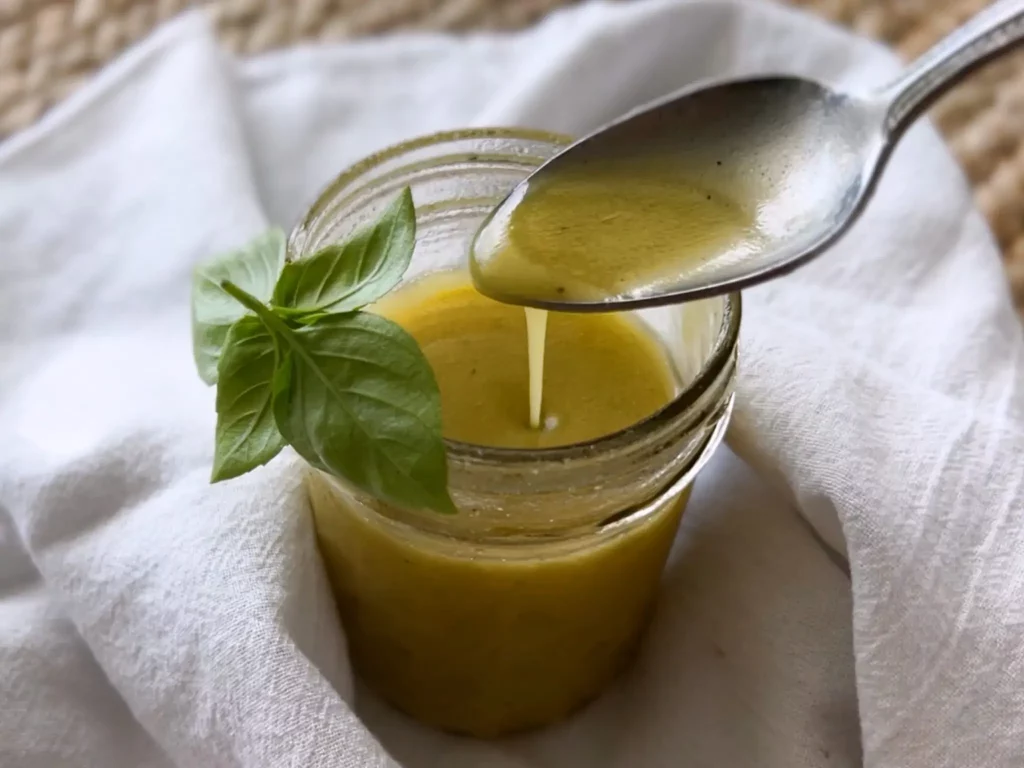 INGREDIENTS:
CHICKEN SALAD:
1 Rotisserie chicken (meat pulled and shredded, ~ 4 cups)
½ cup Mayo
⅓ cup Celery (finely chopped)
¼ cup Basil (cut into strips)
¼ cup Parsley (chopped)
3 tbsp Tarragon (chopped)
1 Lemon (juice and zest)
Salt + Pepper (to taste)
REST OF BOWL:
3 cups Spinach (cut into strips or left whole)
⅔ cups Quinoa (uncooked)
1 ½ cups Cherry Tomatoes (halved)
½ cup Bacon (chopped, ~ 6-8 slices depending on thickness)
LEMON HONEY VINAIGRETTE:
2 tsp honey
1 tsp Dijon
¾ tsp salt
¼ tsp pepper
¼ cup lemon juice
½ cup EVOO
INSTRUCTIONS
Preheat oven to 400° F. Place bacon slices on a cooling rack, then set the cooking rack on top of a sheet pan. Bake for 20-25 minutes or until your desired doneness. Meanwhile, cook the quinoa according to the package instructions.
In a large bowl, combine all of the ingredients for the chicken salad and mix well to incorporate each of the herbs. Start with just a little bit of salt and pepper and taste as you go to get the flavor that you like.
Make the vinaigrette by putting all of the ingredients into a Mason jar, close with a lid, and then shake vigorously until everything is combined.
Assemble your bowl! Put the chicken salad, spinach, Quinoa, halved cherry tomatoes, and chopped bacon into a bowl. Top with as much vinaigrette as your heart desires and mix together!
Eat and enjoy.
NOTES:
Precooked Rotisserie chickens from the grocery store are a huge time saver, so don't feel like you have to roast your own chicken. Keep in mind that all chickens come in different sizes, so while mine turned out to be around 4 cups of shredded meat, yours might be more or less. In that case, you'll want to adjust the mayo and other chicken salad ingredients to achieve the consistency you like.
If you really want to amp up the protein (about 9-10g protein/cup) in this recipe, you can use bone broth in place of water to cook your quinoa. To improve flavor alone, chicken or vegetable stock work too!
Bonus: Take the chicken skin off of the Rotisserie chicken and lay it on the rack with the bacon. Bake the chicken skin until it's golden brown and crispy and then crumble it in with the bacon for even more delightful crunch!
HAVE MORE FUN WITH CAFE CASINO
Add a sprinkle of fun to your delicious salad bowl recipe by visiting us at Cafe Casino! Our online casino serves up over 250 real money casino games, including slots, table games, progressive jackpots, and Hot Drop Jackpots! You can play using your mobile or desktop at CafeCasino.lv – no downloads or apps required.
Getting started is easy! Cafe is the best crypto casino, accepting popular methods like Bitcoin, Ethereum and more. Playing has never felt so rewarding!