Play Cafe Casino Cliff Hangers Online For Free
Cafe Casino Cliff Hangers is comin' on down as the newest of our free mini games, and you're invited to put your guessing skills to the test! You're challenged to pin-point the prices of food and diner items from the 1950s through the 2020s. But be careful – a wrong answer could literally push you off a cliff!
If that sounds familiar, it's because Cliff Hangers was inspired by our nostalgia for the iconic game segment on The Price is Right.
To refresh your memory, contestants on the TV show are asked to guess the prices of common retail goods. A yodeler travels up a cliff one notch for each dollar they were off. As long as the yodeler doesn't fall off the cliff, the contestant wins.
But don't worry, you won't find any actual yodeling here! Phew! As long as you guess the price of the food and diner items correctly, you'll stay on the cliff and edge closer to winning the game.
Rules of Cafe Casino Cliff Hangers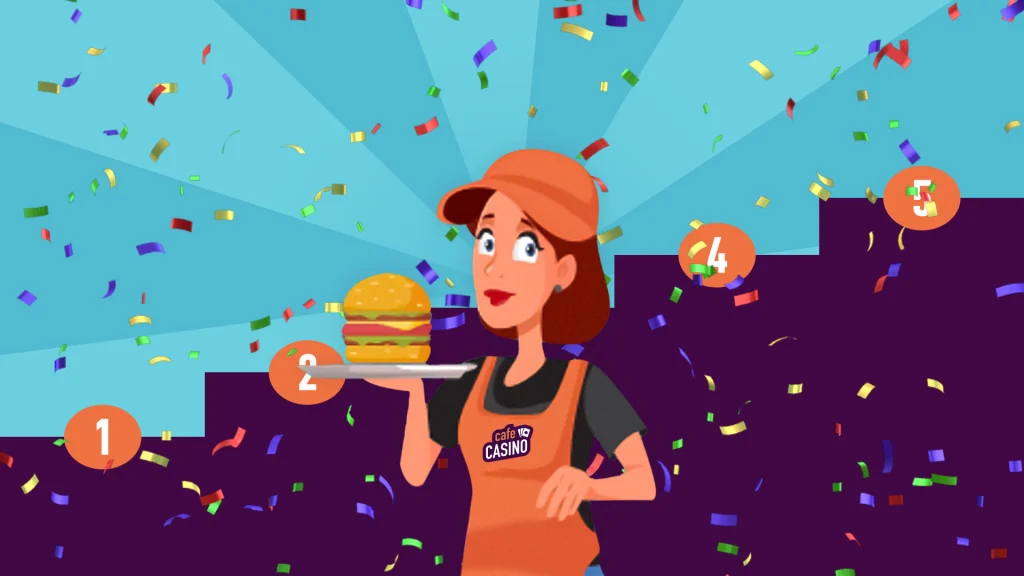 In the Cafe Casino version of Cliff Hangers, your character faces a daunting staircase in a busy American diner, with an unwelcome fate at the top! From four multiple choice answers, guess the prices of six diner and food items.
Guess the right price, and your character doesn't move and remains safe (nice!). However, if you guess wrong, you'll move up the steps. Choose the closest wrong answer and advance up four steps. Guessing the second closest moves you up five, but beware – the farthest guess sends you up a whopping six steps.
The questions range from the 1950s until current day, so any generation can put their food knowledge to the test, and have a lovely stroll (or climb) up memory lane.
Should you answer all the questions without falling off the cliff, your achievement is celebrated with confetti and cheer. If you couldn't quite remember the price of a double-decker bacon cheeseburger from 1995, well, you might just take a big tumble off the cliff.
But hey! There are always more questions to answer, so pick yourself up and pour another glass of Coca-Cola from the soda fountain.
How To Play Cliff Hangers
• Play on either desktop or mobile by clicking or tapping the screen to answer six multiple-choice questions.
• Guess correctly – you stay put.
• Guess incorrectly – and you move up the stairs.
• The goal is to answer all the questions without falling off the cliff!
Have Fun with Cafe Casino Cliff Hangers for Free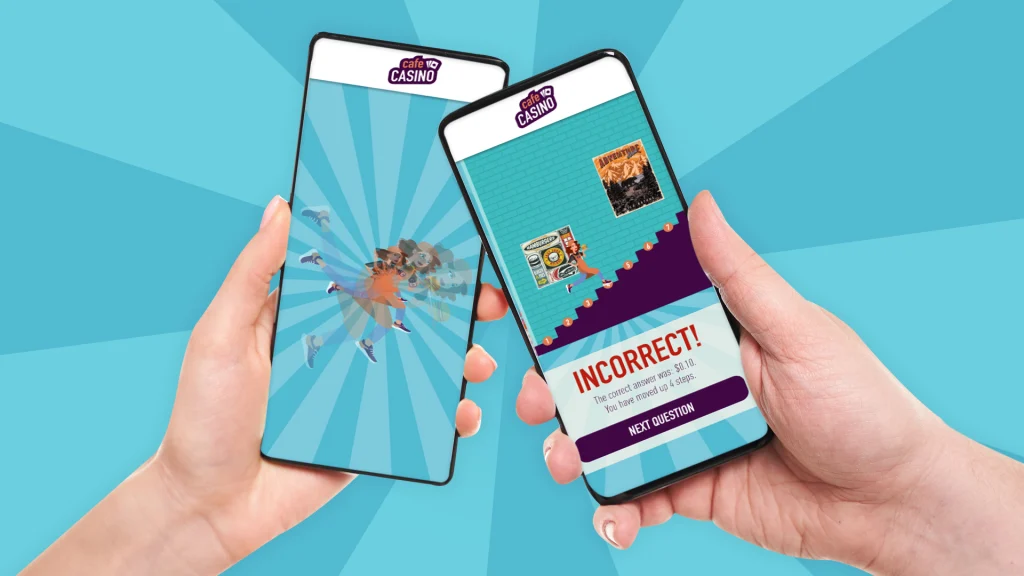 As much as everyone enjoys wins from real money casino games, sometimes you want to chill out and have a different type of fun. We all crave novelty, and Cafe Casino's free mini games offer just that – a unique, video-game-style experience to mix things up!
Turn it into a social affair by sharing Cliff Hangers on social media, and you might even rally some friends for lunch at the local diner.
Oh yeah, did we mention it's free? Truly, what's better than complimentary fun – except, maybe a juicy burger. How much was that again?
Speaking of social activities: when you refer a friend to join you to at Cafe Casino to play for real money, we'll give you a referral bonus.
More Free Games at Cafe
While Cliff Hangers is the hottest new way to have fun with Cafe Casino mini games, the kitchen's has prepared more mini games for free.
In Build a Burger, you are a server who darts around the street with your arrow keys collecting burger ingredients falling from the sky onto your bun. You win if you collect enough lettuce, tomato, meat, cheese, and pickles to make it sky-high. It's super easy to learn, and you end up with a rather interesting cheeseburger with every fixing imaginable.
If it's still slots online you want, you can play those for free, too. Playing slots for free in practice mode is one of the reasons why online slots are so popular! Every game – that's hundreds, mind you – at Cafe is available to take for a spin at no cost. You get a "pretend" balance, and you can spin to your heart's content without risking anything from your actual bankroll.
Once your break is over and you're looking for some real money thrills, the first game to kick back into gear is one with Hot Drop Jackpots. A jackpot is popping off every single hour in these games.
Play Real Money Games With Only $10
Even when you opt to play a game with real bets, you'd be amazed at how little investment it takes to get the real money thrill.
Just $10 is enough to boost your balance with actual cash, especially if you play via crypto gaming. Depositing with crypto doesn't change anything in your actual game. Your balance is still displayed in USD like you're used to, but you enjoy the perks of a lower deposit minimum, fewer fees, and bigger bonuses.
The minimum deposit for several cryptocurrencies at Cafe is $10. Compare that to a minimum of $20 with your card; it doesn't compare!
With that $10, you can play games at Cafe, many of which have betting options as low as a penny. You can even shoot for progressive jackpots in slots that don't require the max bet.
In online slots with lower volatility, smaller wins are more frequent and you might find that a few stack up and magnify that $10 into something grander, which in turn means a bigger, better win than that might be a few spins away.
Cafe Casino Cliff Hangers is a must-play game inspired by your fave retro gameshow. So, get ready to test your knowledge, and simply enjoy the fun with Cafe Casino mini games, old-school style!