How to Play Slots at Cafe Casino
Few things online can match the fun of a slots game. They're colorful, exciting, and if you're lucky, could make you rich in a single spin! That's why slots are one of the most popular game types among casino players.
With incredibly simple gameplay, slots can be easy to learn. To get you started, we've served up the ultimate slots how-to:
How to start playing slots at Cafe Casino
How to understand slot machines
How to win at slots
Take a few minutes to read this Cafe Casino slots guide. We guarantee it'll make all the difference (for both new and experienced players) and you'll be spinning the reels in no time!
HOW TO START PLAYING SLOTS AT CAFE CASINO
In just 3 simple steps, you can be playing real money slot games.
Pick your game: There's tons to choose from, based on a huge variety of themes. You can go on an undersea adventure, take on the gods of ancient Greece, chase fairies into an enchanted forest, and so much more. Find something that looks like fun and hop in!
Select your wager size: Cafe's games can be adjusted to suit your preference and bankroll. If you want to wager a small amount on each spin and play for a long time, you can. If you want to bet big money and chase mega payouts, you can do that too. There's a button on each slot game to select your bet size, so make sure you use it!
Spin: Time to spin the reels! Press the spin button and watch the slot come to life. Congratulations, you just played your first slot.
If you're brand new to the Cafe, you'll want to sign up for an account first. Joining is quick and easy so you can get right to the fun stuff.
Don't miss out on the amazing Welcome Bonus either! Right now, newcomers can fill up on a deposit bonus of 350% up to $2,500! That will lead to a lot more spins!
HOW TO UNDERSTAND SLOT MACHINES – THE BASICS
Learning how to play slots requires an understanding of the basic terms and symbols you'll see in a slots game, as well as the different types available. The good news is, everything is pretty easy to understand once you have a little experience with the games. Here's some important concepts to understand.
3-REEL VS 5-REEL SLOT GAMES
The number of reels in a slot game is simply how many columns there are on the game screen. The term "reel" comes from physical offline slot games that used to have literal reels that would spin and land on certain symbols. Now, the reels are virtual, but we can still count them.
Classic, Vegas-style slots often have only 3-reels, while modern, video slots are often 5-reels and above. Why play one over the other? Sometimes, the simplicity of a 3-reel slot provides a more relaxing experience. Other times, a bit more excitement can come from a 5-reel slot, which can provide more paylines and chances to win.
PAYLINES
A payline is a line on the reels on which you can match the symbols in a specific format to get paid. For 3-reel slots, you had to line up symbols on the center horizontal line to win. But over time, as more video slot games appeared, the more reels that came along with it. Now you could match up symbols on other paylines as well. What about across the top? Or the bottom? Or zig-zagging from bottom to top? There's so many options!
PAYTABLES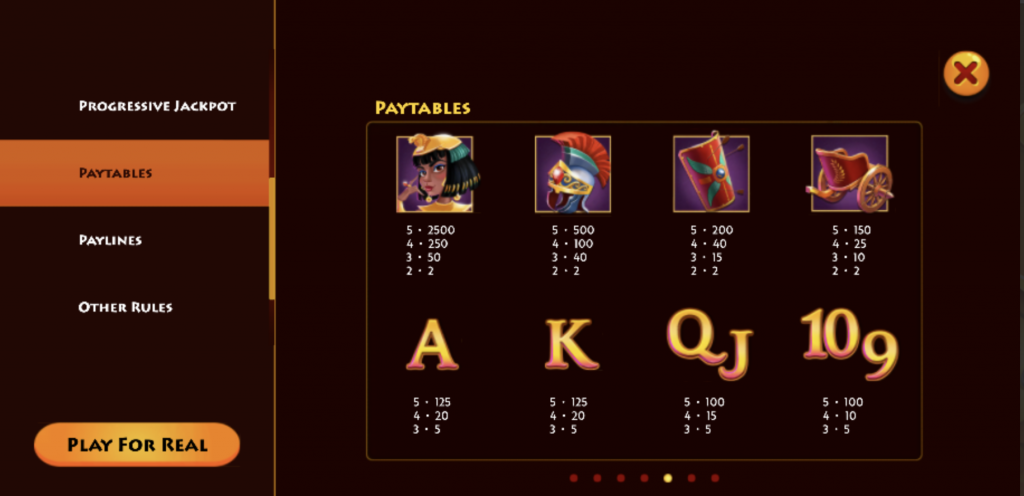 A paytable shows you what each symbol pays when you get enough matches on a payline. Let's look at this one from Caesar's Victory:
Let's review the "A" (ace) symbol. If you get 3 on a qualifying payline for a defined bet, you win 5x your bet per line. 4 As on a payline gets you 20x, and 5 will win you 125x. (Bet per line is determined by the overall bet you place divided by the number of paylines played.)
On the top row, the paytable is telling you that these symbols are rarer and more valuable. 5 Cleopatras gets you the top payout of 2,500x bet per line.
HOW TO UNDERSTAND SLOT MACHINES – THE FEATURES
Now that we've established the basics, here's more on the special slot game features that could boost your bankroll.
WILDS
A wild symbol in a slot game substitutes for a symbol that you might need to match up for a win. Some games also feature expanding wilds, where the wild symbol grows to take over the whole reel. This lets it affect a number of paylines at once, increasing your chances of winning. Wilds can also function as a number of different symbols for some slot games, so they can be very powerful at helping you earn real money.
MULTIPLIERS
Is your payline worth $10? A 2x multiplier increases your win to $20 by multiplying it by two. A 5x multiplier would help you win $50 by multiplying your win five times. They're pretty straightforward, functioning as a simple way to increase the total amount of real money you earn on a spin.
FREE SPINS
This might be the most profitable part of a Cafe Casino slot game. Some games feature scatter symbols where, if you get three of them anywhere on the screen at once, you unlock free spins or a bonus round. They don't necessarily have to be lined up, but can be "scattered" around the board, which is how these symbols get their name. (Definitely check the rules of your specific slot to be sure!)
Free spins play out without any extra wagering needed. All the money a player wins during these rounds is added to their total win. Some games feature a huge potential for free spins, making it easy to get dozens of opportunities to spin the reels with no extra betting needed.

Just kick back and watch the reels spin!
BONUS ROUNDS
Outside of hitting a jackpot, a bonus round is the most fun you can have playing slot games. While many games feature a simple free spin round, others have mini games that add a little spice into your experience.
Gold Rush Gus, for example, gives you the chance to increase your real money winnings by boosting a minecart along a track if you click the screen at the right time.
In A Night With Cleo, you enter a Gamble Feature bonus round where you can select one of two flowers for a chance to double your winnings (and undress Cleo).
There's so many bonus rounds out there – if you want extra fun, give them a shot!
PROGRESSIVE JACKPOT SLOTS
Progressive slots offer you the chance to become a BIG winner by taking home a jackpot worth thousands, hundreds of thousands, or even over a million dollars! These slot games feature jackpots that grow and grow as players spin the reels. With each wager, a little money is added to the progressive jackpot, and it gets larger continuously (or "progresses," thus the name). Eventually, some lucky player hits the big money and it resets.
You can find these games under "Jackpot Slots" in our slots section. It doesn't matter if you're still learning how to play slots at Cafe Casino – one lucky spin is all it takes for some games with random progressive jackpots.
HOW TO WIN AT SLOTS
This is probably the most common question that comes up when you're learning how to play slots – how do you win? Well, the simplest answer is to get lucky, but you can also implement a few of our tips for better profit potential over the long term of your play.
Review the rules of each slot: Know what you need to play for the big wins. There's usually a hamburger icon or a document icon for you to click. How important is it? Shopping Spree, for example, won't pay out the progressive jackpot unless you're wagering the maximum.
Practice Mode can be a useful tool: If you'd rather just jump into the fun, try it first in practice mode. See what works without the risk.
Pick the right slot for you: If you want the chance at a giant win, you might try a progressive jackpot. If you want to pocket some consistent paydays, consider a regular slot. Definitely play within your bankroll.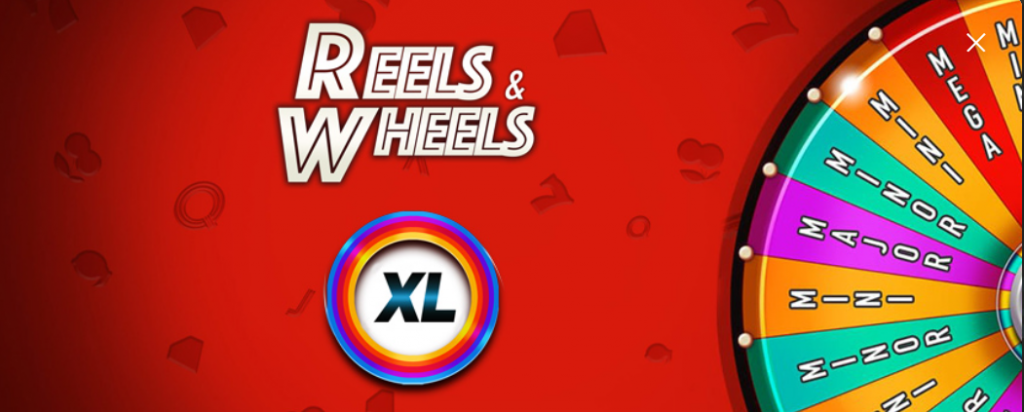 Online slots hit randomly, but it never hurts to have all the information to make the best decisions before you play! If you're ready to get started, we recommend these 3 popular Cafe Casino slots to try first:
Reels and Wheels XL: A jackpot slot game that features not one, but TWO bonus wheels. The first wheel has some nice prize multipliers, but if you land on the jackpot section, you launch the jackpot wheel for a shot at the whole progressive jackpot!
Larry's Lucky Tavern: In the mood for a beer-soaked night of music and fun in a cheery tavern? Larry's your leprechaun! Let him fiddle you right into a big pot o' gold.
Crystal Crater: This slot adds a little more fun thanks to a mole that drops wilds at random to help you win more money. Exciting sights and sounds make this one a crazy ride!
If these didn't strike your fancy, Cafe has hundreds to choose from. Discover one you like and start playing slots online now.