Cyberpunk City Slot Game Review
The rain is glistening off the neon-blazed streets of this city. It's no matter – a little bad weather won't keep you from joining your crew in this futuristic adventure! In Cafe Casino Cyberpunk City slot game, you, your pink-haired mohawk sidekick and your badass gang are working hard to unlock that progressive jackpot with each spin. Plus, your hoodie pockets are filling up with even more wins thanks to expanding wilds and free spins.
This slot, which isn't just for sci-fi fans, offers a dramatic escape for anyone looking to slip into a new world. With towering skyscrapers above and the dark and dirty streets below, Cyberpunk City is for those who are bold enough to try their luck. Are you in?
Fire up your anti-biovirus fleshware and charge up your cybernetic implants – it's time to enter the city.
---

RYAN W. FROM IN WON $498K PLAYING CYBERPUNK CITY AT CAFE CASINO IN JUNE 2023!
---
CYBERPUNK CITY SLOTS FAQ
How do you trigger free spins?
All you need is the Cyber scatter on reel 1 and Punk scatter on reel 5 to unlock 10 slot free spins, which can be retriggered!
Do I have to bet max to be eligible for the progressive jackpot?
The amount you bet doesn't control the size of the jackpot. If you hit it, you hit it, and you win 100% of what is in the pot. You don't have to bet the max to be eligible.
Do I need to know anything about hacking and cyborgs to play?
Not at all. This is a straight up slot game, at the end of the day.
Can I play Cyberpunk City with cryptocurrency?
Definitely! And it's super easy to deposit cryptocurrency into your account and start playing.
CYBERPUNK CITY GAME THEME
It's night time and rain is falling on the grimy city streets. Neon symbols spin by while your sidekick with a pink mohawk and tight black pants reminds you that she's all business each time she fires her laser gun into the air. Your crew also appears on the reels: A hulking cyborg, a VR whiz-kid, and a couple of other punks light up some paylines and fuel your gameplay. They're your company while you listen to the driving techno beat behind this slot.
Will a big real money win be your ticket out of the slimy gutters and into a nice, dry penthouse high above the problems of the city? Only you can decide.
CYBERPUNK CITY GAME FORMAT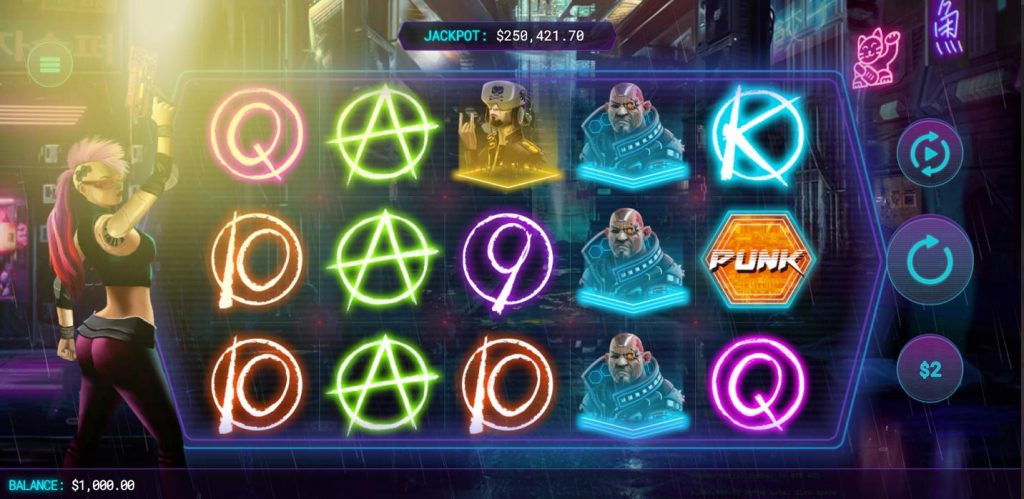 Cyberpunk City slot at Cafe Casino has 5 reels, 3 rows and 20 paylines. Minimum bets range from $0.20 to $200, so you can go as big as you like. Press the middle button on the right (that looks like the refresh symbol) to kick off a spin. If you need to review the rules and payouts, all that information is found by clicking the icon in the top left with three horizontal lines.
The VR whiz-kid making metal horns with his fingers is the least valuable "high" symbol, while the bright green guy in the neat suit jacket will get you the most money. He can also turn into a random wild symbol, which boost your Cafe Casino real money slot wins.
The low symbols are made up of card ranks from 9 all the way up to ace. They give the game its neon electrified feel. Seriously – check them out! The designers did a great job making this one look sick.
CYBERPUNK CITY GAME FEATURES
The expanding wilds are the most fun visual feature of this slot game. Look for the jacked cyborg with the metal arm and laser eyes. He'll appear on reel 3, grow to cover the whole thing, and will substitute for any symbol except the scatter.
This Terminator-esque symbol robotically says, "Come with me if you want to win."
There's also a free spins bonus round if you get two scatter symbols in the right place. You need Cyber on reel 1, and Punk on reel 5 to trigger it. Once your free spins start, you can rack up the wins, and get ten more bonus spins if you retrigger by getting Cyber and Punk in the right places again. Each win during the free spins bonus round has a 3x multiplier on it, so watch your bankroll rise to the rooftops!
CYBERPUNK CITY PROGRESSIVE JACKPOT
Cyberpunk City offers a totally random progressive jackpot – it's not part of the bonus round and there's no extra game to play to unlock it. Instead, you can win it on any spin, any time. It doesn't matter if it's your first time or your 20th session. If you press Spin, you have a shot at the jackpot!
The jackpot is a progressive, which means that it grows over time. A little bit of each wager placed on the game is taken to contribute to the communal pot. This builds up until someone hits it, and then it resets. It can get huge – sometimes five or six figures, if it hasn't hit in a while.
---
If you enjoy jackpot slots, try our Cafe Casino Hot Drop Jackpots – dropping every hour, every day, all the time!
---
IS THE CYBERPUNK CITY SLOT GAME WORTH A SPIN?
This game will most appeal to people who love the theme and aesthetic. If you're a fan of Blade Runner, the Matrix, or anything in the realm of cyberpunk, you'll probably be enthralled playing Cyberpunk City. It's also great for people who want a different slot online than a lot of the happy-go-lucky games. It's nice to see a little grit sometimes, if you know what we mean.
The biggest draw, of course, is the jackpot! If you're trying to become our next big winner, Cyberpunk City offers you a shot the moment you hit spin.
PLAY CYBERPUNK CITY SLOT GAME AT CAFE CASINO NOW
If you're ready to get a little dirty but reap the rewards, Cyberpunk City is the slot for you. Log in and hit the streets of this Cafe Casino online slot now.
And while you're logged in, grab your personal referral bonus code to keep it handy. Sharing it with friends could earn you a bonus!