Thundercrash Arcade Game Review
3, 2, 1…. Thundercrash is an epic blast into space! Step onto a thrilling inter-galactic flight through the final frontier where your mission is to soar high and stay flying for as long as possible. The higher you fly, the bigger your winnings, as the multiplier rockets alongside your ship. Your objective is to cash out before a comet, asteroid or other space rock collides with zero warning. Talk about edge-of-your-seat action!
Cafe Casino Thundercrash arcade game prize can rise to a celestial $100,000. With that kind of money, you can start building your own spaceship to join the current crew of real-life billionaire space cowboys. Or you could get yourself a really, really nice car. Either way, you're going places!
This arcade-style game at Cafe mixes the high-quality graphics of online slots with a bit of strategy and a pinch of nostalgia (we all remember those games!). So, strap in for Thundercrash.
---

IF YOU LOVED ARCADE GAMES, THUNDERCRASH IS A MUST-PLAY WITH A $100,000 MAX. PAYOUT!
---

THUNDERCRASH ARCADE FAQ
Is there a time limit for betting?
Yes. You have 6 seconds to bet before launch. It's fast, furious and immediately rewarding! If you miss it, your bet is applied to the next round.
Are there minimum and maximum bets?
You can bet as little as 50¢. Your maximum bet depends on the automatic cash-out value leading to a possible maximum payout of $100,000.
Is there a minimum cash out?
The minimum cash out is 1.01x the multiplier.
What's the maximum payout?
An out-of-this-world $100,000 for this arcade game!
Can I play in practice mode?
Oh yeah! Thundercrash is available to watch other players in practice play (check out their avatars!). To place a bet, you'll need to be in real play.
Can I play Thundercrash using crypto or Bitcoin?
Definitely! Load your account with one of our accepted crypto casino transaction methods, and strap in to play!
THUNDERCRASH GAME THEME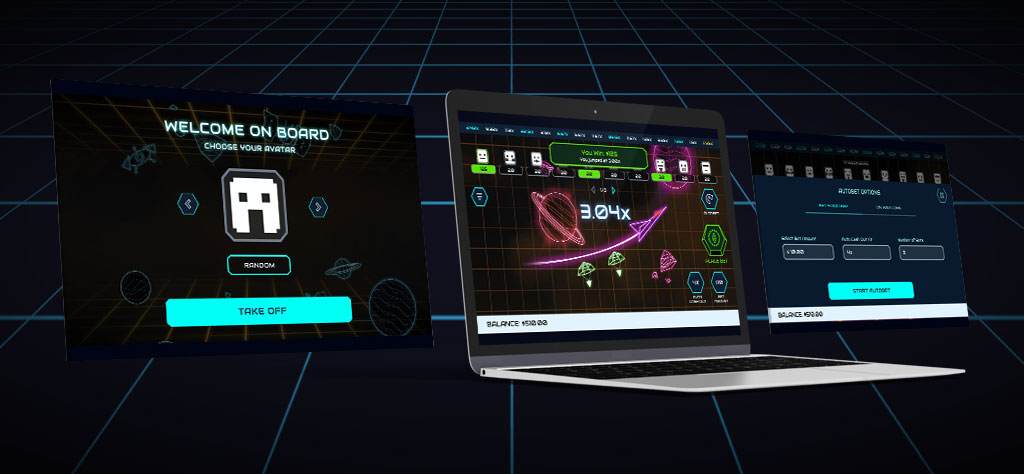 Your craft launches from an orbiting spaceport to rise among the flaming asteroids, satellites, moons, space walkers, and planets. Any one of them can bring your flight to a fiery end. But as you gain altitude, the multipliers grow! You've got two tools to keep soaring: luck and smart wagering. Continue flying through the field of potential threats and cash out at the right moment to pocket the accumulated winnings. Crash and burn or cash in and return to play again! That's what Thundercrash arcade game at Cafe Casino is all about!
HOW TO PLAY THUNDERCRASH
Fans of action slots know that space travel is super dangerous and you need the right strategy to avoid crashing!
First, choose your player icon among the avatar options. Other avatars at the top of the game screen are players also wagering alongside you. Now you're in game mode!
Next, select your bet amount and auto cash-out value, and prepare for launch.
Every flight starts your multiplier at 1X, gaining more as you gain altitude. The higher your flight, the bigger the multiplier, so you've got to ride that rocket ship for as long as possible. You may not make it beyond the end of the launch pad, or you may get to deep space as the rewards increase and the threats come faster and faster. Once you've flown as far as you can, or when your nerves can't handle it any longer, click "Cash Out" and collect your original bet times the multiplier indicated at precisely the moment you bailed.
If you don't hit "Cash Out", you will cash out once your auto-cash out value hits.
Hit "Take Off" in free practice play mode first; you can't place a bet but you can see how it works before you switch to real money when you're ready!
THUNDERCRASH $100,000 PAYOUT
Yeah, the maximum payout in Thundercrash really is $100,000! It all depends on your max bet and the multiplier you reach in the game. With simple rules, easy gameplay, and more control beyond luck, arcade games have become super popular options in the gambling world, even among adventure online slots players.
This is a game worth sharing with friends as well. Not only can they pick their own avatar and play side by side with you, you both can leave the game big winners! Tell friends about Cafe Casino and you could earn a referral bonus too!
IS THUNDERCRASH WORTH YOUR TIME?
As the newest star in our Cafe Casino specialty games fleet, Thundercrash is unique and innovative, as well as incredibly generous and amazingly explosive. It's the perfect game for players who love new experiences, lightning-fast play, and arcade games.
With surreal graphics and dynamic sound effects, the suspense is terrifying, which makes this game an amazingly fun experience. The reward-to-risk factor is, shall we say, through the stratosphere.
PLAY THUNDERCRASH ARCADE GAME AT CAFE CASINO NOW
Get onboard today and find out why Thundercrash has become a colossal hit among our players. If you're looking for other specialty games or thrilling slots, check out CafeCasino.lv to see what other high-flying action you can get into!
Be sure to try out our Cafe Casino Hot Drop Jackpots, too, if you want a popular game with tons of excitement!