RED, WHITE, AND BLUE TRIFLE RECIPE (PLAY 777 DELUXE HOT DROP JACKPOTS WHILE YOU EAT!)
The sun is out, the grill is fired up, and the sparklers are unpacked and ready to light. What are you doing for Independence Day?
Will you be hosting your own backyard BBQ in the sun? Or visiting someone else's house for a potluck? Good thing you're here: you're going to need one of our favorite Fourth of July recipes, and luckily for you, it's easy as pie – or trifle – to make.
It's the Red, White, and Blue Trifle!
You can whip it up at the last minute to impress any crowd with a visually patriotic dessert that's almost too pretty to eat (but trust us, you will anyway). Spend your day of celebration spelling your name out in sparklers and socializing – and let this yummy work of art take care of the treats.
While you're flitting around the kitchen letting the dish just about make itself, we brought a fun little game along to join the festivities. Oh, and the prizes are anything but little! The Cafe Casino 777 Deluxe Hot Drop Jackpots slot is firing skyward with mystery symbols and three Hot Drop Jackpots, dazzling enough to rival the fireworks on the 4th of July.
Ready to party?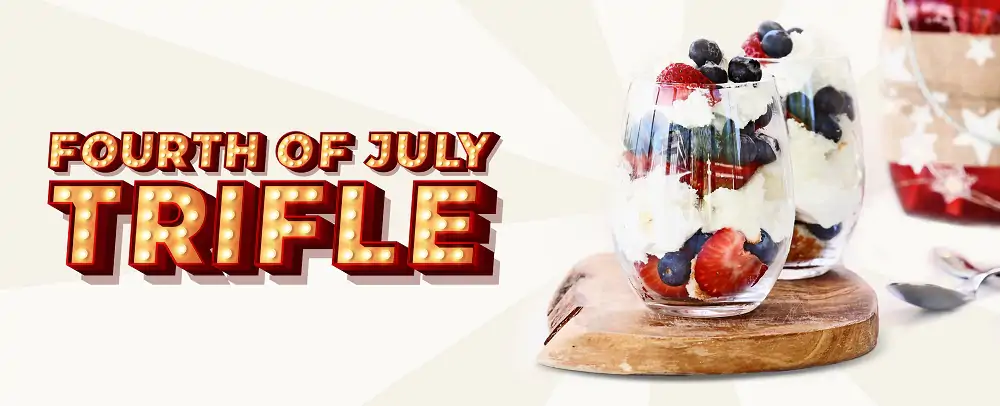 RED, WHITE, AND BLUE TRIFLE – INGREDIENTS
(Makes 4 individual trifle desserts)
The Trifle:
17 oz store-bought angel food cake, cut into 1-inch cubes
1 lb fresh strawberries, stems cut off and sliced vertically into thirds
1 lb fresh blueberries, whole
Lemon Syrup:
¼ cup water
2 Tbsp sugar
2 Tbsp lemon juice (or squeeze about ½ of a medium-sized lemon)
Frosting:
2 packages (8 oz each) cream cheese at room temperature
¾ cup granulated sugar
2 cups heavy whipping cream
½ tsp vanilla extract
Special supplies:
4 or 5 trifle dishes – or any dish with thick glass, such as a Pyrex dish or even a heavy glass cup; whatever shows off the colors of the trifle
Stand mixer – again, no problem if you don't have it. A regular whisk and a strong arm will do just fine
DIRECTIONS
Start with the lemon syrup:
Combine the water, sugar, and lemon juice and stir it until the sugar is completely dissolved. Set that aside.
Make the trifle cream:
Put the cream cheese and sugar in your mixer. Using the whisk attachment, whip them up on medium speed until they're smooth and creamy. Use a spatula to scrape the side of the bowl a few times so you don't miss anything.
While the mixer is still running on medium, slowly pour in the heavy cream and turn the mixer speed up one level to medium/high. Keep beating the mixture until it's super light and fluffy.
Add the vanilla and beat the entire mixture until it's incorporated.
Assemble the patriotic berry trifle:
Line up your trifle dishes or simple glasses. You're going to layer the ingredients.
First put a layer of your angel food cake chunks and brush them with your lemon syrup.
Next add a layer of your cream, spread loosely over the cake pieces.
Add a layer of sliced strawberries.
Do another layer of angel food cake, lemon syrup, and cream.
Now add a layer of fresh blueberries.
Another layer of angel food cake, lemon syrup, and cream.
Final layer! Arrange the sliced strawberries and blueberries in a decorative pattern on top of the final layer of cream. Have fun with it! You can make a blue stars surrounded by red; strawberry stripes and a blue square for the stars; or any other festive pattern to show off the colors.
Put the completed 4th of July trifle dishes in the fridge until it's time for dessert.
Now's a good time to play 777 Deluxe Hot Drop Jackpots while you're waiting for the guests to finish up their hot dogs, so you can serve your special dessert. Even a master pastry chef deserves a little online slots break!
PLAY 777 DELUXE HOT DROP JACKPOTS AT CAFE CASINO TODAY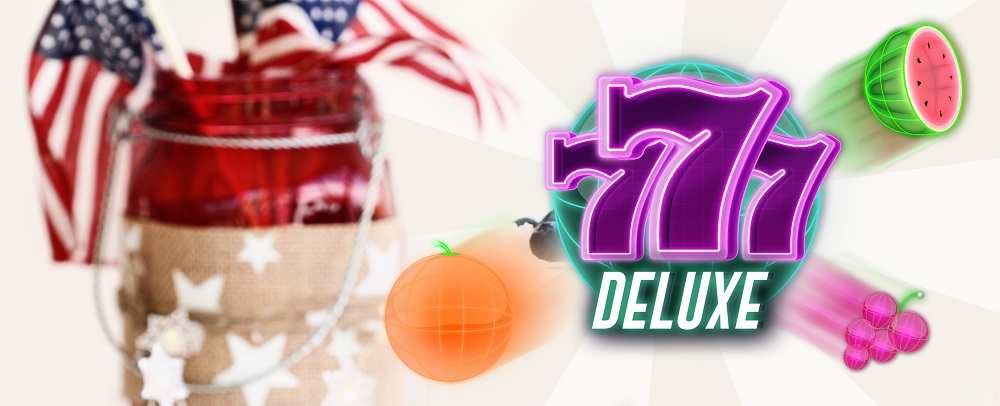 While we keenly await the fruits of our labor with this dessert recipe, what do you say we add a few more ingredients to the mix with a big-ticket, fruit-forward online slot?
777 Deluxe Hot Drop Jackpots is one of our most popular slot games. Appropriately, it's made up of watermelon, grape, orange, lemon, and cherry symbols – all the ingredients of an even more spectacular trifle to celebrate the jackpots.
While the hot dogs and hamburgers are spitting juices off the grill and the bottle rockets are shooting into the sky, the question mark mystery symbols inside 777 Deluxe are whipping themselves into a frenzy to bring you to the bonus round. Once inside, you can land matching 7s to win up to 50x your stake.
Better yet, if you land three crown symbols, you'll be invited to spin the jackpot wheel to win one of three Cafe Casino Hot Drop Jackpots, which, by the way, two are required to trigger by a specific time. Just wait until you see that show… it'll be a July 4th holiday that you'll never forget!
CAFE CASINO IS THE BEST ONLINE CASINO
The Red, White, and Blue Trifle is like eating summer in a cup. It's bright, cheerful, and satisfying, just like the experience at Cafe Casino.
Since we're a crypto casino, you have easy access to slots online and casino games in a way you just can't get with a credit card. Instead of waiting for hours or even days for a transaction to clear, you could be ready to fire off within a matter of minutes when you deposit with crypto.
You still view your playing balance in USD, so there's no confusion, but when you're ready to get paid, you can withdraw through crypto and see your money within a matter of minutes after your request is approved.
If you refer a friend to Cafe Casino, there are even more perks in store. You can get a referral bonus as soon as they make their first deposit. If you want an even bigger bonus, just invite more friends!
Just like the holiday on July 4th, this Fourth of July recipe and our Cafe Casino online slots will light up your day. The Fourth of July finale is about to fire off, so hit spin, take some bites, and enjoy the show!