How to Play Progressive Cafe Slots
There is some serious money waiting for you here at Cafe Casino, and it doesn't just come from winning the usual way when you play slots. Cafe Casino has progressive jackpots that give you a payday that can be 1000x bigger than you're used to! At the time of this writing, one of the biggest slots Cafe progressives, A Night with Cleo, has an over $60,000 progressive jackpot available.
Now that's a lot of money!
In this article, we'll cover the ways to ensure that you're eligible for these slots Cafe jackpots so that, when your ship comes in, you're ready to climb on board and claim your online casino game prize.
How to Win Playing Progressive Slots
Okay, if you're going to win slots cafe progressives, there's a few super important tips to keep in mind.
The first is that some Cafe slots have random progressive jackpots. This means that, whenever you spin the reels, there's a chance that you might hit the jackpot and get a bunch of extra cash. Like a normal win, you don't have much control over when it hits, you just need to keep your fingers crossed when you're playing.
So long as you're playing, you've got a shot. An example of a cafe slot game that has a random jackpot that pays out regardless of your bet is Dirty Martini. You can check the rules of any of our slots games when you launch them. Just click "full description" if you're looking at them through our website and you'll see a full listing of all the details. Hit CTRL and "F" at the same time and search the term "jackpot," and you'll see the deal.
Other progressives can only be won if you are playing max bets. An example of this is Shopping Spree at our slots cafe. If you're not in it to win it by wagering the maximum, you don't have a shot at the massive progressive jackpot. Today, it sits at $441,000 in bonus cash.You could go on a shopping spree all year long with that much money!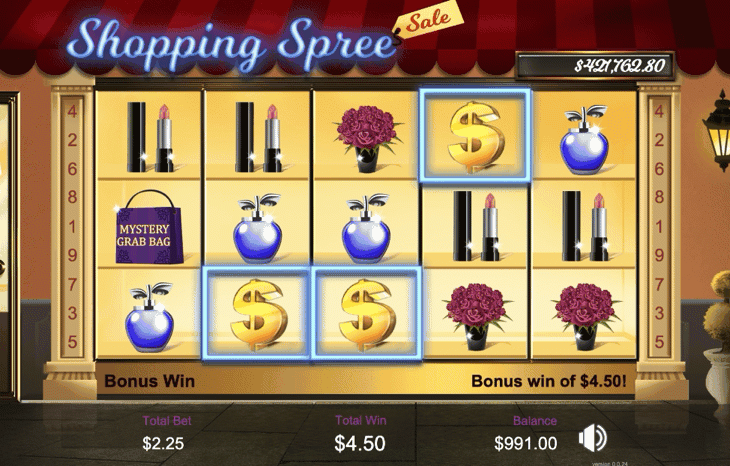 As you can see, the payouts on slots cafe progressives are super huge. While betting a dollar may get you ten, twenty, or fifty in a win at slots, hitting the progressive jackpot is a totally different thing. Your online casino game prize might be thousands of dollars, tens of thousands, or even well into the six figures if you land a big progressive bonus.
Crazy stuff, but it just might happen to you with a bit of luck.
How to Win Table Game Progressives Right Now
It's not just cafe slots! We've got table game progressives too, and the jackpots are often huge. The main thing to keep in mind is to place that progressive wager down. If you haven't put down a bet, you won't be in the running, so don't forget that little step while you're playing your games.
Let Em Ride, for example, features a $1 progressive jackpot bet. Then, payouts are determined based on the poker hands you make. Flushes, full houses, and four of a kind get set amounts (e.g. $500 for the quads). Straight flushes, however, get 10% of the progressive jackpot, and royal straight flushes get the whole shebang – 100% of the total progressive bonus cash pile.
Caribbean Stud Poker and Caribbean Hold'em are other progressive table games at Cafe Casino that follow similar rules, if you want some variety.
Biggest Real Money Progressive Jackpots to Win
Earlier in this post we called out the most massive mega jackpot of all the slots cafe progressives right now: Shopping Spree. That Sex and the City-themed music might have you salsa-ing your way not just to slots wins, but a $440,000 payday that will literally change your life.
In second place is A Night with Cleo, which is irresistible for many reasons, not the least of which is the $60,000-plus progressive jackpot she's hiding underneath her skimpy Nile night out outfit.
If you want big cash, head to our slots section and find the biggest progressives you can. Your lucky spin could be next!