A Handy Guide to Video Poker
VIDEO POKER RULES EXPLAINED
Want all the excitement of big poker hands without having to go head to head with other players? Give Cafe Casino video poker a shot! It's the perfect way to unwind and get your poker fix after putting in your Cafe Casino login, without having to compete with any of the online poker sharks.
Video poker is a very simple game to learn (out of all the Cafe Casino table games we offer). One thing that makes it easy is that the payouts are always kept right onscreen, so you never get lost when you're thinking about game strategy deciding what kind of poker hand to draw to.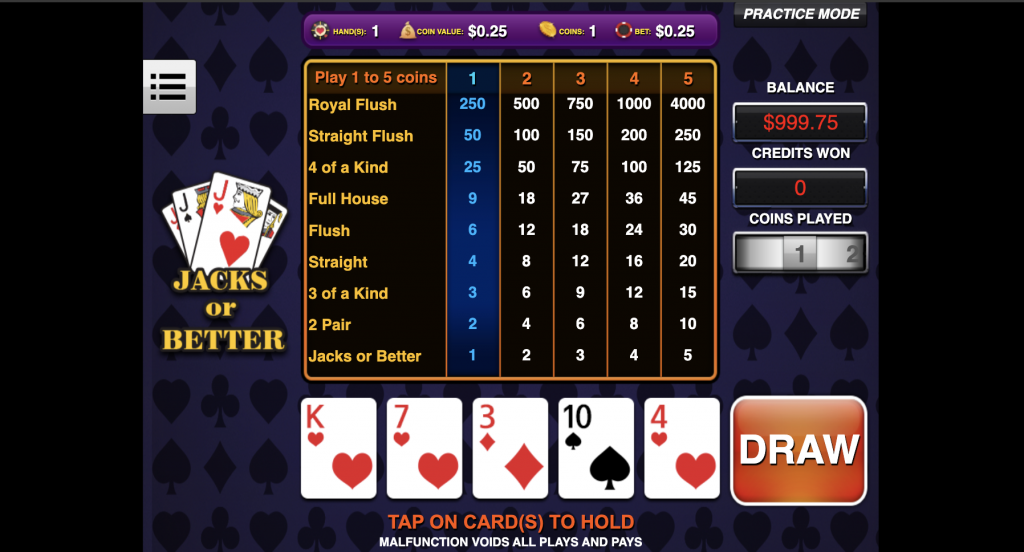 In Cafe Casino video poker, you're going to be dealt 5 cards. You then get to decide which ones to keep and which to discard. The cards you get rid of will then be replaced by new ones, fresh from the deck. The goal is to make the best five-card poker hand you can make.
The normal hand rankings apply, so the best possible hand is a royal flush (10, J, Q, K, A all of the same suit). The weakest hand is simply having a high card without a pair. The payouts for each hand increase with the rarity of the hand and also take into account how much you're betting. A max bet has the biggest payouts, so keep it in mind when planning game strategy for Cafe Casino video poker.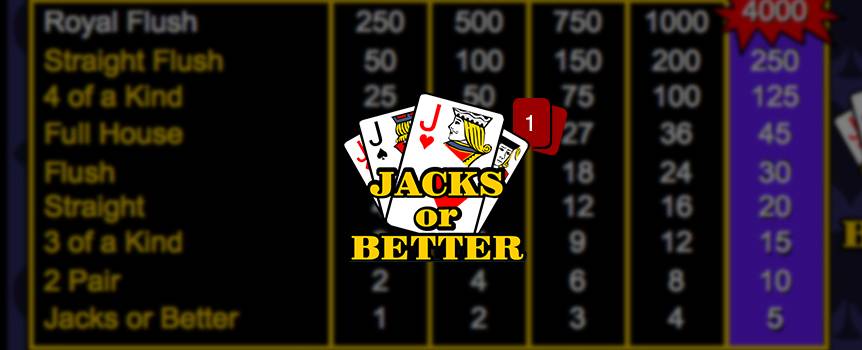 Cards are dealt from a single deck, which is reshuffled for each hand. You can also choose from various bet amounts: $.05, .25, .50, 1, and 5,s so you can wager an amount that suits your bankroll. If you'd rather chase that huge royal straight flush bonus payouts, that's also on the table. It's up to you!
There are also a double or nothing bonus feature after each win that lets you try to double your winnings. It's one of the things that makes video poker special among casino table games. A dealer card will be shown, and then you'll have your pick of four cards that are face down. If you select one that is bigger than the dealer's up card, you double your winnings! You can repeat this, if you're feeling super lucky, but be careful or you're back to zero!
VIDEO POKER GAME VARIATIONS
What would Cafe Casino be without variety? Cafe Casino video poker is no different, with a number of different game variations to keep things interesting from session to session. We've got four main types for you to play:
The first is called Jacks or Better. As the name suggests, the game pays hands starting at a pair of jacks or better. A pair of tens just misses the cutoff, and won't win you any money, so don't blindly chase pairs as a game strategy during Cafe Casino video poker.
In the video poker section, you will also see a few different icons for 1, 3, and 10 hand versions of Jacks or Better. These let you play multiple hands at once after your initial deal. That is, your initial deal still includes a single five-card set. Once you decide what to keep, you'll see ten versions of the draw round play out, and earn the payouts for each hand you land.
For example, if you kept a pair of kings after the initial deal, there are three cards to be dealt to you. You can watch this play out ten times, with ten sets of three cards dealt out. Several hands might stay at a pair of kings, but one may hit trips, or another a full house. Playing multiple hands of Cafe Casino video poker gives you many chances to make a big hand. You're not restricted to just one draw round.
Another variety is called Joker Poker, where jokers are wild. This means that, when you get a joker in your hand, it can substitute for any other card needed to help you make a hand. If you have a king and a joker, you now have a pair of kings, for example. If only all Cafe Casino table games had jokers wild!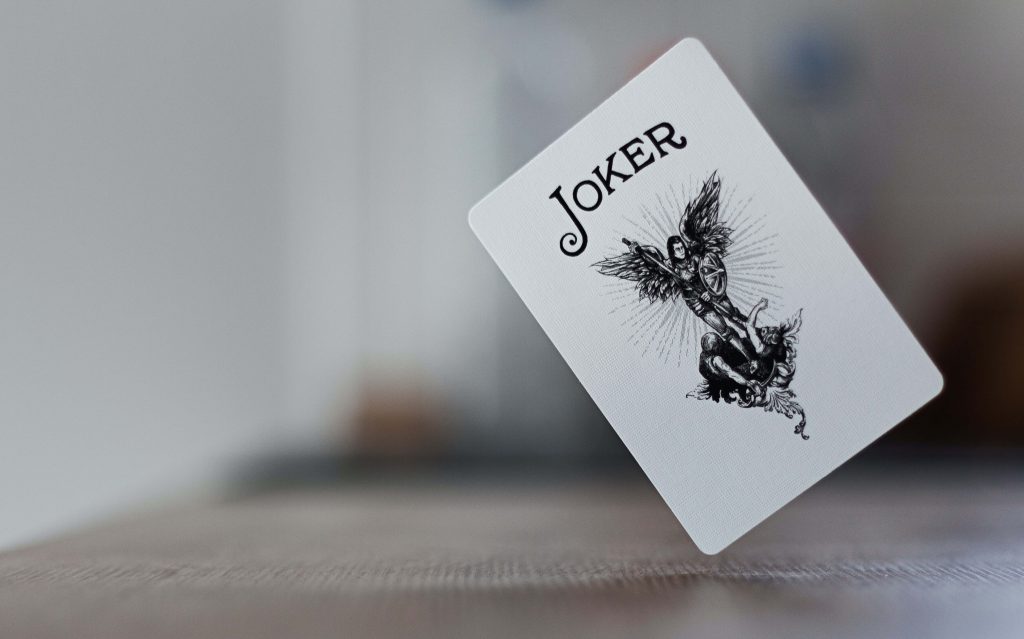 The next video poker type to play is Double Double Bonus. This version of Cafe Casino video poker has special paylines for 4 of a kind. Instead of a single payout for all quads you might make, this one takes into account your "kicker," which is your fifth card. Take a look at the pay table after launching the game and you'll see exactly what each four of a kind hand pays you.
Our final video poker variation is called Bonus Deuces Wild, which features special paylines for quads, but also has twos that are wild. Those lowly twos, which are usually so disappointing, can finally do something to help you out! This is a heartwarming type of Cafe Casino video poker to play, where the underdog card can really shine and make you some money.
VIDEO POKER ODDS AND STRATEGY
Video poker might seem super straightforward, and you can definitely play it without working too hard on strategy. People who love to learn games and maximize their profits, however, will want to learn the basic video poker hand drawing chart and rankings. This tells you which hands to chase and which hands to toss, depending on the exact cards you receive on the initial deal.
The biggest payout, of course, comes from a royal straight flush landed during a max bet round. Many types of video poker pay you 4,000x your bet, in that case. Big money!
After that, other hands pay a bundle, so it's good to know how to prioritize your draws. The way this video poker strategy chart works is to start at the top. If you have that hand or those cards, you keep them. If not, you go down one line. Then, if you have those cards, you keep them. If not, you keep going down until you recognize your hand. Once you have that hand, that's what you keep and then press Draw.
Here's the online video poker strategy drawing list:
Four of a kind, straight flush
4 cards to a straight flush
Trips, straight, flush, or full house
Two pair
High pair
4 to a flush
Low pair
3 to a straight flush
Two suited high cards
High unsuited connectors
High card
So let's say you have 2h, 4h, 4c, 6h, 8h. Do you keep the fours together and press draw? Nope. Having four cards to a flush is higher on the rankings chart, so you toss the 4c and keep your flush draw intact.
Poker is a fun game to play and can be played with friends or by yourself.
Hopefully that clears up how to play these fun poker-based Cafe Casino table games, and how to make them pay.