5 Sports Slots To Spin Between Plays This Super Bowl
It's time to get ready for all the action of Super Bowl LVII at State Farm Stadium in Arizona on Sunday, February 12th. Another season of blood, sweat, and tears has brought us to this moment, and the NFL is nearly ready to crown new champs as the Kansas City Chiefs and the Philadelphia Eagles charge toward the finish line.
To get in the spirit of Super Bowl 57, we've put together this list of Cafe Casino NFL slots and other sports slots that'll keep your blood pumping before, during and after the big game.
You're about to join the NFL's best as you sink your teeth into these sports slots. So huddle in, team, let's spin ourselves a path to glory… like Gridiron Glory.
GRIDIRON GLORY
The Super Bowl sets the bar for sports entertainment, and it's impossibly high. What other sporting event delivers so much? It's full of skillful plays and superhuman strength; it launches entertaining, big-budget ads; and then there's the spectacular, no-expense-spared, half-time show. Rihanna will dominate the stage with what is sure to be a stellar-ella-ella 2023 performance.
Our Gridiron Glory slot definitely packs the same punch, but from the safety of your couch, thankfully. This 5-reel, 3-line sports slot offers 243 ways to win as the action (including stacked wilds, free spins and hundreds of rewarding play combinations) happens right in front of you on the field.
Listen to the cheering crowd urging you to score big and score often. Every time you do get that W, the cheerleaders shake their Pom Poms over the reels, revealing new symbols and more action. When you catch the football scatter at least 3 times, you get up to 25 free spins. Rush past the regular symbols for some yardage with your fave player who can grow to fill the full reel as an expanding wild.
You need courage and strength to play real football. This NFL slots game asks only for a desire to play and the fortitude to win. No refs, no helmet, no cleats, no pads… just a mobile device, a desktop or tablet – with perhaps some Gatorade on the side ­– to get you playing for as long as you like.
WORLD CUP FOOTBALL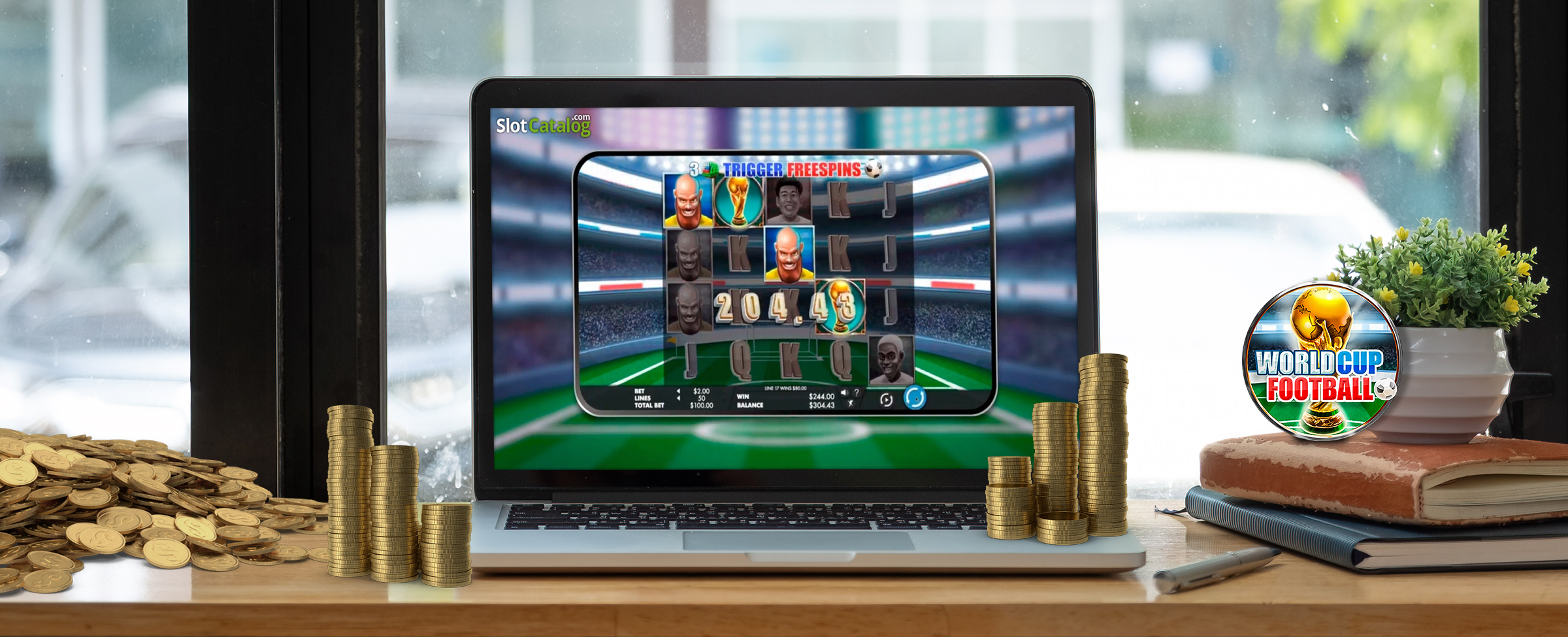 Sure, you might not find a running back like Nyheim Hines doing two kickoff return touchdowns, but you will find characters with skills like Mbappé and Messi pulling hat tricks over the reels inside this online slot.
If you yourself have never kicked a real soccer ball past a goalkeeper into that gigantic net, now's your chance to do it like a true pro! World Cup Football will bring euphoria and giant prizes into your sports life. No need to fake an injury here.
The tens, jacks, queens, kings, and aces are joined by four of the world's greatest footballers to put you on the pitch in front of tens of thousands of screaming soccer fanatics and hooligans to play on 4 rows, 5 reels, and 50 paylines. When you stack one of the player symbols on reel 1, you trigger the Give and Go Re-Spins feature, with locked symbols and more chances to win. Watch for the World Cup logo scatters in this online sports slot that can score you 10 free spins!
Instead of hoisting up the Lombardi Trophy, you'll be welcoming in the World Cup Football prize pot which can reach up to 15,000x your wager. So, pull on your cleats and shoot for soccer glory!
---
Turn your friends on to Cafecasino.lv. When they make their first deposit, you can take advantage of our Refer a Friend Bonus. We pay you for every friend you refer!
---
ZOMBIE FC
What if we added zombies to soccer? Everyone loves zombies.
That's why we think you're going to love the bizarre distraction that is Zombie FC, featuring the undead helping you spin 5reels of action while eating brains. This online slot has gory graphics and non-stop thrills in a crumbling, putrefying stadium filled with dead people only you and that kid from that movie can see.
You'll feel a surge of life when you play during Super Bowl 57, as a key defender pulls off a tackle in the nick of time, coinciding with the same exact moment your own symbols in the slot splatter away with blood and emerge again as new ones. You can also collect up to 25 free spins with escalating multipliers when you hoist three or more trophy scatters, which are sure to send the deceased off the pitch and back into their graves.
You're going to need weapons and some sharpened, gore-proof boots – or maybe your shoulder pads and helmet will do – to take a zombie down and make he, she, it, or whatever, stay there. It's definitely your slot to play next, with the perfect amount of added excitement for a slow play on Super Bowl Sunday!
STREETBALL STAR
Americans love basketball, even if the game was invented by a Canadian PE teacher. Like all good Canucks, he's apologized over and over since 1891. However, this awesome game on the paint is also amazing here at Cafe Casino: it's Streetball Star.
This sports slot online has everything we love about sports, but instead of the red and white jersey of the Kansas City Chiefs and billowing white structure of State Farm Stadium in Arizona, you get an inner-city basketball court with shirts, skins, and a bit of healthy trash-talk battling it out over the hoops. It's a 5-reel, 3-row phenom straight out of Brooklyn with fast-paced action amidst the sounds of the city to give authentically extra swagger.
Play B-ball between plays during the game, or on those days and nights you don't want to break a sweat or an ankle. It's crazy how many ways there are to score. Matching icons on consecutive reels does it. And you could scoop up some extra cash in the Spray Reels feature and free spins mode. The best feature is the stacked wilds on the reels that layup lots of added wins.
Think you got the stones to go on a winning streak? The court's all yours, Champ; show us what you got and make it magical or get dissed.
---
Are you all about action? Then don't miss our Cafe Casino Hot Drop Jackpots, featuring jackpots every hour, every day, all the time! Learn more about must drop jackpots going off 24/7 at Cafe Casino!
---
HOCKEY ENFORCERS
Whether they're dropping the puck or the gloves, hockey is the toughest, meanest, sometimes dirtiest game on ice (second only to figure skating). Hockey Enforcers at Cafe Casino is an exciting way to get into the game in slot form. Instead of scoring goals, with this 5×3 online action slot, you could be scoring cold, hard cash!
Free spins, a progressive multiplier, stacked wilds, random wilds, and 243 ways to win are guaranteed to deliver the hard-hitting experience you love without having to watch your back for cross-checks. Some players even say the thrill of each win is more exciting than a successful Hail Mary pass during the Super Bowl!
So, sharpen your skates, tape your stick and join the Hockey Enforcers team on the ice for the coolest, fastest and winningest game around!
PLAY SPORTS SLOTS WITH A CRYPTO DEPOSIT
Everyone's talking about cryptocurrency. If you're not familiar, it's digital currency for secure online transactions to transfer USD. Cryptocurrency is the most popular deposit method for slot players at Cafe Casino. On top of the security and convenience, we offer exceptional rewards – like bigger bonuses! – for depositing with cryptocurrencies such as Bitcoin, Ethereum and others.
Get a virtual boost thanks to our Cafe Casino Welcome Bonus when you make your first deposit with cryptocurrency. Think of how much added fun you could have playing the best sports slots with a bonus topping off your bankroll!
Plus, it's super simple to get started. Just read our easy-to-understand cryptocurrency deposit 101. You can be up and playing in minutes… and you'll never go back to credit card deposits again!
Have fun multi-tasking with Super Bowl in the background and Cafe Casino online slots in the foreground. You could win enough money to buy tickets for next year's Super Bowl LVIII!