Fast & Sexy Slot Game Review
Everything about the Cafe Casino Fast & Sexy slot game is scorching hot, from the turbocharged engines to the luscious-lipped ladies blowing kisses from the side of the road. If you can keep your eyes on the race, you just might win. It's going to be hard, though. There's a whole lot of distractions that will beg for your attention…
It's time rev your motor for some slots action! Get ready to race to big wins, with some gorgeous arm candy riding shotgun. So buckle up, the finish line just might have a huge payday in store for you.
Let's find out if this slot game is ready to ride, or if this one is stalling out. Here's our review of Fast & Sexy!
FAST & SEXY SLOTS FAQ
What's the maximum amount players can win?
2,500x your bet.
Is there a progressive jackpot?
No, but the bonus game has the potential to deliver huge 300x multipliers.
Does this game have player driving?
The reels are wheels, but the driving is all automatic.
What's a similar slot to Fast and Sexy?
Try Cyberpunk City! It's filled with action, including a pink-mohawked sidekick wielding a weapon.
FAST & SEXY GAME THEME
Launch this game, and before you get to the reels, spend a moment to take in the lovely ladies of Fast & Sexy. Each one makes a little move to catch your attention, so give each one a turn before getting in the driver's seat and starting up this game.
When you're into the game proper, you'll see the shapely back end of a candy apple red exotic supercar. Pick your bet amount and press spin. The reels are racing slick tires just itching to peel out on the road, and that's exactly what they'll do each time you make a bet. You'll blast off as the lights of the night become bright lines flying by.
You can almost smell the delicious burned rubber and exhaust in the air. If you're a gear head, it's Heaven.
FAST & SEXY GAME FORMAT
Fast & Sexy slot at Cafe Casino is a 5 reel, 20 line slot game, so there's plenty of chances to make your matches and win some real money in these fantasy races.
This game features high symbols that pay a lot and low symbols that pay a little. The low playing card rank symbols feature exciting destinations like Tokyo, Vegas, Monaco, Sydney, Havana. Don't you want a chance to speed through those city streets just once?
For the high symbols, it's the expensive ladies you need to look for. If you like redheads, you'll love the fact that feisty red pays you the most – 500x your bet for a line of five.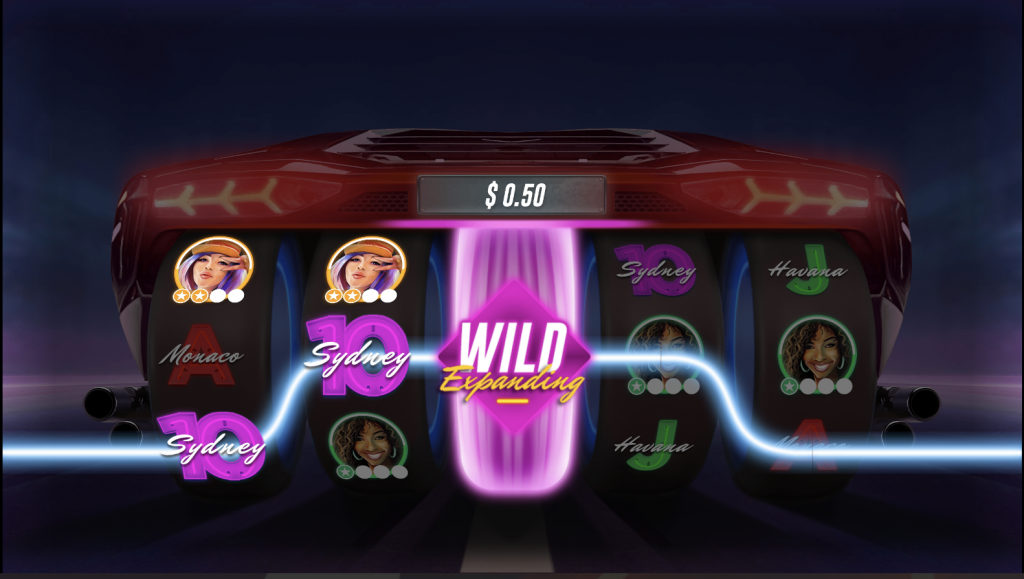 Score a win and you can celebrate with one of the seven ladies. They pop out to join you in your success. Our favorite might be the one in the bodysuit who busts out the champagne and glasses, but you'll no doubt have your own choice of driving partner that you want to take for a ride.
FAST & SEXY GAME FEATURES
The wilds will kick you into high gear, because getting one on reel 3 expands for more wins and retriggers spins on the other reels. It's a great way to cross the finish line.
If you get 3 free spins symbols in Fast & Sexy, you get not only 10 free spins, but also a 2x multiplier. These can retrigger, so it's like popping the nitro mid-race.
EXCITING BONUS GAME
There's also a separate bonus game to really rev your engine! You need 3 bonus game symbols to launch it and enjoy some big multipliers. You will see three sets of gorgeous supercars. Make your picks to reveal the amounts of the multipliers. Then add that together to find your mutliplier number.
You can win up to 300x, so if you want a garage of your own exotics, Fast & Sexy just might be your ticket to ride.
IS FAST & SEXY SLOT GAME WORTH A SPIN?
Fast and Sexy is a high-energy, fast-paced slot game that can be a lot of fun, especially if you're into cars, sexy babes, or cars with sexy babes in them. It's definitely an eye-catching slot! You get the experience of street racing, complete with people to celebrate your wins alongside you.
If you're in the mood for late night action and want to win real money slots, Fast & Sexy is absolutely worth a spin.
PLAY FAST & SEXY SLOT GAME AT CAFE CASINO NOW
Fast & Sexy is waiting at the starting line for you to come join in the fun. These races are serious, with fresh cash rewards. Grab your keys, head over to CafeCasino.lv to play, and let's burn some rubber!