Enjoy Live Dealer Cafe Casino Table Games
For an interactive online gaming experience, Live dealer casino games are a great way for you to enjoy the best of both worlds: playing from the comfort of your own home and interacting with real people. Talk to a live dealer with your pyjamas on (don't worry, they can't see you). Sound fun?
Before live dealer games became a thing, online players had to sit back and let a computer do all the work, which took away a lot of the excitement of playing casino table games.
As live dealer technology was introduced, however, that excitement has been brought back to life. Now, rather than playing with, or against, a computer, you can interact with a real person who you interact with in real-time. Just don't tell them all your secrets ?
THE LIVE DEALER DIFFERENCE
Thanks to advanced live streaming and technology, you can now play your favourite casino games from the comfort of your own home, while enjoying the authentic feel of having a live person hand out the cards or spinning the wheel.
HOW LIVE DEALER GAMES WORK
The dealer waits for you to place your bet on your computer. There might be just you playing the game, or a number of people. Once the bets are placed, the dealer begins. As they take each card from the deck, which you can see through the camera, they scan the card. This updates the software and you'll be able to see the card on your screen.
The game continues as normal, with each player requesting hits, stands and double downs, and so on. Then bets are taken or returned, and the next hand is played. Throughout the game, the dealer is available via chat. If you want, you can even tip the dealer, just as you would in a real casino. Just remember that tips aren't bribes!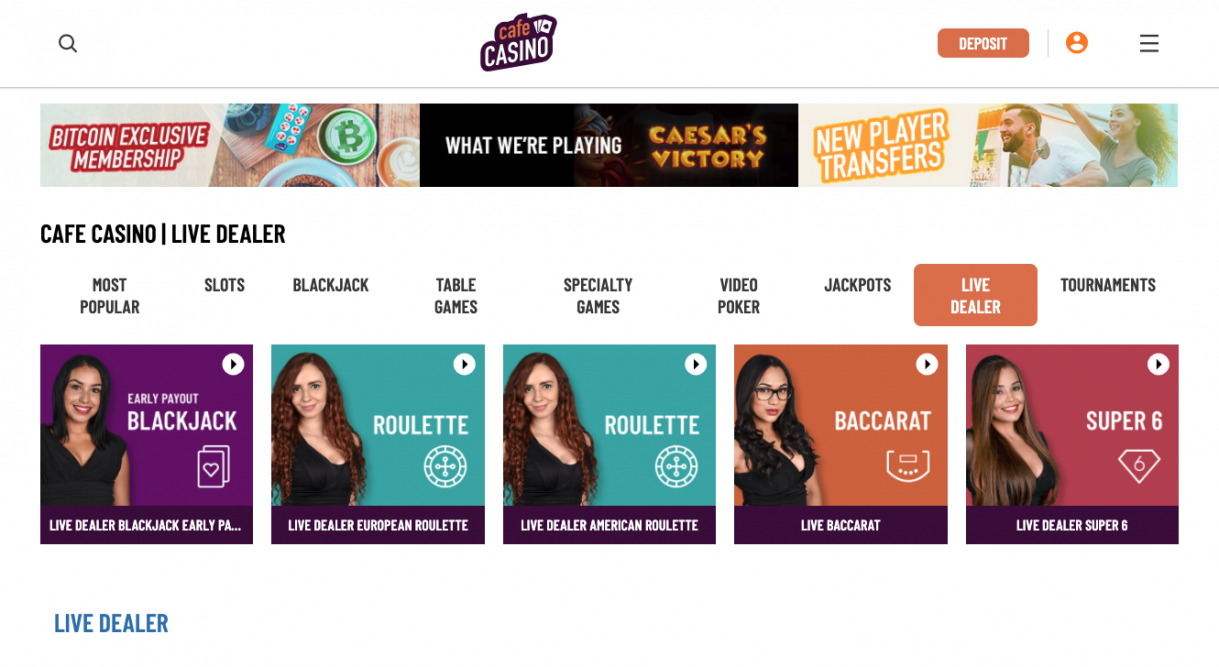 For you, the game doesn't change much – you just sit at your computer, place bets and wait for wins. But, on the other end, you have the dealer. He/she is sitting behind a camera. Here's an example:
Say you're playing blackjack. Click on the chips to place your bet. The live dealer hands out two cards to you, and two cards to themselves. If you have a 10 and a 7, and the dealer shows an 8, hit the stand button on your screen. The live dealer would see that on their own monitor. They turn a card for their own hand and get a Jack. Your score is 17, theirs is 18 – they win. For roulette, it works much the same as computer-generated, except the live dealer spins the wheel instead. Just like Passenger 57… always bet on black! (Unless you want to bet on red, of course!)
BENEFITS OF LIVE DEALER GAMES
There are plenty of reasons players love live dealer games. To start with, it makes the process more real. While you're still playing online, you have a real person at the other end of the computer, who you can chat to while playing. You'll also often find the game moves along a lot faster as you're not waiting for a computer to set the pace. Here are a few more benefits:
You feel as though you're really there. Just like in a real casino, you'll be able to hear the sounds of wheel spins and cards being dealt. You'll also see a real casino table, rather than a computer-generated version. Because you're seeing a real person on the other end as well, check out the details on the dealer's face and hands – if you want to. Oh, and you can even watch them deal or spin in slow motion.
You can play at any time. Live dealer online casino games can be played at any time of the day or night. The dealers themselves work in shifts, to ensure they are available 24-7.
You don't have to dress up.. With live dealer online casinos, you get to feel as though you're there with no need to dress up. Comfort is key.
LIVE DEALER GAMES, STRATEGY & BETTING
The live dealer games online similar to the ones you'd see at the casino. They're also the most popular casino table games. Roulette needs someone to spin a wheel, poker needs someone to hand out the cards. Other live dealer games include blackjack, baccarat, 3 card poker, and Sic Bo.
When it comes to live dealer strategy, does it differ from online? In short, no, but there are advantages to playing online. Having a live dealer allows you to test out your strategies easier. There's also no chance of deception, giving you peace of mind, and you have constant communication with support.
In addition, online casinos generally have more variety for each type of game. There are varied betting limits, and alternative rules available. Not only that, but the house edge also tends to be better online than it is in a live casino. And finally, if you don't like the casino or the dealer, just leave.
With live casinos, there are two types of betting. Back betting is where someone is betting on an outcome to happen. Side betting is betting for an outcome to not happen. For example, betting on a horse to win a race is back betting; betting on a horse to not win, is side betting, also known as lay betting. If the horse loses, you win. Most of the time we place back bets, but there are occasions when side betting is preferred.
TIPPING AND OTHER PERKS
If you're considering becoming a live casino dealer, there are plenty of advantages of doing so. To start with, the earning potential is very high. It's not uncommon for live dealers to make over $100K per annum, particularly with tipping. Second, the training is super easy and it only takes about a week or two. Finally, there are big bonuses available, major discounts, and much more. You gotta be in it to win it, right?
BEST LIVE DEALER TIPS
If you're playing some of the most popular casino table games live online, consider the following tips before you get started:
Tip 1: Choose a good casino. You'll find hundreds of different online casinos available to choose from. Do your research and choose a reputable company that has great reviews. Make sure they are trustworthy, licensed and regulated. Cafe Casino is a great example.
Tip 2: Set a budget and stick to it. If you're gambling online, you need to be responsible. Although betting high might sound appealing, you could blow your budget in one hit. Your best bet is to decide before you play the total amount you want to spend, split it into particular games, and then only play that amount. Knowing when to stop can mean the difference between a great online experience and a devastating one.
Tip 3: Choose the right game. Now that you have a casino and a budget, start searching for games that appeal. From baccarat to blackjack, craps to roulette, there are an abundance of options to choose from. Search specifically for live dealer games to get the most out of your experience.
Tip 4: Learn how to play. Know the basic rules of the game before you start playing. These can be found easily on our website. Read the game descriptions. You might even decide to practice on some free games before you start playing for real money.
Tip 5: Check promotions, specials and free play. When signing up to a site, you're almost guaranteed to receive a bonus of some sort so keep an eye out. Online casinos often have special deals as well, and most offer the option of free play. This, as mentioned, allows you to practice before you spend your hard-earned cash.
Tip 6: Remember, not all casinos have live dealer games Do your research if this is something you want. Live casino sites must have a license to offer the service.
If you're looking to play casino table games, Cafe Casino is licensed and has a range of live dealer games. Our real dealers have undergone professional training and are highly experienced. Try our live dealer casino games today!