A Night With Cleo Slot Game Review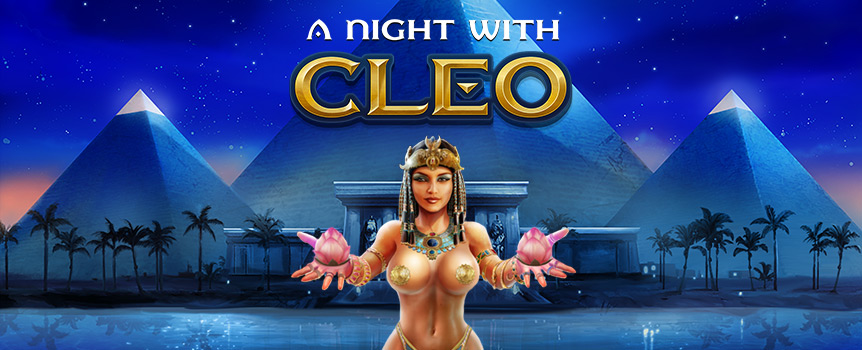 Right off the bat, you can tell that the Cafe Casino A Night With Cleo slot game is a bit different. It's got some in-your-face appeal that just can't be denied. But even if you're not a fan of Cleo's "assets," the progressive jackpot and overall ambiance make for a fun and potentially profitable experience. 
In this review, Cleo bares it all. Is it worth spending a night with Egypt's most illustrious empress? Let's find out!
---

SARA B. FROM MN WON $533K PLAYING A NIGHT WITH CLEO AT CAFE CASINO IN APRIL 2022!
---
A NIGHT WITH CLEO SLOTS FAQ 
Do players win playing A Night with Cleo slot?
Yes! Daniel B. from CA won $434K playing this slot in August 2021 at Cafe Casino!
How many correct guesses in a row does it take to get Cleo's top half nude?
5
Can free spin wins and jackpots be gambled in the double or nothing feature?
No. Sorry! Double or nothing gambling is only for normal wins. Doubling your wins can escalate quickly, though.
Can free spins be retriggered?
Yes, but only up to 180 free spins. Then, the bonus round ends.
What slot games are similar to A Night With Cleo?
If you like Cleo, then you may enjoy Forbidden Slot. The ladies representing good and evil are having a steamy love affair in this slot's theme.
A NIGHT WITH CLEO GAME THEME 
The theme of A Night With Cleo is a cool night on the Nile River in ancient Egypt. Stars twinkle, pyramids shine, and shady palms sway in the background. As you spin the reels, you'll see the eye of Horus, golden scarabs, rings, and golden bangles going by. Playing card ranks fill out the symbol set.
An enticing middle eastern song plays in the background to set the mood. You can almost feel the belly dancers ready to come sauntering out from behind plush curtains…
A NIGHT WITH CLEO GAME FORMAT
A Night With Cleo slot at Cafe Casino has 5 reels and 20 paylines to help you make your real money wins. Bet amounts range from $0.20 to $200 per spin, so there's a wager size to make pretty much every player happy! Some folks like to go huge and try for mega payouts, while others just want to sip a drink and spin for a long time, letting daily stress melt away. Cafe offers a bet range that fits all players.
Cleopatras are wild, and three or more Free Spins scatter symbols trigger a bonus round with 15 free spins. This bonus round also offers a 3x multiplier on your win total. It's a fairly straightforward slot (with an RTP of 92.5%) until you notice that little Gamble button down at the bottom right of the screen.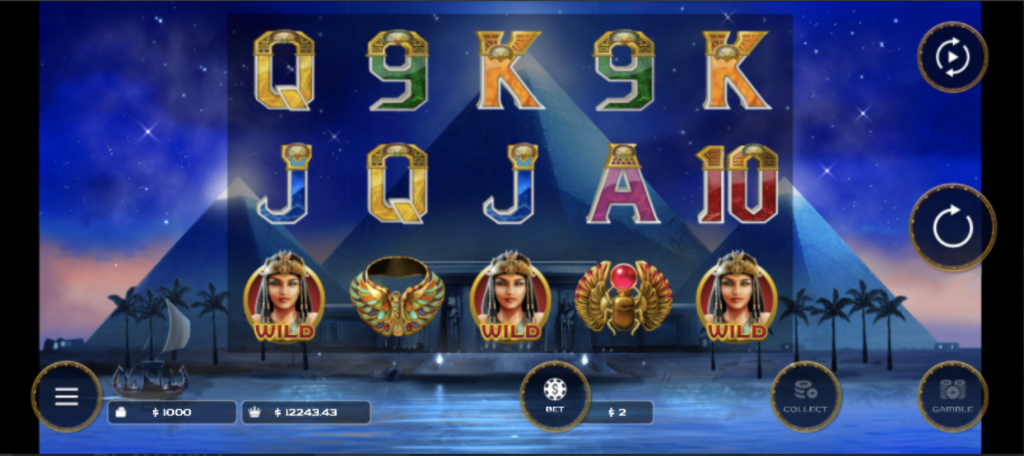 A NIGHT WITH CLEO GAME FEATURES
The Gamble button in the bottom right of the game screen is the showstopper of A Night With Cleo (after Cleo herself, of course!). After a winning round, you can press the Gamble button to play a "pick 'em" game to go double or nothing. Cleo will hold out two lotus flowers. If you pick the right one, you double your winnings! Then you can play the round again, up to five times total.
Doubling your win five times? That's a lot of coins from Cleo!
But that's not all. 
Each time you correctly guess, one of Cleo's articles of clothing fades away into the fog. Get five correct guesses in a row and Cleo will have no secrets left… at least on her top half. This may not be the best mobile slot game to play during your daily commute with other passengers crowded around, but you get the idea. 
Many people have tried and failed to see some the great Wonders of the Ancient World, but a lucky few will see Cleo's and be rewarded handsomely with real money for their courage.
A NIGHT WITH CLEO PROGRESSIVE JACKPOT  
The progressive jackpot in this slots game is awarded at random. There's nothing special to do other than to spin the reels. After that, you need to get lucky. A Night With Cleo jackpot is often in the hundreds of thousands! Your very next spin could take down that whole pot, so be sure to visit Cleo sometime soon before the jackpot is won and reset.
IS THE A NIGHT WITH CLEO SLOT GAME WORTH A SPIN?
When you combine the cool ancient Egyptian theme with the chill soundtrack, the possibility of a huge jackpot, and the irresistible beauty of Empress Cleo, this game is a real winner! It's consistently one of the most popular slot games at our online casino site. The added element of maybe undressing Cleo keeps people coming back night after night. 
Maybe it should be called "Nights" with Cleo instead of "A Night?"
---

NANCY R. FROM FL WON $95K PLAYING A NIGHT WITH CLEO AT CAFE CASINO IN MARCH 2022!

---
PLAY A NIGHT WITH CLEO SLOT GAME AT CAFE CASINO NOW
If you want some extra thrills with your slots, A Night With Cleo is for you. But don't take our word for it – accept Cleo's invitation to her chamber and discover for yourself! Visit Cafe Casino Slots to play this game and hundreds more!