Sweet Potato Marshmallow Bites Recipe (Your Bite-Size Thanksgiving Treat!)
November 17, 2023.
By Genevieve LaMonaca
Genevieve is a former private chef for Las Vegas's elite and currently the proud owner of a top-tier local catering company. In 2020, she began sharing her unique recipes and engaging tutorials on social media and her website, swiftly amassing over 2 million followers on platforms like TikTok, Instagram, and YouTube. She has been a notable Cafe Casino collaborator since October 2022.
Thanksgiving is a time-honored tradition filled with family, gratitude, and, of course, a feast that often revolves around the iconic sweet potato dish. While the classic sweet potato casserole has long been a staple on Thanksgiving tables, there's a new contender in town – sweet potato marshmallow bites.
Sweet potato bites elevate the visual appeal of your Thanksgiving 2023 table. The individual bites arranged on a platter create an inviting display, enhancing the overall aesthetic of your feast. This eye-catching presentation adds a touch of sophistication to your meal, making it a memorable experience for everyone at the table.
Sweet potato marshmallow bites are a delectable twist on the classic sweet potato dish, offering a delightful combination of creamy sweet potatoes and the gooey goodness of marshmallows. These bite-sized treats perfectly balance sweet and savory flavors, making them a unique and irresistible addition to your Thanksgiving spread.
One of the key advantages of sweet potato bites as one of your sides for Thanksgiving is the built-in portion control. Unlike the casserole, which can lead to uneven serving sizes, sweet potato bites offer a convenient and aesthetic way to ensure everyone gets an equal share. This not only reduces waste but also allows guests to sample a variety of dishes without overloading their plates.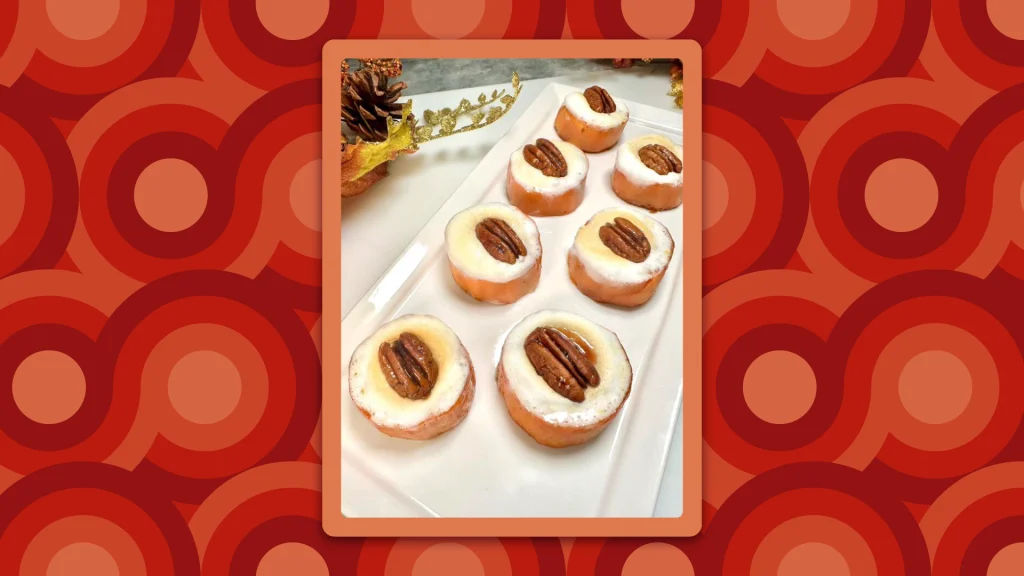 Sweet potato bites also bring a delightful texture contrast to the table. The roasting process gives them a crispy exterior that encases a creamy, tender interior. The addition of the toasted marshmallow and crunchy candied pecan add another level of texture that is sure to delight.
Not only do they require less time to cook than a casserole, but the smaller size allows for quicker roasting, making them a practical choice for busy holiday kitchens. This time-saving aspect ensures that you can focus on other dishes without compromising on the quality of your sweet potato offering.
While the sweet potato casserole has long been at the top of the Thanksgiving side dishes, the rise of sweet potato bites brings a fresh and innovative twist to the holiday table. With individual portion control, a delightful texture, ease of serving, enhanced presentation, and reduced cooking time, sweet potato bites prove to be a compelling alternative that might just steal the spotlight at your Thanksgiving feast.
While these delicious and aesthetically-pleasing sweet potato bites are in the oven, check out Cafe Casino. There's an array of exciting slots games to enjoy, including Chase The Turkey – perfect for the Thanksgiving season.
Sweet Potato Marshmallow Bites Recipe
Makes 24 Bites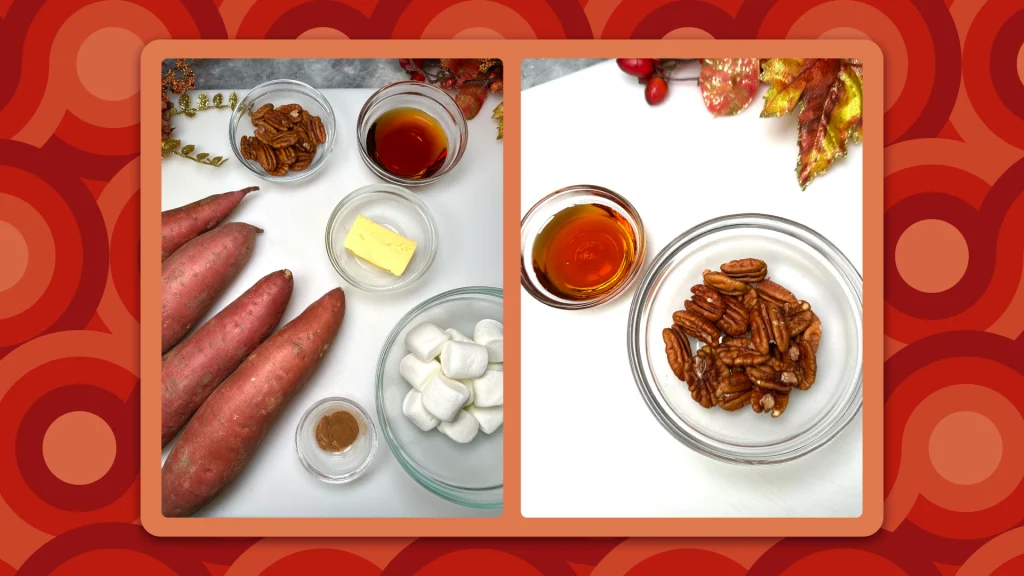 Ingredients:
4 large sweet potatoes
¼ cup salted butter
¼ cup + 2 tbsp maple syrup
1/2 tsp cinnamon
12 marshmallows
24 candied pecans
Instructions:
1.   Preheat the oven to 400°F. Line a baking sheet with parchment paper.
2.   Toss pecan halves into 2 tbsp of maple syrup and bake in a single layer in the oven for 5 minutes. Remove candied pecans from sheet pan and allow to dry.
3.   Melt butter in microwave.
4.   Peel and slice sweet potatoes into 1 inch thick rounds. Add to a large bowl and toss with 1/4 cup melted butter, 1/4 cup maple syrup and 1/2 tsp cinnamon.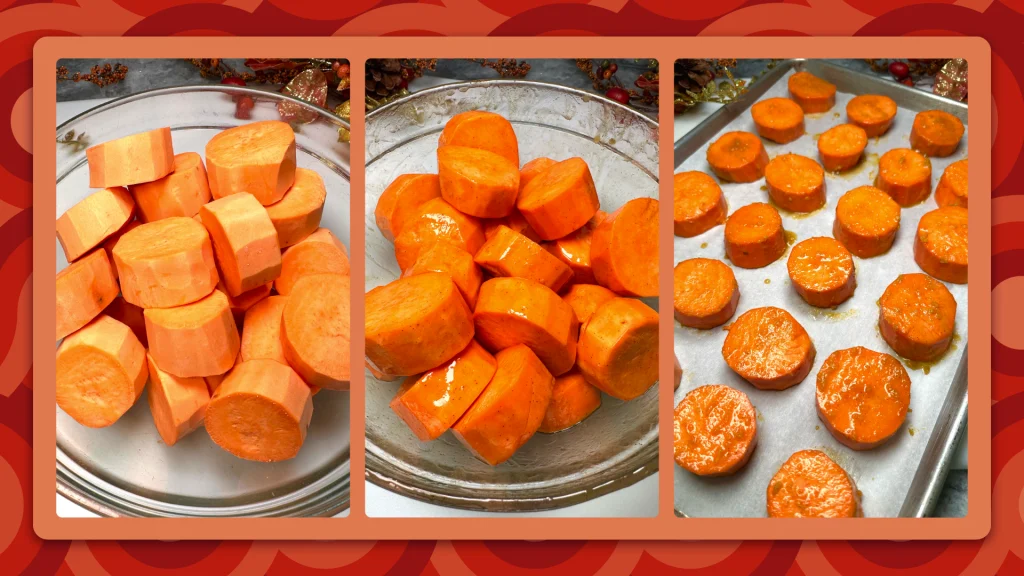 5.   Line baking sheet with a new sheet of parchment paper and add sweet potatoes in a single layer with space in between.
6.   Bake for 25 minutes flipping hallway through or until fork tender.
7.   Remove from oven and allow to slightly cool.
8.   Slice each marshmallow in half then top each sweet potato round with half a marshmallow.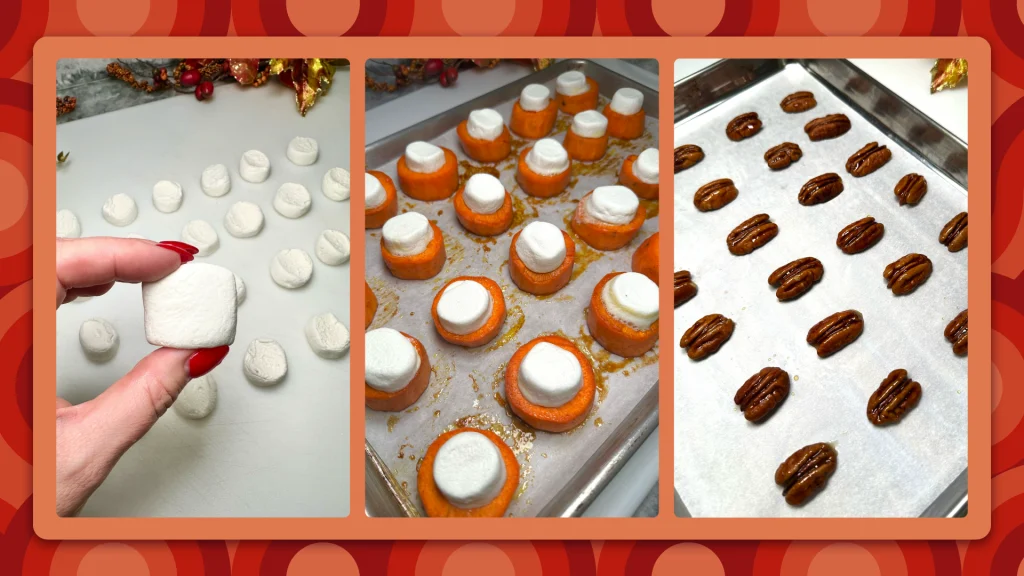 9.   Return to oven under the broiler until slightly browned (keep a close watch, do not burn).
10.  While still warm, press a candied pecan halve into each bite.
Enjoy!
See more recipes from Chef Genevieve:
• Pumpkin Cream Cheese Muffins
• Pineapple Upside-Down Cake
• The Best Shrimp Cocktail
HAVE MORE FUN WITH CAFE CASINO
After you've baked this sweet potato marshmallow bites recipe, dig into some more fun by visiting us at Cafe Casino! Our online casino serves up over 400 real money casino games, including slots, table games, progressive jackpots, and Hot Drop Jackpots! You can play using your mobile or desktop at CafeCasino.lv – no downloads or apps required.
Getting started is easy! Cafe is the best crypto casino, accepting popular methods like Bitcoin, Ethereum and more. Playing has never felt so rewarding!