Caesar's Victory Slot Game Review
The bright sun shines down upon your balcony seat. Royal maroon curtains trimmed with gold are pulled aside. The Colosseum crowd roars as they catch a glimpse of your imperial glory.
Are you dreaming about ancient Rome again? No, this is the Cafe Casino Caesar's Victory slot game!
In this review, we'll cover what makes this game worth a spin, including the look, feel, features, bonus possibilities, and real money wins. If you need a lift out of the boredom of everyday life, this may be just the escape you need. There's truly no fantasy like ruling the world, and this slots game puts you into a speeding chariot right at the center of everything!
---

MARINA Z. FROM CA WON $87K PLAYING CAESAR'S VICTORY AT CAFE CASINO IN APRIL 2022!
---
CAESAR'S VICTORY SLOTS FAQ
How do I trigger the free spins round?
If Caesar lands anywhere at the same time his horse appears on reel 5, the bonus round is triggered. The horse is the only symbol that has to be in a specific position.
Do I need to bet the max for the progressive jackpot?
Nope! It's totally random. So long as you spin the reels, you're good to go.
What's the maximum win per spin?
A stately 40,000x bet per line.
What is the RTP %?
96%
Do you have other roman-inspired slots?
Caesar is a popular guy at the Cafe. You can also find him in the progressive jackpot Caesar's Empire slot and in Caesar's Triumph slot.
CAESAR'S VICTORY GAME THEME
Caesar's Victory is a bright and inspiring slot game. Trumpet fanfare makes you feel like royalty striding down a red carpet to a place of honor above the crowd. Symbols include Roman Centurion shields, chariots, shiny golden coins, and even a famous empress of Egypt! All of these appear alongside classic playing card ranks to fill out the symbol set.
When you score a real money slots win, animations bring the symbols to life, helping to put you into the action. It's a pretty immersive game once everything is taken into account, from the sights to the sounds to the music. This is a slot game for the times when you want to truly rise above the common crowd and feel just a bit more regal.
CAESAR'S VICTORY GAME FORMAT
Caesar's Victory offers a big bet size range, from just $0.20 to $200. Slots can be fun when you're just spinning along and you want to have an extended session, but they're also great when you decide to go big and see if you can smash a huge payday. We know which one Caesar would go for!
Of all the symbols, Cleopatra is the most valuable one. 5 in a row will get you 2,500x your wager. There are 20 paylines to help you make it happen. Caesar himself is presented on a gold coin as a wild symbol, substituting for everything but the Horse scatter. He also triples the prize you get on winning lines.
CAESAR'S VICTORY GAME FEATURES
The big special feature activates when you get a Caesar symbol anywhere and see his horse on reel 5. This triggers 10 bonus free spins, and doubles your riches. If you see another Caesar symbol during this bonus round, you earn up to 5 more free spins, for a profitable retrigger. Things can add up pretty fast. Horses also change into Caesars and Cleopatras to increase your payouts during the free spins bonus rounds.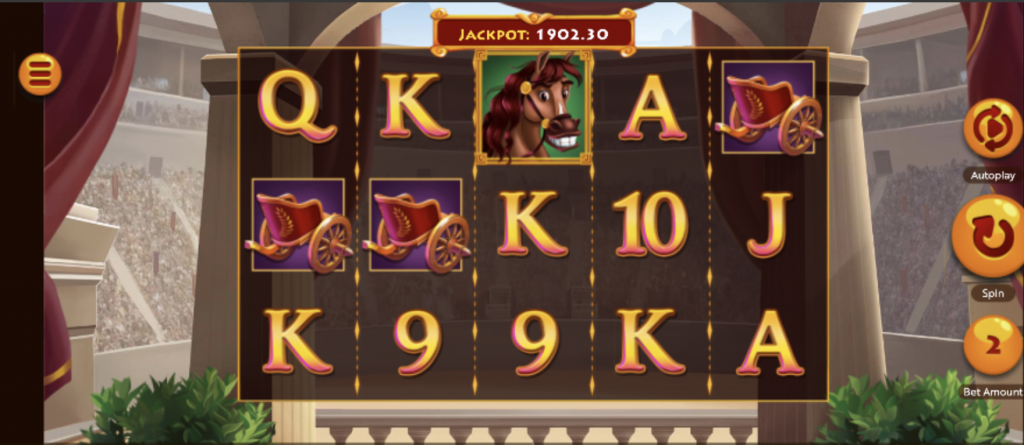 The max you can win is 40,000 times your wager. Pull that off, and you're truly the imperator at Cafe Casino.
CAESAR'S VICTORY PROGRESSIVE JACKPOT
Caesar's Victory slot at Cafe Casino offers a random progressive jackpot. This means that there's nothing special for you to do if you want to score a big win. If Fortuna is on your side, then the jackpot will be yours!
Progressive jackpots are growing all the time. Each time a player wagers a bet and spins the reels of this slot, the pot grows a little larger. Eventually, some lucky player hits the jackpot and the process starts all over again. It's an easy way to score thousands of dollars to add to your Cafe Casino account.
IS THE CAESAR'S VICTORY SLOT GAME WORTH A SPIN?
Caesar's Victory is definitely worth some playtime. It's great for when you want imperial vibes, and you're in need of a game that makes you feel powerful. The roar of the crowd alone gets many people going, and there's something special about Caesar appearing on his coin, coming to life, and winking at you from his radiant background.
If you want to extend your playtime on this roman-inspired slot, conquer how to use casino bonuses first.
PLAY CAESAR'S VICTORY SLOT GAME AT CAFE CASINO NOW
You just feel like an ancient aristocrat when you score a payout in this game, and that's a great feeling for a slot game to create. No Roman helmet needed! Try Caesar's Victory and other amazing online slots at Cafe Casino today, and see how if you agree with our review.