7 New Slots to Warm You Up
Outside, the weather is pushing 40 degrees, but inside, the stove is on high and the pot is simmering away nicely. With what, you ask? With a smorgasbord of Cafe Casino new slots. Come and get 'em!
We're ladling out hearty and account-rewarding new online slots that can warm you up on these crisp – and let's be real – downright cold – fall days. (We feel you, Michigan.)
Special sides, including multipliers up to 100x, transforming Wilds, super re-spins, and sky-high RTPs, are all thickening in the brew, and others like golden frames and upgraded symbols are there to enhance the flavorful spice.
Just like your favorite soup, these new slot games at Cafe offer enjoyment for you to scoop up, savor, and warm your body from your mouth to your pockets.
If you didn't have an appetite a few minutes ago, you sure will now – grab your bowl and prepare to feast.
Dice Million
Fact: two six-sided dies have a total of 36 possible outcomes per roll. The number combination you hope for depends on the rules of the game. For example, if you know how to play Craps, then you know that one of the best outcomes is a 7 or 11.
Dice Million is a different story. The best rolls are when you match the same sides of the die. But you don't want doubles or even triples, but quintuples. Each of the 100 paylines on this 5×4 gameboard of chance has five spaces to fill with one matching die from zero to six, plus one special seven.
All bets are on when stacked symbols appear to cover either partial or the entirety of a reel or an expanding Wild golden dice takes over.
When you get a winning spin, that's your cue to push your luck with the gamble feature to guess the color or suit of the center card.
Oh yeah, did we mention the RTP is 97.23%?! Seems like a great way to test the luck of the draw.
Monster Hunt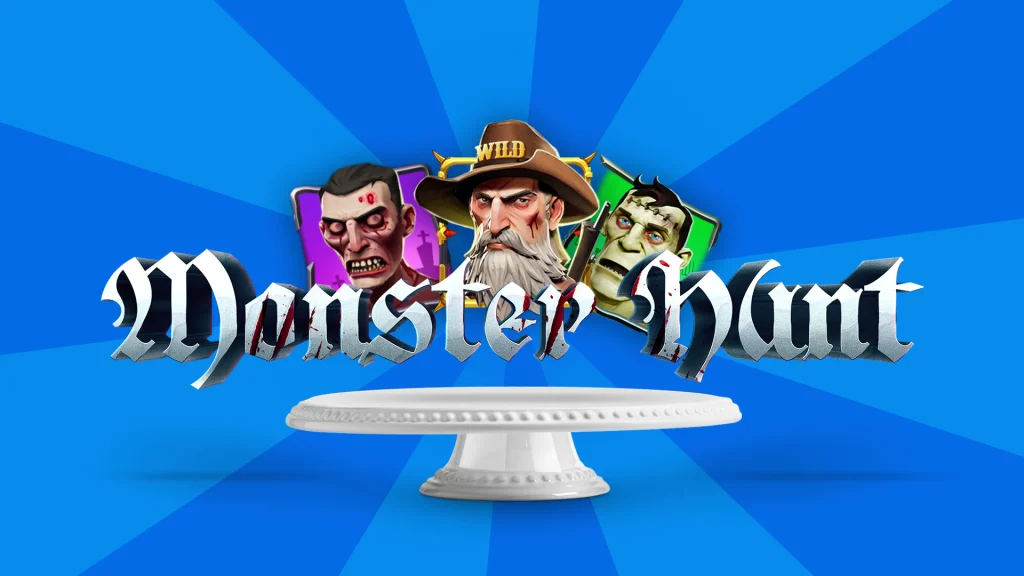 October is all about scary slots to play on Halloween, but the clouds don't clear for the remaining cold months that follow. The spooky ambiance lingers like a fog.
Monster Hunt is your chance to sharpen the monster-tracking skills you gained while navigating haunted houses, and put it to the test inside a 5×3 hunt for the undead.
The high-end graphics and hair-raisingly spooky atmosphere elicit feelings of a real-life hunt for creatures of the night. Read: eerie as heck.
Like several of the new games on our site, the real hunt is for the Mega jackpot. With six gold coins, you'll find yourself hot on the tail of your target of 1,000x your bet within the re-spins round.
Watch out for zombies coming to life, since their hands break free from their graves and clutch a "bonus" label. Three of those symbols on reels 1, 3, and 5 can lead to a round of slots free spins in which re-triggers are as unlimited as the ammo in the hunter's gun.
Bone Bonanza
For the Mexican holiday the Day of the Dead, a Bone Bonanza takes over the streets with illuminated sugar skulls, ofrendas to honor the spirits of the dead, and La Catrina, an elegant skeleton lady who reminds us that death refuses to discriminate between the rich and the poor.
In the slot online that celebrates the joys of this life and the one beyond, symbols of the festivities dance and twirl through 6 reels and 5 rows. One such symbol, a sombrero, appears only during free spins, awarding multipliers from 2x to 100x for the spin it sits atop.
Joyful merrymakers surround the reels inside the slots game, and that includes you and a few of your friends. If you refer a friend for a bonanza of good times, Cafe will spice up the party with a bonus just for you. ¡Bravo!
Buffalo Bounty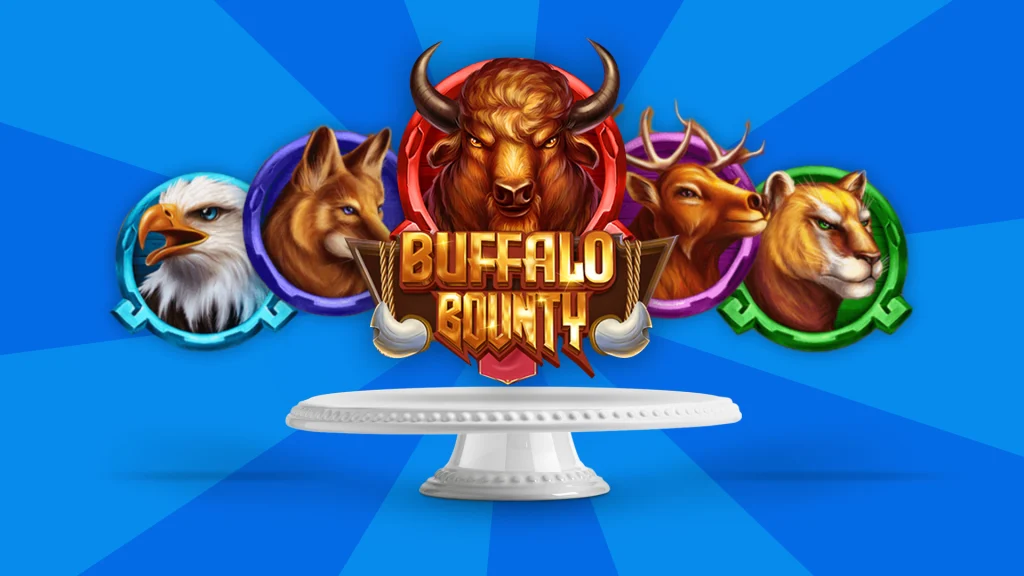 You've already met the acclaimed Golden Buffalo with his fur of gold and 4,096 paylines (and if not, then gladly allow him to introduce his generous self in our Golden Buffalo slot review).
Now a very similar beast is back for another riding rendezvous, with a brand new bounty to amble after.
The Buffalo Bounty slot takes place on a pristine hillside with open green fields and tall mountains jutting out behind a calm, still, blue lake. If it weren't a slot game, you'd probably want to pitch a tent and soak up a weekend here!
The landscape has about as many winning features as there are blades of grass. To access them, you'll have to follow the buffalo into the round of free spins. There, an assortment of Bonus Pick features as well as three Special Quest features with guaranteed wins await you to hop on and ride off into the sunset.
Ruby Treasures
The Arabian culture has roots that run deep and curl back into centuries where opulence and luxury was taken to a whole other level; and when gems and rubies symbolized love and passion, as they have throughout history. Here, possessing exotic animals, such as tigers and peacocks, were considered status symbols due to their rarity and beauty; now, they're also considered winning symbols inside the Ruby Treasures slot.
Each symbol spins through an ornate frame of intricately carved gold, and their grandeur is on full display through random Cash Spins, free spins (with only cash symbols in play), and a King's Bet round with the royal chance to trigger 3x Super Re-spins.
When you enjoy your treasures through crypto gaming, the luxury is awarded in the form of the fastest possible deposits and withdrawals through crypto, while still enjoying the ease of viewing your balance in regular USD.
Rays of Ra
In ancient Egypt, Ra was worshiped as the god of the sun, rising with transformation and renewal at the start of each day.
The Rays of Ra, receiving endless power from Super Scatters, likewise shine in the base game and bear Ra's own regal face, which resembles that of a falcon. These activate three special features that are awarded in succession as you acquire more scatters.
In the spirit of this transformation, for which the god of the sun is worshiped, Ra transforms your game of free spins when he appears on any random reel, awarding one of several unique features. Those include up to five Wild upgrades, increased multipliers up to 10x, or upgraded symbols, with low symbols turning high.
Just as the sun must set again at day's end, Ra must also take his leave when the free spins are done… but not before his final transformation: generously becoming a stack of Wild or high-paying symbols. That's one way to stay on the sunny side of life.
Wolf Rush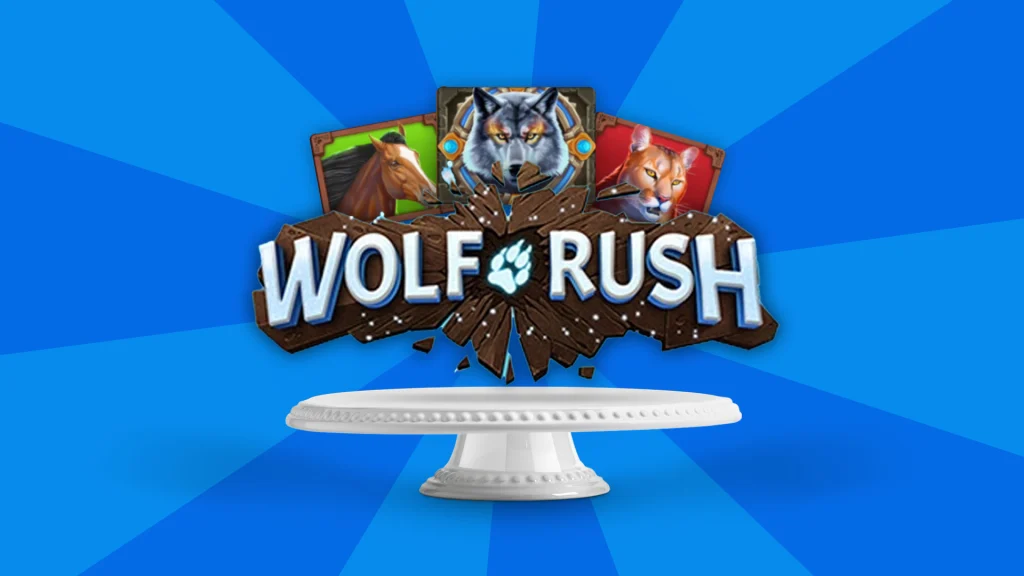 Wolves: keepers of the night, with their shining yellow eyes, sinewy frame, and a palpable sense of untamed freedom. Hardly a human eye catches more than a fleeting glimpse as they blitz through the dark. But in one of Cafe Casino's newest slots, your bets can send you rushing toward the wolf at superhuman speed to reveal his prized secrets, and you can bet there'll be no crying wolf when you get there.
Wolf Rush is a verified rush over 5 reels and 4 rows blanketed in snow, on the way toward a round of retriggerable free spins. As Wild and free as it is, the wolf Wild appears steadfastly stacked on any reel, revealing the meaning of its cries as it howls at the moon.
While few can hope to keep up with the rushing wolves, Hot Drop Jackpots can give them a run for their money. These reward-rich games drop growing sums of cash every hour of every day, leaving players howling at their screen for their shot.
The season of ice creams and fruity games are out, and the days of thick, hearty slots are in. We've heard the call of the season and thrown every fulfilling feature we could find into the pot. These new slots are cooking with features to warm you up, and there's a cozy little table by the window at Cafe Casino reserved in your name.