Golden Buffalo Slot Game Review

Slots adventurers, this is your chance to ride alongside the ultimate majestic animals! Cafe Casino Golden Buffalo slots game takes you on a journey along the southwestern trails in search of legendary riches. Excitement is just past the next mesa.
But like all slots, you're probably wondering if this game is worth playing when there's so many thrilling options. In this review of Golden Buffalo, we'll talk about everything the game has to offer, from the basic details to the special features that make the experience so authentic.
Giddyup!
GOLDEN BUFFALO SLOTS FAQ 
How many free spins can I get?
You can earn up to 100 free spins depending on how many bonus symbols appear in your base game. They can be retriggered for up to 100 additional free spins. That's actually a crazy number of free spins, when you think about it. Would you get bored watching all those wins tally up? We doubt it.
Do wilds appear on all reels?
Wild symbols appear on reels 2-6, but not reel 1. 
What other adventure slots does Cafe Casino have?
There's so many to choose from! But if you want another wild ride, try the new Storm Rider slot.
What is the maximum payout possible?
$500,000! Anyone who racks up some top wins can share their excitement in the Big Winners section of the Cafe Casino Community Forum. 
What is the RTP %?
96%

---

JASON A. OF TX WON $144K ON GOLDEN BUFFALO SLOT AT CAFE CASINO IN OCTOBER 2021!

---
GOLDEN BUFFALO GAME THEME 
The theme of Golden Buffalo is a bright and sunny day in the American southwest. Dusty rock towers make up the landscape, while a twangy soundtrack complete with dramatic bells, insects, and other animal noises sets the mood. A roasting cookpot makes you feel like your trail ride is over for the day, and dinner of stew or beans is soon on the way.
The online slot reels are packed with animal symbols like racoons, wolves, eagles, and of course, the golden buffalo itself. The symbol set is filled out by playing card ranks like Jacks, Queens, Kings, and more.
GOLDEN BUFFALO GAME FORMAT
Golden Buffalo slot at Cafe Casino features 6 reels and 4 rows, with 4,096 ways to win. The same symbols simply need to be on adjacent reels to trigger a win, making it easy to earn some glowing wins pretty often. Instead of having to line things up cleanly, you just need symbols to be on reels that are connected. 
GOLDEN BUFFALO GAME FEATURES
The golden Bonus scatter symbols will trigger free spins. You can get up to 100 if you have enough scatter symbols on the reels, so the bonus round in Golden Buffalo can be huge. During free spins, the wild symbol becomes a 2x, 3x, or 5x multiplier, with a maximum multiplier of 3125x your win for a given round! That's 5x5x5x5x5, if you managed to land 5 top level wilds.
You can buy your own ranch with a win like that, pardner.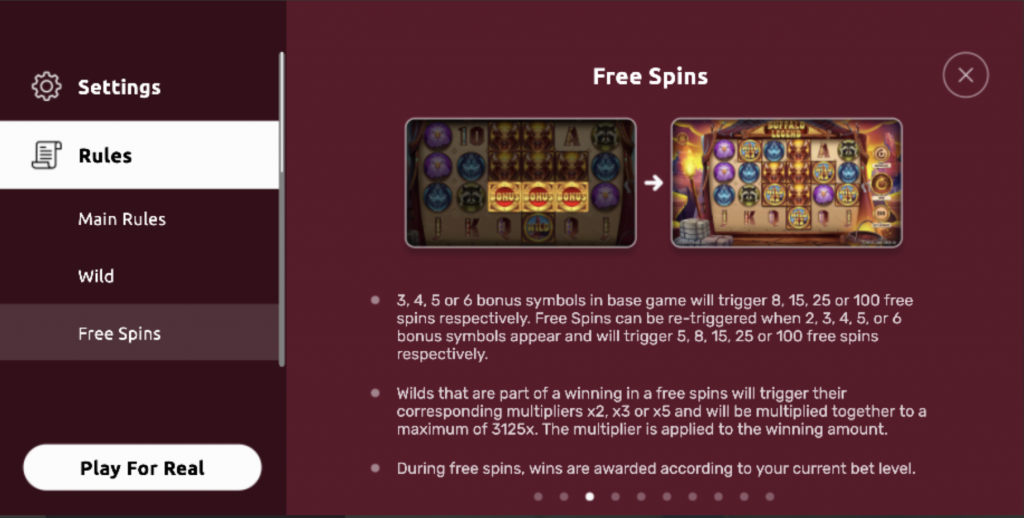 Golden Buffalo does not have a separate progressive jackpot to play for, but the maximum wins make it "unnecessary," so to speak. You can earn a ton of money during this game by triggering the free spins round and retriggering it, especially when you consider the wild multipliers. The win possibilities are as golden as the buffalo.
IS THE GOLDEN BUFFALO SLOT GAME WORTH A SPIN?
Absolutely! The setting is the first thing that really makes the Golden Buffalo slot shine. The sights, the sounds, the music… it creates a feeling that's completely western. The best games pull you into another world and provide an escape from the day to day boredom of normal life, which this slot delivers.
Then there's the profit potential. 
You can win a lot with Golden Buffalo! Your initial trigger of a free spin round can set you up with 100 bonus spins! That's a crazy amount, way more than many other slot games. With retriggers, this number goes up even more. Then you get the added benefit of wild multipliers, which can climb sky high if you chain them together. What could you do with 200 free spins and a top multiplier combo that's over 3,000x? Get rich, that's what!
---

KELLI M OF FL WON $73K ON GOLDEN BUFFALO SLOT AT CAFE CASINO IN NOVEMBER 2021!

---
PLAY GOLDEN BUFFALO AT CAFE CASINO NOW
Golden Buffalo is possibly going to be responsible for some of the biggest wins at the Cafe if people unlock the maximum payouts with some lucky spins. If you're ready to embark on the ride of a lifetime and fill your satchel with golden riches, you'll want to try this epic Cafe Casino slot online now.