Reels and Wheels XL Slot Game Review
Cafe Casino Reels and Wheels XL Slot is a super-sized upgrade on the original hit game Reels and Wheels. Everything you loved about the classic version now comes in extra-large – it's a mega 5-reel, 20-payline wheel of wonder! That means there's a lot more ways to win in this 360-degrees of rainbow-colored fun.
There's still two amazing prize wheels with huge multipliers and a six-figure progressive jackpots. But with XL, there's also a free spins feature that could trigger even more wins and chances at those prize wheels! And there's even more luscious fruit symbols to scoop up along the way.
Energized sound effects and a kaleidoscope of pretty sights make the game light and fun. But will it wheel its way into your heart? Let's find out!
---

NICOLE S. FROM CO WON $131K PLAYING REELS AND WHEELS XL AT CAFE CASINO IN NOVEMBER 2023!
---
REELS AND WHEELS XL SLOTS FAQ
How do I win the jackpot?
The Bonus symbol on reels 1 and 3 and the Wheel symbol on reel 5 will unlock the first Bonus Wheel. If you land on the jackpot section of the Bonus Wheel, you'll trigger the Jackpot Wheel, which boasts 5 different cash-packed progressives.
How is this different from the original Reels and Wheels game?
The original has just one payline and no free spins feature!
Does it cost more to play this version?
Nope! You can still select your bet amount.
What is the RTP %?
96%
Can I play with crypto?
Yes! This game and all our others are Bitcoin slots! That means you can play them and see your balance in USD once you deposit with crypto.
REELS AND WHEELS XL GAME THEME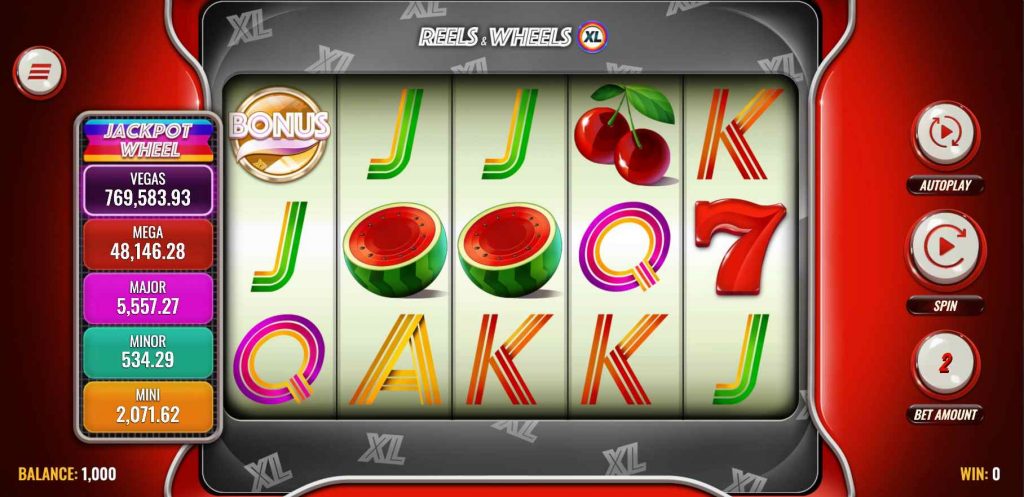 If there's one word to sum up the theme of this game, it's colour! And maybe jackpots! (Can we have two words?)
A vibrant rainbow of colors makes this game punchy and eye-catching to play. It feels like you're looking at the dashboard of a retro, candy-apple red classic car, with reels for the instrument panel. It's enough to make you want to jump in and ride down the highway at top speed!
We're rolling on XL wheels all the way to jackpot city!
REELS AND WHEELS XL GAME FORMAT
Unlike the original, the Reels and Wheels XL Slot at Cafe Casino has 5 reels and 20 paylines. That means more ways to win than ever before. While the original had one payline straight across, the XL version gets you paid all over the place! There's room for both games at our site, though. Not every game session has to be huge. Sometimes you want something simpler, and so we offer Reels and Wheels both ways.
Also, for our speedy spinners who hate downtime, we have a way to take this game into fifth gear! Go into settings using the bullet list icon in the top left of the game. You'll see an option called "Enable Quick Spin." Now you won't have to press spin and stop. Press spin once and the reels will spin and stop themselves rapidly.
REELS AND WHEELS XL GAME FEATURES
In this Cafe Casino online slot, Diamonds are wild, and can substitute to make more winning lines! They're also your highest paying symbol to match up. Most of us already know to scout for diamonds, but Reels and Wheels XL goes all in and makes those shiny jewels your biggest moneymaker!
If you get the Bonus symbol on reels 1 and 3 and Free Spins on reel 5, you get 12 free spins! You can retrigger your free spins with 3 more Bonus symbols! Wins are multiplied by up to 10x during these free spins rounds. Don't be surprised if you wind up stacking some serious cash without even seeing the wheels!
Speaking of the prize wheels…
REELS AND WHEELS XL GAME JACKPOTS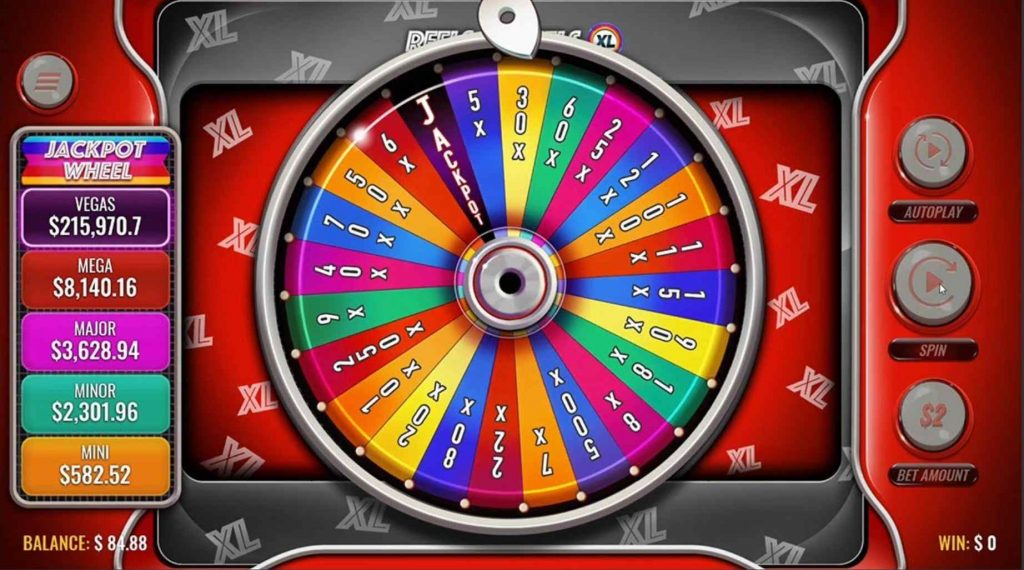 If you get the Bonus symbol on reel 1 and 3, and a Wheel symbol on reel 5, it launches a Bonus Wheel. This is where the real fun begins! The Bonus Wheel has 22 different multipliers, from 5x to 500x! That alone can pay you quite a lot. But it's that jackpot section that takes things to the next level.
Once you land on the Jackpot section, you get to play the Jackpot Wheel. It has 5 cash-packed jackpots, including Mini, Minor, Major, Mega, and Vegas. You can guess which one has the big money for you!
Reels and Wheels XL Slot doesn't have a set jackpot amount. Instead, it's a progressive jackpot that builds all the time until someone wins it. There's no limit. It keeps growing and growing like a bar tab on a wild night out. You might see it in the thousands, hundreds of thousands, or even climbing into the millions. When that happens, it's a player frenzy at the reels, so be sure to check out the jackpot amount before you launch the game!
That's how some of our Big Winners got their dough, and it could be the way you make your biggest score ever!
IS THE REELS AND WHEELS XL SLOT GAME WORTH A SPIN?
This is a great game for those who love a Cafe Casino progressive jackpot! Sometimes, that's all you need to make a game worth playing. After all, not every game offers the chance to win hundreds of thousands of dollars in a few spins.
There's also the style. Sometimes we need a little color in our lives! Dark games have their time and place. But we're just tickled to see the full rainbow in a game like this.
One more thing we love: the classic feel. No matter how many cool new bells and whistles new games have, there's always room in our hearts for old school Vegas. Those fruits and playing card symbols get us every time.
Like loads of money and a style that uses all the classic symbols? Reels and Wheels XL might be your game – and your friends too! Refer friends to Cafe and you could earn a bonus!
PLAY THE REELS AND WHEELS XL SLOT GAME AT CAFE CASINO NOW
Reels and Wheels XL is ready to roll right now! Hit spin and see if you can become the next Cafe Casino big winner. With huge multipliers on the Bonus Wheel and 5 jackpots to be won, this online slot is always a thrilling time.
Go big with XL and wheel your way to victory!
---
If you love jackpots, you'll enjoy our Hot Drop Jackpots! There's Hourly, Daily and Epic Jackpots to be won at Cafe now.