Cafe Casino's Newest Must Try Slot Games for Big Wins
Have you been coming back to the same old slots each time you play? There's so much variety in slot games that there's no reason to get stuck in a rut when spinning the reels. In our latest batch of Cafe Casino new slot games, we're serving up loads of adventure, intrigue, excitement, and win potential!
In this article, we'll preview 4 (plus a bonus! Because seriously, we have so many!) of our hottest new slots and tell you what makes each one fun. No matter what your favorite feature is, we've got a hot new game to help you spin and win!
Don't be scared to branch out! Practice mode is only a few clicks away if you want to get a feel for any of these 4 new slot games before you wager real money. In practice mode, you can spin the reels for free as much as you like to learn how the symbols, jackpots, and bonus rounds all work. That way, when you play the game for real, you'll already have mastered it. Let's take a look at these new Cafe Casino slots, shall we?
NEW SLOT GAME PREVIEW #1 THUNDERCRASH
Arcade game fans, welcome on board! It's time to strap yourself in and fly sky-high in this brand new Cafe Casino slot game. You're the captain of this ship: Simply bet at what position your plane will crash, fly as far as you can, and cash out before it does. A multiplier starts at 1x and grows throughout the round. If you make it to the cash out before crashing, the multiplier will be applied to your bet. But if you crash first, you'll lose your bet and have to climb on board to try again!
It's strategic, it's intuitive and best of all, Thundercrash will have you nostalgic for the classic arcade video games of your youth, but with real money prizes. The electric neon colors compliment the 90s arcade-esque graphics, but with wholly modern capabilities. This slot has an AutoBet feature so you can parachute outta there automatically as soon as the plane hits those levels.
Now you can get back into that arcade action – minus the weirdly sticky joysticks and fighting with your friends about who gets to play next. With Thundercrash slot, there's never a lineup as you soar for big wins, but we do recommend bringing your own popcorn.
New Slot Game Preview #2: Fury of Zeus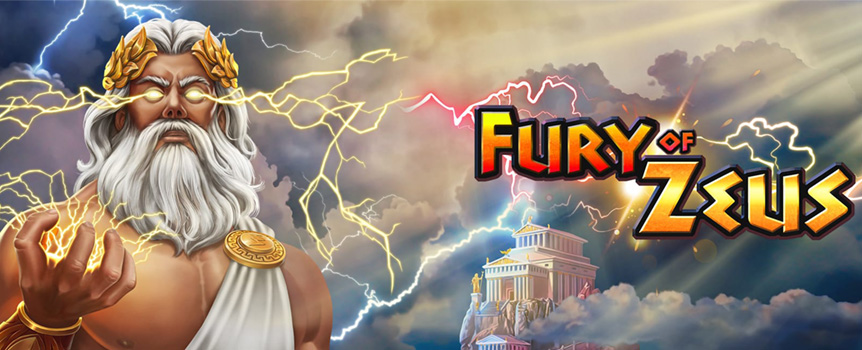 The Lord of Mount Olympus and king of the gods, Zeus, is raining down his thunderous wrath. But there's real money riches to be had if you can stand and face the might of this powerful ancient deity.
3 rows, 5 reels, and 20 paylines help you build your way to glory. Amidst the classic playing card rank symbols, you'll see the gods of Greece – like powerful Poseidon, fiery Hades, and queenly Hera. Shining golden wilds will assist you as you accumulate wealth, and if you combine them with the golden scatter symbol (which displays the home of the gods) on reel 5, you unlock the free spins bonus round feature.
Apart from the dramatic music (that makes you feel like you're daring to challenge the kings and queens of the sky just by spinning the reels), there's a totally random jackpot. There's nothing you have to do to qualify, other than to play the game and get a little lucky. It's a progressive jackpot, so it's growing all the time until someone wins it. 
Why not you? Play Fury of Zeus.
New Slot Game Preview #3: Crystal Crater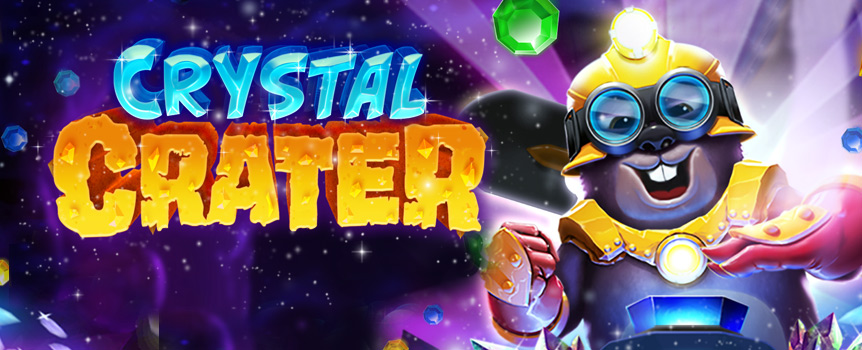 That has to be a mole in the logo, right? They're the miners of the animal kingdom, aren't they? Well, in this game, this furry friend is your ticket to big wins. Together, you can mine for shiny gems and real money paydays that make the trip to the Crystal Crater well worth it.
Diamonds are wild in this 4 row, 5 reel bonanza with 50 different paylines to watch out for. The scattered bonus symbol is what makes this one so special, though. When you get 3 or more, you get your pick of three options for how many free spins or random wilds you want during the bonus round – how's that for playing your way? 
There's also another option: the Mystery Choice. If you're feeling lucky, you'll want to select this one! This randomizes how many free spins and random wilds you'll get for a potentially even bigger payday. 
Your little mining buddy also has one more way to help you. Totally at random, he'll sometimes push his big blue button and drop you some wilds – just another way to get a huge real money win with Crystal Crater. It's actually a pretty high energy game!
New Slot Game Preview #4: Gods of Giza Enhanced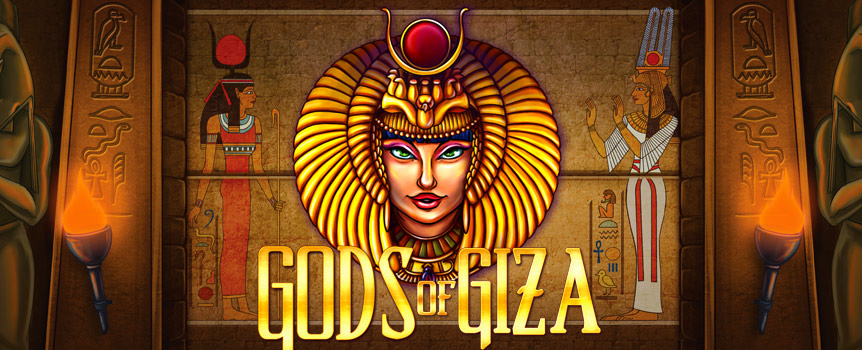 Did someone say "I want LOTS of free spins?" If that was you, Gods of Giza Enhanced is your new Cafe Casino slot game.
You've got 4 reels and 4 rows to make your matches over 20 paylines. Puzzle through the wonders of the ancients as Egyptian dogs, birds, pharaohs, and princesses line up to get you paid. Scarab beetles, symbolic of the sun god Ra, act as wilds, scuttling about to help you land more real money wins. 
The bonus feature is triggered by ankh scatter symbols. Land 3 of these, and it'll get you into a bonus round with free spins. This game doesn't just do normal free spins, though. These are "rotating" free spins. Each spin causes the reels to rotate 4 times, so 8 spins of the reels turns into 32 different shots at a payday fit for a god!
And oh yeah, it can retrigger.
You'll be kicking back like royalty while the money grows in your account like a golden pyramid. Are you ready to unearth new treasure?
New Slot Game Preview #5: Golden Children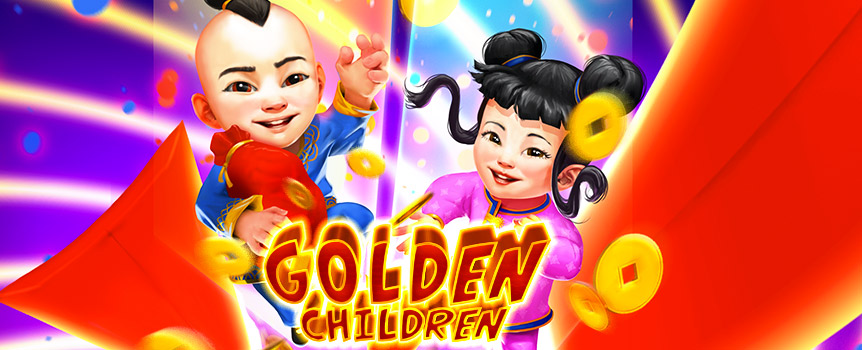 This game isn't about being the golden child – even if you're the black sheep of the family, this real money slot game might put a smile on your face!
Traditional music and Chinese symbols spin by while you seek a fortune in this 4 row, 5 reel game featuring 100 paylines. With that many chances to win, it's hard to miss!
Scrolls are wild, helping you find more payouts. The pot of gold scatters send you into the bonus round with up to 25 free spins, depending on how many scatter symbols appeared. These can also retrigger for extra money and prizes. During free spin bonus rounds, reels will randomly fill with wild symbols for easy wins.
What are the kids there for? They dance and celebrate when you land free spins, and throw down their random wild scrolls while the reels go nuts. They're in the game to help make you money!
Just the opposite of real kids. Play Golden Children at Cafe Casino.
New Slot Game Preview BONUS: Lawless Ladies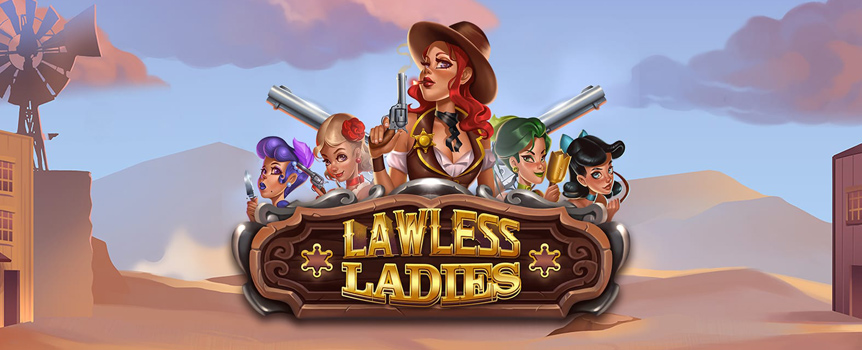 Don't call 'em "sassy" – these ladies are a bit beyond that at this point. These gun-totin' femme fatales just might shoot you down if you say the wrong thing, so it's best to stay on their good side!
3 rows and 5 reels make up your game screen, along with 20 paylines to keep an eye out for (along with the local marshal). A western theme song plays, with the clickety clack sounds of a horse ride at high noon through a dusty area rife with rattlers and robbers.
The symbols are all business – bowie knives, slingshots, revolvers, liquor, and a group of lawless ladies that everyone should steer clear of, unless you like a spitfire type.
Reel 3 has the star of the show, an expanding wild to help you rob our Cafe Casino freight train of its valuables and bring them to your own real money bandit bank account.
If you're in town for the biggest score of them all, the random progressive jackpot is what you'll be hoping for. It's up over $11,000 at the time of this writing, and it's awarded totally at random. This means that, during any spin, you could win it. Maybe you'll hit it on your first spin ever, or maybe that's just what the ladies want you to think?
The Golden free spins symbol on reels 1 and 5 gets you into the bonus round for 10 free spins. Ride as long as you can. The road is bumpy but we promise it won't be boring! Play Lawless Ladies at Cafe Casino.
Which new slot game do you want to try first? Discover them all now at Cafe Casino and good luck!